Movie Review
Cutie and the Boxer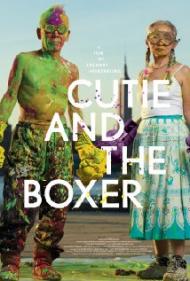 US Release Date: 11-01-2013
Directed by: Zachary Heinzerling
Starring
▸
▾
Noriko Shinohara

,

as

Herself
Ushio Shinohara

,

as

Himself
Alex Shinohara

,

as

Himself
Ethan Cohen

as

Himself

Reviewed on:
January 24th, 2014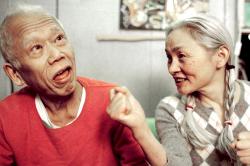 Ushio and Noriko Shinohara in Cutie and the Boxer.
Cutie and the Boxer is a love story. Ushio and Noriko Shinohara have been married for nearly forty years, they are both struggling artists living in New York City. This documentary tells their story. It shows us what their lives are like today and also includes vintage footage of them as much younger people. Ushio has achieved some fame in the art world, although knowledge of his work isn't necessary for enjoyment of this film.
He arrived in New York from Japan in the late 1960s, where he soon met and married his much younger wife. Ushio is famous for his sculptures, and action paintings, wherein he dons boxing gloves covered in paint and proceeds to punch the canvas, thus creating abstract paintings. His work has been displayed in many prestigious art museums around the globe. At one point, in old film footage from the 70s, a clearly inebriated Ushio proudly quotes the New York Times, that once called him amazing.
Over the course of the film we discover that Ushio was for many years an alcoholic. We briefly see him as a younger man getting drunk and acting a fool with friends. We learn that at the age of 80 (he remains in remarkable shape without an ounce of body fat), he has been sober for only the past 3½ years. Ushio and Noriko have a son who is also an alcoholic as well as an aspiring artist. He seems to have paid the highest price for his father's drinking problem. This families' story is both inspiring and melancholy as they continue to create original works of art while continuously struggling to make ends meet. In one scene Ushio flies to Japan to sell several pieces of his art in order to pay their overdue rent.
This film documents how Noriko has finally attempted to step out from her more famous husband's shadow as an artist in her own right. Her work is autobiographical. In a series of sketch-paintings, which include dialogue, she tells their story. Her work is often humorous and is more accessible to the general public than her husband's more abstract art is. They are two wildly talented and charismatic individuals and you just might find yourself falling in love with them both. The main gist of the film chronicles a joint art exhibit in Manhattan featuring the work of both husband and wife.
Cutie and the Boxer is nominated for Best Documentary at this year's Academy Awards. It is my early favorite to win. It is a charming and moving film that features two unforgettable real life characters. These two have had their share of ups and downs over the decades, but you can tell by the way they look at each other that they have found their soul mate and life partner. They are not only the most adorable older couple you are ever likely to meet but their love is a beautiful thing to behold and this film is a wonderful tribute to it.

Reviewed on:
January 24th, 2014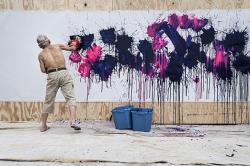 And he wonders why he does not sell more of these.
Cutie and the Boxer is an honest look at a struggling artistic family. Ushio is amazing, and I sure as hell am not referring to his gimmicky art work. At 80 years old this guy should be doing a book or infomercial on health and vitality. I know men half his age with less energy and dexterity.
His wife Noriko supports and encourages his work, as much for an income as anything else. She is an artist herself but it all seems to center around Ushio. She wants her own recognition and respect. She states at one point that she is far more than his assistant but when alone, Ushio states that she is just that. Through her own words, we hear her tell of how they came together but we also hear of her regrets.
One such regret is how they raised their only child, Alex. This boy grew up in a home of heavy drinking artists. He never stood a chance. Now an adult he is an alcoholic himself. His saddest moment is when he shows his mother a couple of his paintings. One is a self-portrait of him as a disturbed young man. How can he hope for sympathy and concern from his mother when she is still trying to find her own way out of her husband's shadow? We never see if anything good comes to Alex.
Ushio has led an artist's life. He has struggled but always found a way to continue with what he loves to do. Good for him if he can find someone pretentious enough to buy his artwork, but I wonder if he knows just how much his life style has cost his wife and child?
Noriko cooks Ushio very good meals of sea food and is always around to feed his ego about his latest work of art. He is rarely shown spending time with his son, be it during the recent filming or the old family films. He acknowledges Noriko's work but he does not give her the kind of support that he expects from her.
I am not impressed with Ushio's boxing paintings. At an exhibit of his work he explains to some onlookers that, "I close my eyes and hit right to left." A buyer for the Guggenheim says of one of his boxing paintings, "It looks like a poppy field."
Ushio took Noriko under his wing and into his bed. She is much younger than him and she has had to learn to express herself while he is essentially the same man she married, only without the alcohol. Although this is both of their story's, Noriko has the better arc as we see her grow, while Ushio continues to hope someone will buy one of his shitty pieces of work.
Photos © Copyright Little Magic FilmsCine MosaicEx Lion Tamer (2013)