Movie Review
The Curse of the Jade Scorpion
Love stings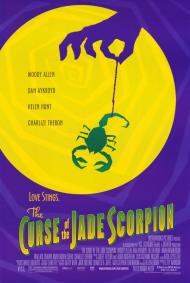 US Release Date: 08-24-2001
Directed by: Woody Allen
Starring
▸
▾
Woody Allen

,

as

CW Briggs
Helen Hunt

,

as

Betty Ann Fitzgerald
Dan Aykroyd

,

as

Chris Magruder
Charlize Theron

,

as

Laura Kensington
David Ogden Stiers

,

as

Voltan
Elizabeth Berkley

,

as

Jill
Irwin Corey

,

as

Charlie
Herb Lovelle

,

as

Night Guard
Peter Gerety

,

as

Ned
Wallace Shawn

as

George Bond

Reviewed on:
October 31st, 2006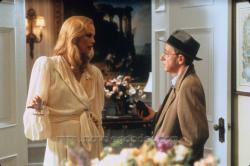 Charlize Theron and Woody Allen in The Curse of the Jade Scorpion.
The Curse of the Jade Scorpion is not among the worst movies of Woody Allen's long and storied career, but neither is it one of his best. It helps that it is set in the past. Allen has done most of his best work in movies set from the 1920's to the 1940's. Curse is set in 1940.
Allen plays an investigator for an insurance company. Yes, he's a bit old for the part but it works because he surrounds himself with other male actors his age and also by subtly pointing out that back in 1940, 50 year old guys looked more like 65 year old guys look today.
Helen Hunt plays the female lead, an efficiency expert at the same insurance company, where she is having a secret affair with the married boss (Aykroyd). Like all screwball comedies of the era she and Allen detest each other until they fall in love.
The plot kicks in when Allen and Hunt are both brought up on stage and hypnotized as part of a night club act. They are each given a key word that puts them under hypnosis. Allen's is Constantinople and Hunt's is Madagascar. Later the hypnotist phones Allen's apartment says the magic word and sends Allen off to steal some jewels.
As it sounds this is a fairly successful tribute to the comedies of the era. Charlize Theron shows up as a rich seductress making like Veronica Lake. She is much better than Helen Hunt who seems incredibly bland in the Rosalind Russell type role.
As for Allen he is pretty good here, and the script and dialogue are fine if not really inspired. The flaw is in the pacing. This is the most essential ingredient in making a successful screwball comedy. It has to be rapid fire from start to finish. I don't know if it is just his age showing but the direction seems to plod instead of zip along.
Still, for all its flaws, (and for what it's worth) The Curse of the Jade Scorpion is probably Woody Allen's best comedy thus far in the new millennium.
Reviewed on:
August 13th, 2015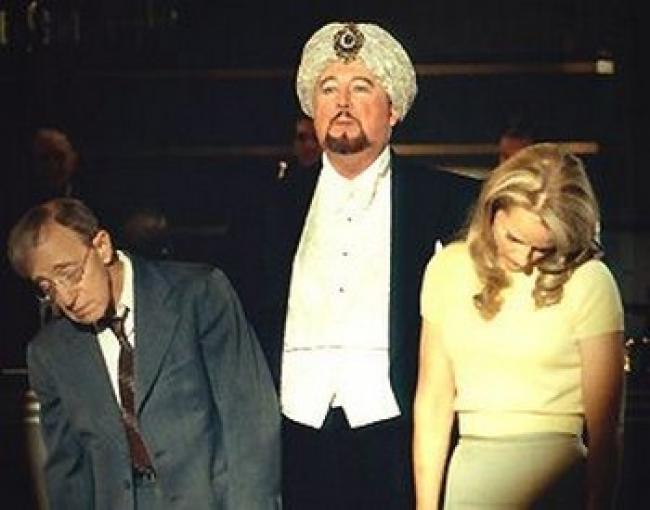 Woody Allen, David Ogden Stiers, and Helen Hunt in The Curse of the Jade Scorpion.
I agree with Patrick that this falls somewhere in the middle of Woody's films in terms of quality, but the sad thing is that with a peppier pace and--more importantly--two different actors in the lead roles, this could have been one of his best comedies of the past 20 years.
Allen himself has called this one of his worst movies because of his own performance. He only took the lead role after Tom Hanks and Jack Nicholson had turned down the part. While Nicholson was equally too old and wrong for the part as Allen turned out to be, Tom Hanks would have been perfect and much more age appropriate. Hunt isn't horrible (although her fake smoking is) and with a little more energy would have been fine, but if Hanks had starred, I can't help but think maybe Meg Ryan should have played the female lead.
Charlize Theron has the perfect look of a 1940's femme fatale and seems to be, as Patrick intimated, channeling Veronica Lake. Her seduction of Woody Allen is the worst and most unbelievable moment in the film, although Allen's' flirting with Elizabeth Berkley is equally disturbing, but she too manages to capture the look of a 1940's actress.
Overall, the look of the film is quite good and at a cost of more than $26 million, is reportedly Allen's most expensive film ever produced. The cost is mainly down to reproducing the look of the 1940s. With box office earnings of under $20 million, it failed to recoup its outlay. With the failure of this and his next three films (Hollywood Ending, Anything Else, and Melinda and Melinda) critics were quick to start writing his filmmaking obituaries and many consider this period the low point of his career.
Clearly, this is Allen's tribute to the comedies of the '30s and '40s and while it's not a classic, it is mildly entertaining, particularly for fans of that era. If only Allen had held out for a better leading man and resisted the urge to play it himself, it might have been fairly good. Allen could have played Akroyd's or David Ogden Stier's part if he'd really wanted to appear. As it is, despite some nice moments, this is ultimately a disappointment.

Reviewed on:
September 12th, 2016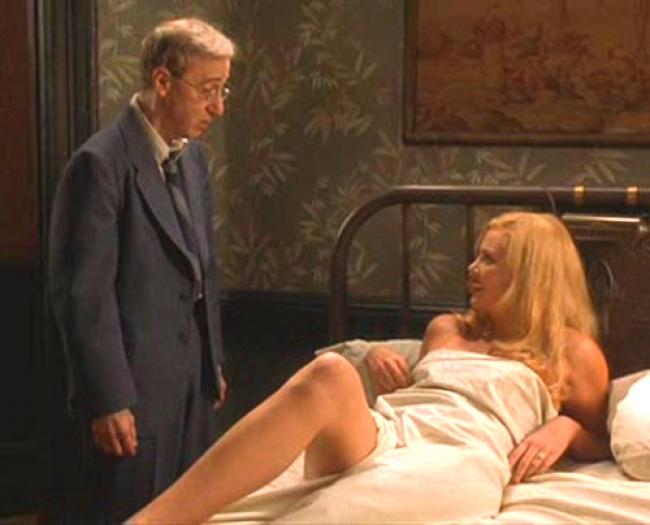 This picture of the 66 year old Woody Allen and the 26 year old Charlize Theron explains much of what is wrong with The Curse of the Jade Scorpion
I had the same thought. If Woody Allen had played any other role in the film, it could have worked. As it is, his accelerated age is too obvious and ridiculous to the plot to make any sense. Who would buy this 66 year old could get the attractive 38 year old Helen Hunt? Even if he did marry a 27 year old in real life, his CW never connects, in the least, with Hunt's Betty Ann.
As Patrick noted, Charlize Theron is much better in capturing her character than Hunt. Scott did not enjoy her seduction scene with Allen but I thought it contained some of the film's better lines. They are certainly some of Allen's better sexual innuendoes. Theron to Allen, "You have a fresh mouth. I don't think I like it." Allen to Theron, "I tend to grow on people. We could meet later and I could grow on you." At another point, Allen explains to Theron, "There's a deck of cards with naked women on it." Hitting her mark perfectly, Theron quips, "Let me guess, you use it to play solitaire."
As good as some of the dialogue is, the pace and rhythm of much of the film is off. The plot device of hypnoses is a hard sell that needed, as Scott noted, a peppier flow to get us to forget how ridiculous that point is. As the movie moves along, it does develop a bit of harmless charm but it is never enough to make up for its short comings.
The editing is a problem but the biggest error is, also as Scott mentioned, the two leads. Hunt never quite grasps that her character is supposed to be flirty/feisty and not just cocky/cruel. She is playing a tough girl in a man's world but we needed to see a hint of tongue in cheek awareness. Note how all the other women in the film are merely decoration while she intellectually challenges the men. She should have been more driven than angry. I blame the script as well as her performance. With her being in a relationship with a married man, Betty Ann becomes an even harder character to sell.

The worst piece of casting is Allen in a role that should have gone to Tom Hanks or Alec Baldwin or Bruce Willis or any other number of movie stars. At the very least, Dan Aykroyd and Allen should have switched parts. He is only some 10 year older than Hunt. Allen delivers his lines well enough and his comic timing is perfection but this is one of his films where he should have spent far less time in front of the camera.
As a fan of old movies, I applaud Allen's efforts to recreate the style of a film long gone but as my brothers wrote, The Curse of the Jade Scorpion was not a complete success on any level.

Photos © Copyright DreamWorks SKG (2001)