Movie Review
The Crowd Roars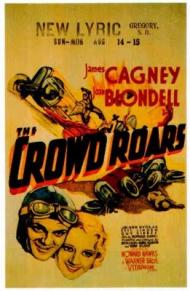 US Release Date: 04-16-1932
Directed by: Howard Hawks
Starring
▸
▾
James Cagney

,

as

Joe Greer
Joan Blondell

,

as

Anne Scott
Ann Dvorak

,

as

Lee Merrick
Eric Linden

,

as

Eddie Greer
Guy Kibbee

,

as

Pop Greer
Frank McHugh

,

as

Spud Connors
Leo Nomis

,

as

Jim
Billy Arnold

,

as

Himself
Fred Frame

,

as

Himself
Ralph Hepburn

,

as

Himself
Wilbur Shaw

,

as

Himself
Shorty Cantlon

,

as

Himself
Mel Keneally

,

as

Himself
Stubby Stubblefield

as

Himself

Reviewed on:
August 12th, 2011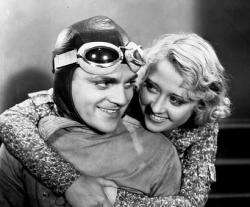 James Cagney and Joan Blondell in The Crowd Roars.
The Crowd Roars is a James Cagney vehicle from 1932 and directed by Howard Hawks. It is set against the backdrop of the then relatively new sport of motor-racing with Cagney playing Joe Greer, a small town fella that hit the big time as a racecar driver. As the story begins Joe has just returned to his hometown for a local race. His kid brother Eddie hero worships Joe and is eager to follow in his footsteps.
Joe at first protests against Eddie racing but gives in after witnessing his driving skills in action. But the one thing he won't allow is for Eddie to get mixed up with any loose women; such as Joe's girlfriend Lee's BFF Anne. Joe goes ballistic after discovering Eddie having a drink with Lee while flirting with Anne.
Of course the kid brother does the opposite of what his older brother wants and starts seeing Anne anyway. During the race Joe causes another driver (played by the reliable Frank McHugh) to crash and die in a ball of fire. He loses his nerve and hits the skids while kid brother Eddie sees his star rise. Of course this all leads up to a contrived happy ending where Joe and Eddie reunite to win the Indy 500 together with Joe driving and Eddie riding shotgun as mechanic.
Cagney plays a different sort of character here. Oh sure he is still his usual brash and dynamic self but just why Joe is so determined to keep his younger brother innocent is never fully explained. Although the script is a bit of a mess Cagney gives his usual 110 percent including one very dramatic moment that he handles well.
The plot is filled with clichés and is the weakest thing about the movie. The cast is good. Ann Dvorak plays Joe's sympathetic girlfriend Lee. She makes the most of her part which pretty much calls for her to sob a lot while pining endlessly after Joe. Joan Blondell (my all-time favorite Cagney leading lady) gets the juicier role of the sarcastic Anne. When Lee tells her that Joe thinks she is a bad influence on his kid brother she replies, "Well what kind of a kid is he for heaven's sake, a sissy or something?" Eric Linden as Eddie holds his own with these veterans even though his baby face makes him appear far too young for Blondell.
Howard Hawks filmed some exciting racing footage featuring real-life racecar drivers. There are several realistic looking crashes with cars bursting into flames. It shows just how incredibly dangerous the sport was then with the drivers racing in open cars protected only by leather helmets. Unfortunately the scenes of Cagney behind the wheel (wearing those ridiculous goggles) were obviously shot using rear projection and they take you out of the picture.
The Crowd Roars is not a great movie but it is a must see for James Cagney fans. It gave him a chance to play something other than a gangster and it offers a time capsule look back at the racing industry in its adolescence.


Reviewed on:
February 26th, 2015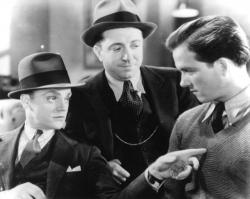 James Cagney, Frank McHugh and Eric Linden in The Crowd Roars
I think the scene at the very beginning of The Crowd Roars that features a horrific car accident is somewhat of an explanation as to why Joe is protective of Eddie. Also, when Lee asks Joe about his brother, he explains, "He's the one right guy in the world." As vague as that is, I took it simply to mean that Joe thinks of Eddie as untouched by hardships and wants to keep him that way. He does not want to see him hurt by booze or a dame.
Joe keeps his girlfriend Lee at a distance. She wants to marry him but he wants to play it loose. When they meet another racer and his family, Joe remarks, "Racing drivers have no business having kids." Lee gets so jealous of the time Joe spends with Eddie that she allows her friend Anne to seduce him so as to defy Joe's protective nature over his brother.
The best scene happens after Eddie and Anne fall genuinely in love with each other, which pisses off Joe as he knows Anne has another boyfriend. He storms into Anne's room to confront her for messing with his brother. Anne states, "I didn't hear you knock." Joe walks right up to Anne and says, "Since when does a dame like you expect guys to knock?" Eddie soon joins them and the scene ends with Joe bitch slapping his brother several times until Eddie ends up crying in a chair.
As Patrick wrote, Cagney and Blondell were combustible together. Ann Dvorak meanwhile, barely registers with Cagney. She over emotes and is not nearly as cute as Blondell. The baby faced Eric Linden fits the role, looking as innocent as they come. His movie acting career ended before he was even middle aged. One of his last film parts was as a wounded soldier in a little picture called Gone with the Wind (1939).
The Crowd Roars belongs to James Cagney and the sport of racing. Cagney was a mere 5' 6" but God sure packed plenty of energy and charisma into him. He plays a man on top of the world and later a bum. He is tough in one scene and vulnerable in another. This is not an Oscar caliber role but Cagney does all that is required every energetic step of the way.
This movie features several real race car drivers of the time; some even get lines of dialogue. I agree with Patrick that the racing scenes are exciting, especially when you consider everything was done with special effects from the time. At one point a car barrels through a fence at a high speed. It is also interesting to see how races were done in 1932. The pit crews stayed in contact with their driver by holding up signs for the driver to read.
The Crowd Roars is not one of Cagney's better films but it has much to offer. Hell, it is worth watching just to see him and Blondell face each other in the few scenes they share.
Reviewed on:
November 10th, 2015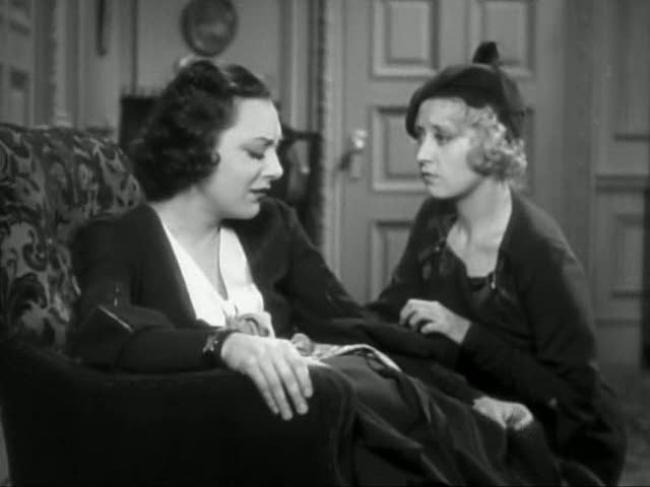 Ann Dvorak and Joan Blondell in The Crowd Roars.
Patrick called co-star Frank McHugh reliable. He wasn't kidding. When Warner Bros. remade this movie in 1939 as Indianapolis Speedway, with Pat O'Brien in the Cagney role, who did they get to play the Frank McHugh part? That's right, they hired Frank McHugh to play it. McHugh and Cagney met for the first time on the set of this movie and became lifetime friends. McHugh would appear in a further 10 Cagney pictures, the most of any of his co-stars.
Cagney does play a different sort of character here. He plays a jerk. He's bossy with his little brother and unfeeling toward his girlfriend. He puts his and his brother's needs ahead of her's every time and is even too embarrassed to introduce her to his family. And this being a Pre-Code film, it's obvious that he and she are sleeping together before marriage and even live together, until younger brother Eddie arrives on the scene that is, when for appearances sake Cagney moves down the hall. Cagney's Joe (I think there was a rule in the 1930s that every movie had to include a character named Joe) is even an alcoholic who drinks, then drives, and ends up killing his best friend. Not the easiest guy to like, but we stick with him because he's Cagney.
I liked Ann Dvorak. She plays a sweet kid, but I agree that Blondell upstages her. She plays the wisecracking, gum snapping, bleach blonde with such panache that you can't help but think that each of the brothers ends up with the wrong dame. Surely, she belongs on Cagney's arm, while the much more demure Dvorak is more suited for the kid brother?
My brothers spoke of watching the early days of racing, and relatively speaking 1932 was still fairly early, but really car racing is as old as cars themselves and goes back to the turn of the century. The very first Indianapolis 500, which is where the climax of this movie takes place, was way back in 1911. Still, the safety standards were incredibly lax by today's standards and the Warner Bros. publicity department wanted audiences to know just how lax. According to TCM, the studio issued a press release during filming that stated "fourteen cars were wrecked in nine major accidents and seven men were sent to the hospital." However, director Howard Hawks later admitted in an interview that there were no unwanted mishaps during filming and every accident you see in the movie was planned and staged.
As my brothers said, this isn't a great movie by any means. The melodrama creaks and not even Cagney can drive fast enough to get out of the way of all the cliches. Still, it's a peppy little film that doesn't hang around long enough to hate. And even in a bad movie, Cagney is worth watching.
Photos © Copyright Warner Bros. Pictures (1932)