Movie Review
Crossfire
Sensational? No, it's dynamite!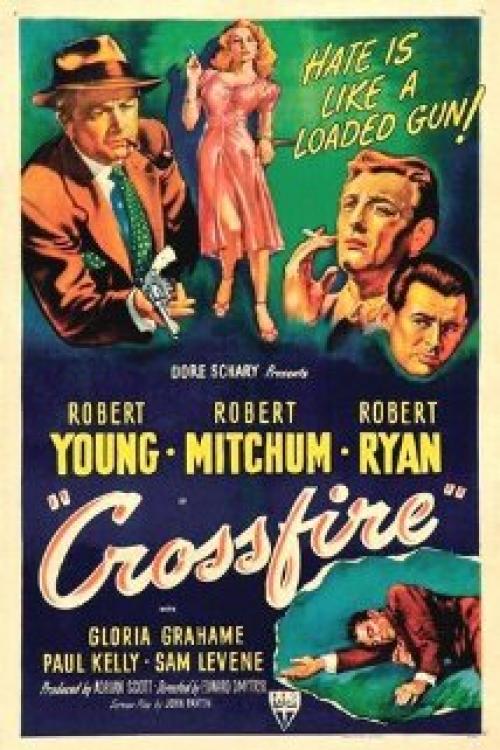 US Release Date: 07-22-1947
Directed by: Edward Dmytryk
Starring
▸
▾
Robert Young

,

as

Capt. Finlay
Robert Mitchum

,

as

Sgt. Peter Keeley
Robert Ryan

,

as

Montgomery
Gloria Grahame

,

as

Ginny Tremaine
Paul Kelly

,

as

Mr. Tremaine
Sam Levene

,

as

Joseph Samuels
Jacqueline White

,

as

Mary Mitchell
Steve Brodie

,

as

Floyd Bowers
George Cooper

,

as

Cpl. Arthur Mitchell
Richard Benedict

,

as

Bill Williams
Tom Keene

,

as

Dick
William Phipps

,

as

Leroy
Lex Barker

,

as

Harry
Marlo Dwyer

,

as

Miss Lewis
Robert Bray

as

MP
Reviewed on:
June 24th, 2015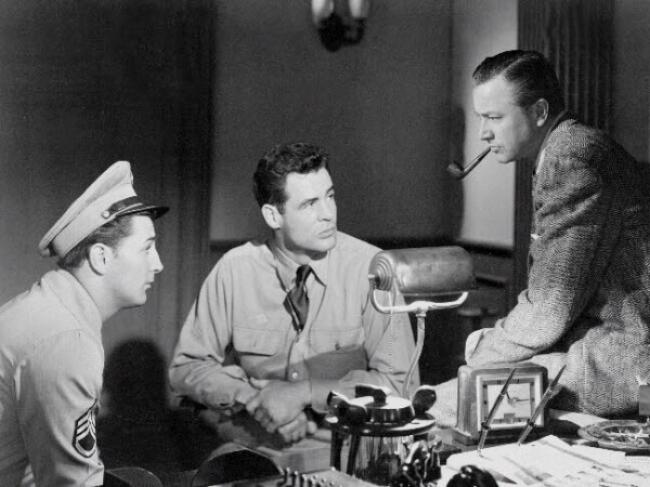 Robert Mitchum, Robert Ryan and Robert Young in Crossfire.
Crossfire was adapted by John Paxton from the 1945 novel The Brick Foxhole by Richard Brooks. In the novel a gay man is murdered by a homophobic soldier. In 1947 the subject of homosexuality was forbidden in American films. For the screenplay the murder victim was changed to a Jewish man. The movie became instead a searing indictment of anti-Semitism released several months before the similarly themed Gentleman's Agreement. Unlike that Oscar winning picture, Crossfire pulled no punches in its depiction of bigotry and hatred.
It stars three Roberts; Young, Mitchum and Ryan. Robert Young plays a pipe smoking detective investigating a murder that plays out in shadows during the opening scene. Robert Mitchum plays a soldier helping solve the case, and Robert Ryan is the villain. As Montgomery he gives a performance of pure hatred that earned him a supporting Oscar nomination. In his hands Montgomery is a terrifying creation. Gloria Grahame likewise earned an Oscar nomination for her small role as good-time-girl Ginny Tremaine.
Director Edward Dmytryk kept the tone pessimistic and bleak. Veteran cinematographer J. Roy Hunt made good use of atmospheric low-key lighting, resulting in a message picture that is also a classic example of film noir. This also allowed the entire picture to be shot in an economic 20 days, thus enabling it to beat Gentleman's Agreement to theaters.
Robert Young gives an impassioned speech against racism and bigotry near the film's climax that remains relevant today – just substitute any other minority group for Jews. "This business about hating Jews comes in a lot of different sizes. There's the 'you can't join our country club' kind. The 'you can't live around here' kind. The 'you can't work here' kind. Because we stand for all these, we get Monty's kind. He grows out of all the rest... Hating is always insane, always senseless." Indeed.
Crossfire is a great example of classic Hollywood at its very best. It's hard hitting entertainment with a potent social message that features a great cast and excellent black and white cinematography. It didn't make the United States Military very happy though. The army only showed it at stateside bases, while the navy refused to screen it at all. I would love to see a remake today that deals with the original subject of homophobia. The role of Montgomery is a great part waiting for some brave actor to tackle. The brilliance of Crossfire, though, is that its message is universal and can be applied to every kind of bigotry and ignorance.
Photos © Copyright RKO Radio Pictures (1947)
Related Review