Movie Review
Crocodile Hunter: Collision Course
Crikey!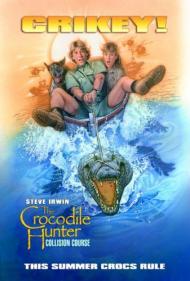 US Release Date: 07-12-2002
Directed by: John Stainton
Starring
▸
▾
Steve Irwin

,

as

Himself
Terri Irwin

,

as

Herself
Magda Szubanski

,

as

Brozzie Drewitt
David Wenham

,

as

Sam Flynn
Lachy Hulme

,

as

Vaughan Archer
Aden Young

,

as

Ron Buckwhiler
Kenneth Ransom

as

Robert Wheeler

Reviewed on:
July 14th, 2002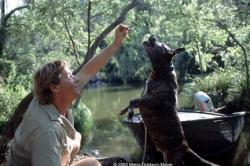 Steve Irwin in Crocodile Hunter: Collision Course.
Crocodile Hunter is one lame excuse for a movie. To call it a movie is really an insult to real movies. This is nothing more than an episode of Steve Irwin's cable television show, only longer.
Steve Irwin and his real life wife Terri are shown in several scenes capturing crocodiles, snakes, a spider and a baby kangaroo. Between animal capture scenes we have a pathetic plot about a satellite that has fallen to earth and been swallowed by a crocodile. Three CIA agents go to Australia to retrieve it. The two plots, if they can actually be called that, only cross each others paths at the very end, and then only slightly.
The entire cast is Australian. I don't know that for a fact, but the "American" CIA agent's Australian accents sure lead me to think so. In fact the acting is the worst I have probably ever seen. Of course it doesn't help that the plot and dialogue was obviously written by rank amateurs.
The one and only thing this movie has is the incredible charming enthusiasm of Steve Irwin. Anyone who has ever seen his show knows what I am talking about. This guy gets excited about lizards and snakes. "Man isn't she a beauty." he says as he holds a supposedly deadly snake. In the movie as well as the television show he gets excited over crap. "Woo, lizard poo. I think I'll save that to look at later." He says as he put the lizard poop in his pocket. Crikey this guy is nuts. Crikey is of course his catch word. He uses it whenever he is excited, which with this guy is all the time.
The scenes with Steve and Terri are the best in the movie. If you have seen his show then you have seen the best this movie has to offer. Steve talks to the camera like he does on his show. I kept wondering when someone was going to show up and ask him who he is talking to but it never happens. This movie lacks in any imagination.
If you are a fan of Steve Irwin then watch this movie with the remote control in your hand so you can skip every part that he is not in. Better yet, just watch the television show.
Photos © Copyright MGM (2002)