Movie Review
Creed
Your legacy is more than a name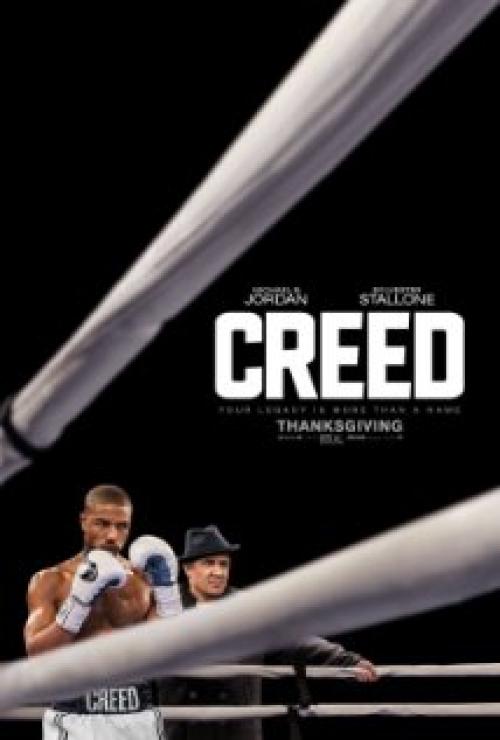 US Release Date: 11-25-2015
Directed by: Ryan Coogler
Starring
▸
▾
Michael B. Jordan

,

as

Adonis Johnson Creed
Sylvester Stallone

,

as

Rocky Balboa
Tessa Thompson

,

as

Bianca
Phylicia Rashad

,

as

Mary Anne Creed
Andre Ward

,

as

Danny 'Stuntman' Wheeler
Tony Bellew

,

as

'Pretty' Ricky Conlan
Ritchie Coster

,

as

Pete Sporino
Wood Harris

,

as

Tony 'Little Duke' Burton
Jacob 'Stitch' Duran

,

as

Stitch
Graham McTavish

,

as

Tommy Holiday
Malik Bazille

,

as

Amir
Liev Schreiber

,

as

HBO 24 / 7 Narrator
Michael Buffer

,

as

Himself
Hannah Storm

,

as

Herself
Alex Henderson

as

Young Adonis

Reviewed on:
December 1st, 2015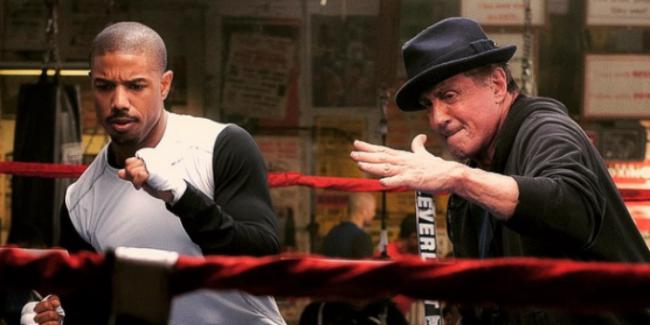 Michael B. Jordan and Sylvester Stallone in Creed.
Creed is an exuberant, crowd pleasing, cheer along movie that continues the Rocky tradition in fine form. It starts with Adonis Creed, the illegitimate son of the late, great Apollo Creed. We briefly see him as a child living in foster care in 1998 before being adopted by Apollo's widow, played by Phylicia Rashad. Fast forward seventeen years and the now adult Adonis walks away from a decent job in L.A. in order to pursue his dreams of boxing. But he wants to make it on his own so he goes by the last name of Johnson instead of Creed.
Eventually the young Adonis winds up in Philadelphia with plans of meeting and being trained by his father's old friend and competitor, Rocky Balboa. Although reluctant at first, Rocky soon agrees to train the young Adonis. The two quickly bond as the story heads towards its predictable, yet completely satisfying, conclusion. There is also a love interest for the young Adonis, played by Tessa Thompson.
Michael B. Jordan continues his march towards stardom. After the disappointment of the Fantastic Four reboot, this movie comes along at just the right time in his career. He got in great shape for the role and throws himself into the part with intensity. Jordan is charismatic and a fine actor too. He and Stallone have great chemistry together. It is their relationship that makes the movie. He playfully calls Rocky, "Unc" and maneuvers his way into Rocky's lonely life (it is explained that Rocky's son moved to Canada and that Rocky only occasionally hears from his son or his son's wife).
Creed follows the same blueprint that Rocky followed nearly forty years earlier. It is an underdog sports movie that hits all the expected cliches while remaining 100% enjoyable to watch. Perhaps the best thing about Creed is the fact that Rocky doesn't do any boxing. Unlike the 2006 Rocky Balboa, where a 60 year old Sylvester Stallone got in the ring one last time, here he is only in the role of trainer. It has been pointed out that Stallone is now the same age that Burgess Meredith was when he played Rocky's trainer Mickey in the original movie back in 1976.
From a marketing standpoint Creed is a stroke of genius. It allows Stallone to pass the torch while still maintaining a presence in the series. As good as Creed is I expect this won't be the last we see of Adonis Creed and Rocky Balboa. If however, this turns out to be the last Rocky movie then the final scene is a perfect way to end it. If you want to know what I mean you'll have to go see the movie.
Reviewed on:
December 22nd, 2015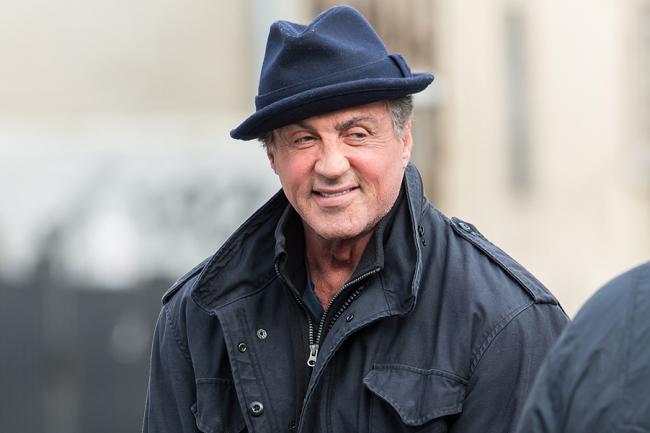 Sylvester Stallone in Creed.
This is Rocky done for the millennial generation. Adonis Creed might start off as the underdog in the first flashback, but from the moment Apollo Creed's widow rescues him, everything goes his way. Where in 1976, Rocky was truly one of life's losers suddenly given a chance to prove he was more than that, Adonis is educated, wealthy, with a support network behind him. Everything comes so easily. Even his ability as a boxer can partly be explained by the genes he was given from his father. His only issues are emotional ones, including a massive daddy issue. It's because of this that I was never as caught up in his journey to victory as I was in the original Rocky. If Adonis wins, loses, or never even gets the chance at the title, he's going to be okay.
It's a testament to the filmmakers that despite that central weakness, the film remains as entertaining as it does. I agree with Patrick that Michael B. Jordan is talented. This might be the movie that saved his career from The Fantastic Four debacle. It's because of him that we care as much as we do about Donnie. He has the physicality for the part, but also a natural charisma.
It took Stallone about 2 too many Rocky movies to get here, but this is a great way to continue the character, or end it, should they never make another, as Patrick indicated. He's never been the greatest actor, but this is the character he was born to play and he does some of his finest work here. Surely, a Supporting Actor nomination isn't out of the question, even if part of it is purely based on affection for Stallone. It's the relationship between Rocky and Donnie that is the heart of the movie. Their time together, as they form a father-son bond and help each other fight their separate battles, is the best part of the movie.
Another weakness in the story is the generic nature of the boxing opponent. He's a tough-talking ass, but he lacks that element that really wants you to see him get his comeuppance. You want Donnie to win, but it never feels personal enough. As Rocky tells Donnie, his real opponent is himself.
Director Ryan Coogler, who previously directed Jordan in Fruitvale Station, does a good job. The boxing match is particularly well done. It's bloody, violent, and stylishly filmed without being intrusive. You can practically feel the blows as they fall. At over 2 hours, there is room for a little trimming, but overall he keeps the story moving along.
Creed is an entertaining continuation of the Rocky saga. It never matches the heart and soul of the original film, but it is a worthy successor.

Reviewed on:
December 23rd, 2015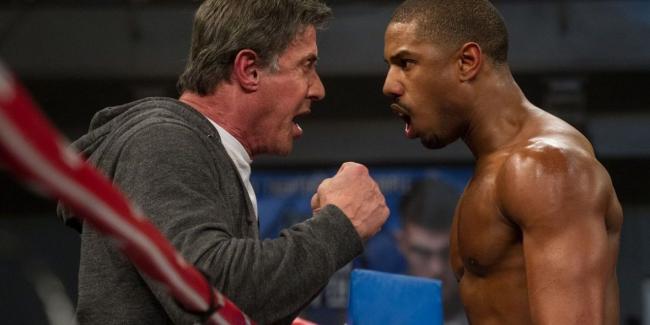 Sylvester Stallone and Michael B. Jordan in Creed
Yes Scott, Creed needed some trimming. It does not contain enough plot to sustain a two hour film. Nearly a hour of screen time passes before Rocky starts to train Creed. We know from the previews that it is going to happen so why drag out that plot point. Besides, Rocky is a far more interesting character to spend time with than Creed. Rocky is one of the most introspective people to ever appear on screen, and talk about humble....
Patrick described Adonis Johnson Creed as a man who wants to make it on his own. It seems to be his biggest motivator in life as he talks about it often. He moves away from his wealthy adopted mother to live in a low rent apartment in an old neighborhood. He talks a famous boxer into training him. He eventually gets a chance at an important boxing match if he uses his famous father's last name.
In other words, Adonis does nothing on his own. He stopped being independent the moment his father's rich widow took him in. To me, Adonis sounded like one of those single mothers who gets WIC, welfare, EBT, free day care, and free college tuition from the government but still complains to everyone that she is doing it all on her own. As Scott noted, even if Adonis fails at boxing, he is still in line to inherit a mansion.
The story should have taken another route. It should have had Adonis always proud of his heritage. There is nothing wrong with having people in your life that help you. Damn few people ever make it to the top, or even to a comfortable level, without a helping hand from someone. A more interesting story would have been if fans and commentators called him a legacy that was given a free pass because of his name. It would have been his motivation to prove he is worthy to be in the ring. Rocky was an underdog while Adonis tries to act like one.
To add to Scott's comment about Adonis's opponent, "Pretty" Ricky Conlan, it would have helped if we had seen Ricky make more comments about Adonis only getting the match because of his name and not because he worked his way up the ladder and truly earned the chance at the fight. At least then we would have had more reason to cheer for Adonis to knock the crap out of Conlan. That would have been him proving to everyone that he is a boxer to take seriously. As the movie plays out, it seems he is only proving something to himself.
I agree with my brothers that Michael B. Jordan is a very good actor. He never missteps the entire film. However, the script failed him as it never places him in a vulnerable position. It is as if we are intended to give him a life time of pity because he was once a poor child who never knew his father. Adonis has the luxury to quit a nice job whenever he feels like it and pursue a career in a sport with the knowledge that he has a safety net waiting for him if the boxing does not pan out. Adonis was adopted by the one percent but tries to live like he was not. He may have had a rough start to life, but he has since had his life paid for him by others.
I agree that Stallone works in the supporting role, but I would have better enjoyed this film if it were told from his perspective. He could have seen Adonis taking shit in the media for his name and came to his defense, volunteering to train him. By the end of this film, Adonis has gained a new appreciation for his father's name but it could have reached that point in a far more interesting and unique way.
Photos © Copyright Warner Bros. (2015)
Related Reviews