Movie Review
Cover Girl
Too thrilling for words, so they set it to music!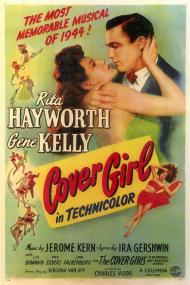 US Release Date: 03-30-1944
Directed by: Charles Vidor
Starring
▸
▾
Rita Hayworth

,

as

Rusty Parker/ Maribelle Hicks
Gene Kelly

,

as

Danny McGuire
Lee Bowman

,

as

Noel Wheaton
Phil Silvers

,

as

Genius
Otto Kruger

,

as

John Coudair
Leslie Brooks

,

as

Maurine Martin
Eve Arden

,

as

Cornelia Jackson
Jess Barker

as

Coudair as a Young Man


Reviewed on:
April 13th, 2003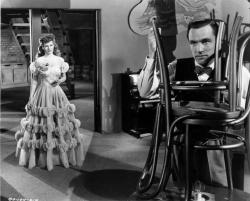 Rita Hayworth and Gene Kelly in Cover Girl.
I remember being excited when I first discovered the movie Cover Girl. I had long been a fan of Gene Kelly and Rita Hayworth. Until I found this movie I never knew that they had made a film together. Cover Girl was made in 1944. Rita Hayworth was, at the time, American GI's favorite pin-up, or at least a close second to Betty Grable. Gene Kelly was still a relative newcomer to Hollywood, having scored big the previous year with Judy Garland in For Me and My Gal.
Rita Hayworth plays chorus line dancer Rusty Parker. She works in a Brooklyn night club owned by wounded war veteran Danny McGuire (Gene Kelly). "Where did they get ya?" The night club janitor asks Danny. "In Libya." He replies. "It don't show a bit." The janitor says looking in the direction of Danny's rear end.
Danny and Rusty have a lukewarm relationship. With club comic Genius (Phil Silvers), the three have a great friendship. One day Rusty enters a contest to be on the cover of a magazine. Upon seeing her perform at the night club, the publisher immediately wants her for the cover. You see, Rusty looks just like her grandmother who had a fling with the magazine publisher years ago.
Before you know it Rusty Parker is a big star. In fact she is now too big a star for her old friends. She breaks up with Danny and gets a new boyfriend. Her new boyfriend plans to star her in a big Broadway show. However, some flash back stories about Rusty's grandma eventually set her straight. Meanwhile Danny and Genius are off entertaining the troops. As they say, absence makes the heart grow founder. So, will love, a flash back, and a song bring these two back together?
Hayworth and Kelly have good chemistry. Kelly is closer to Hayworth's age than Fred Astaire. He is also better looking. They make a great screen couple.
The flaw in this film are the flashbacks. Not only do you have to see them, but they always contain some song that really was not needed. The film's strong points are Kelly and Hayworth. The flashbacks only contain Hayworth in turn of the century garb.
Jerome Kern and Ira Gershwin were nominated for an Academy Award for the song 'Long Ago and Far Away'. Good songs. Great dancing. Incredible cast. It's too bad the editing wasn't a bit tighter.
Reviewed on:
June 16th, 2005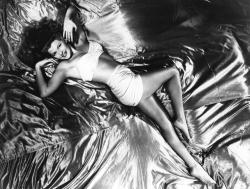 The gorgeous Rita Hayworth
Cover Girl is a so-so musical with a great cast that makes up for some of the movie's weaknesses. My problem with this movie is that for a musical, it features some truly forgettable songs. I just saw it last night and I already can't remember any of them. And there's way too many of them.
But as Eric said, the chemistry between Hayworth and Kelly is good and when they dance together the movie moves up several notches.
This being only Kelly's sixth movie, it's an interesting look at a star near the beginning of his career. He plays it much more seriously here than he does in later films and is clearly in the supporting role to Hayworth's starring one. But even that doesn't stop him from getting in some great dance numbers, including one in which he finally finds a partner who can dance as well as he can when he dances with himself on a Brooklyn street.
As for the flashbacks, I wouldn't have minded them if the songs Hayworth sings during them had been any good, but they're not. Like the rest of the songs in the movie, they're completely forgettable.
Cover Girl is worth it for a chance to see Kelly and Hayworth together, but they both made much better films than this.
Reviewed on:
January 15th, 2010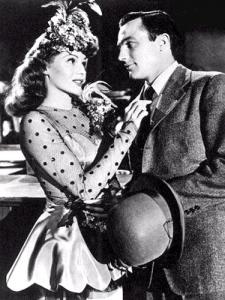 Rita Hayworth and Gene Kelly are better than the material.
I agree that Kelly and Hayworth have good chemistry. I also concur that the songs are forgettable. What I didn't expect to find was that most of the dance numbers are pretty bad. As a tap dancer Hayworth was never in the same league as Eleanor Powell or Ann Miller but in several of the numbers here (especially in the opening number) she looks downright awkward. To be fair the choreography and staging are truly to blame. It is only when dancing with Kelly and in her one big production number on the Broadway stage that her talents as a dancer shine.
Visually this is not an MGM musical although it is clearly trying to be one. Columbia Pictures just didn't have the money or style to successfully recreate the gloss and glamour of Hollywood's greatest studio. Kelly, on loan from MGM, had yet to find his singular dance style. The only glimpse of his later creativity being the scene Scott mentioned where he dances with himself. In fact it foreshadows his most iconic dance from Singin' in the Rain, both take place on a deserted street at night and both feature a streetlamp.
I enjoyed the flashbacks, they add a bit of sentimental whimsy to the picture. I also enjoyed Eve Arden as the wisecracking Girl Friday that was her stock in trade. She provides comic relief in a more subtle fashion than the completely unfunny Phil Silvers. His shtick has not aged well at all.
Although Cover Girl is far from perfect, Rita Hayworth and Gene Kelly sparkle like two flawless diamonds. They make this by-the-numbers musical much better than it deserves to be.
Photos © Copyright Columbia Pictures (1944)