Movie Review
Courage Under Fire
A medal for honor. A search for justice. A battle for truth.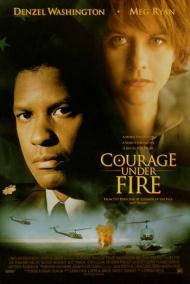 US Release Date: 07-12-1996
Directed by: Edward Zwick
Starring
▸
▾
Denzel Washington

,

as

Lt. Colonel Nathaniel Serling
Meg Ryan

,

as

Captain Karen Emma Walden
Lou Diamond Phillips

,

as

Staff Sergeant John Monfriez
Michael Moriarty

,

as

Brigadier General Hershberg
Matt Damon

,

as

Specialist Ilario
Bronson Pinchot

,

as

Bruno
Seth Gilliam

,

as

Altameyer
Regina Taylor

,

as

Meredith Serling
Zeljko Ivanek

,

as

Ben Banacek
Scott Glenn

,

as

Tony Gartner, Washington Post
Tim Guinee

,

as

Rady
Tim Ransom

,

as

Boylar
Sean Astin

as

Patella

Reviewed on:
November 14th, 2006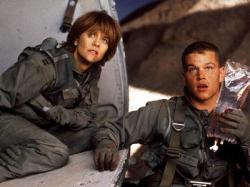 Meg Ryan and Matt Damon in Courage Under Fire.
Courage Under Fire is one of those great overlooked movies. With amazing performances, tense action sequences, mature drama and a mystery to be solved, it has plenty to offer. If you have never seen this movie, I strongly recommend you do.
As the movie opens, the ground war for Desert Storm is just starting. Serling, a tank commander, makes a decision that he sadly regrets and haunts him for a long time. Back in the states he is given the job to investigate the eligibility for a female soldier, Walden, to be given The Medal of Honor. The first possible woman to be so honored.
While dealing with his nightmares, by drinking and avoiding his family, Serling goes about interviewing the survivors of a helicopter crash, in which Walden was the pilot. Everything seems simple enough until everyone's stories start to not match up.
Washington and Ryan do not share any scenes together. She is in the flashbacks only. Washington delivers a heartfelt performance of a man so filled with regret that he has no idea what to do with it. Ryan is as far from Sally Albright as she could get. She plays a tough soldier dealing as best she can under extremely tense moments.
The one and only thing I felt the movie lacked was a real moment of comeuppance for those who deserve it. Everyone in this movie is scarred with emotional wounds that will take a lifetime to heal, if ever. But I would have appreciated one soldier, in particular, getting his due instead of going out as he does. It is almost as if he got away with it.
Courage Under Fire is a moral lesson on personal responsibility. Damon says in the movie, "It's not the doing shit that gets to you. It's the consequences." The one time the movie gets a bit preachy is when Serling says that "everyone" deserves to know the truth of what happened over there. The line is out of place in that the entire movie is about personal accountability and how it affects each of these people so deeply. This political statement is simply out of place.
Photos © Copyright Twentieth Century-Fox Film Corporation (1996)