Movie Review
The Count of Monte Cristo
Prepare For Adventure. Count On Revenge.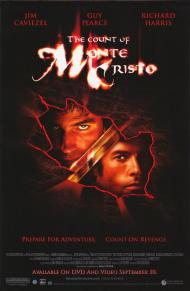 US Release Date: 01-25-2002
Directed by: Kevin Reynolds
Starring
▸
▾
James Caviezel

,

as

Edmond Dantes/Count of Monte Cristo
Guy Pearce

,

as

Fernand Mondego, Count of Morcerf
Richard Harris

,

as

Abbao Faria, Edmond's d'If Mentor
James Frain

,

as

J.F. Villefort
Dagmara Dominczyk

,

as

Mercedas Iguanada
Michael Wincott

,

as

Armand Dorleac, d'If Warden
Luis Guzman

,

as

Jacopo the Maggot
Christopher Adamson

,

as

Maurice
Henry Cavill

as

Albert Mondego

Reviewed on:
January 27th, 2002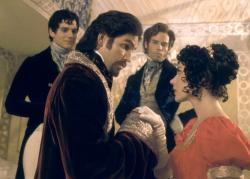 Henry Cavill, James Caviezel, Guy Pearce and Dagmara Dominczyk in The Count of Monte Cristo<.
The Count Of Monte Cristo is a movie that should have been great. It is based on the classic by Alexander Dumas. It stars two of the most talented B actors working today. It has drama, intrigue, adventure and love, yet it is missing something.
This is the story of two best friends. One is the son of a count and the other is an illiterate commoner. They are both in love with the same woman. She is in love with only one, the commoner, Edmond.
Edmond is betrayed by his best friend and finds himself in prison. There he befriends an old man, Richard Harris, who enlists Edmond's help in digging an escape tunnel. The tunnel will take years to dig so in the mean time the old man teaches Edmond to read, understand philosophy, economics and sword fighting. He also shares with Edmond the secret of a hidden treasure. Before the tunnel is complete the old man dies and Edmond escapes on his own. The treasure becomes his and he sets out to exact revenge.
After learning his ex-best friend and former girlfriend have wed and moved to Paris, he puts his plan into action. He changes his look and buys a château near Paris. He invites all the old players of his previous life to a party there and then grandly makes his entrance as The Count Of Monte Cristo. He becomes the toast of Paris and sets to work destroying his old friend. Secrets get revealed, sword fights ensue and an old flame is relit.
Jim Cazaviel and Guy Pearce are two of the most effective actors working today. The incredible range Guy has demonstrated in such films as Priscilla Queen Of The Desert, L.A. Confidential and Memento is staggering. Jim is that rare actor where subtlety is the key. This guy can say more with his eyes than most actors can with their entire body. Notice the look of innocence on his face when he is arrested. The determined, "I am back" glare when he makes his entrance.
Where as they both are very good at what they do, they each lack charisma. I can't say enough about how good these guys can act, but they have yet to demonstrate movie star quality. That magical charm that comes through the screen and attracts you to that certain actor or actress. Perhaps they have yet to have that star making role. Perhaps Guy needs a role that has more balls. Jim's career wouldn't hurt if he actually smiled in a movie.
This movie is what Patrick might say is old school. I could have easily seen Tyrone Power starring in it. It is very old fashioned in its story. It is filmed on location without any special effects. Adult language and nudity are non existent. If this movie were in black and white I would have thought it was 50 years old.
I enjoy old movies so that didn't bother me. But because the director didn't, in any way blaze even a small new trail, the movie stays on an old worn path. Even if you don't know how the story ends you can see it coming a mile away. What are supposed to be surprises aren't. What are supposed to be action scenes are to brief.
This movie is like a paint by number. Everything is technically in the right spot so it looks good. However that also means it looks generic, unoriginal and uninspired. When turning a book into a movie the makers should follow the plot line fairly close. Otherwise, why make the movie at all. However, you can add to it without straying from the central idea. Would nudity, and some more action and gore hurt this film? I think not.
Photos © Copyright Spyglass Entertainment Group, L.P. (2002)