Movie Review
The Corn Is Green
Bette Davis - A Glorious Story for the Screen's most Glorious Actress !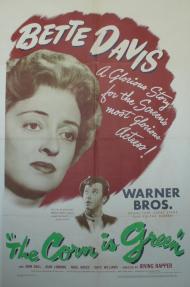 US Release Date: 07-14-1945
Directed by: Irving Rapper
Starring
▸
▾
Bette Davis

,

as

Miss Lilly Moffat
Nigel Bruce

,

as

The Squire
John Dall

,

as

Morgan Evans
Joan Lorring

,

as

Bessie Watty
Rhys Williams

,

as

Mr. Jones
Rosalind Ivan

,

as

Mrs. Watty
Mildred Dunnock

,

as

Miss Ronberry
Arthur Shields

,

as

Glyn Thomas
Gwyneth Hughes

,

as

Sarah Pugh
Thomas Louden

as

Old Tom
Reviewed on:
May 30th, 2011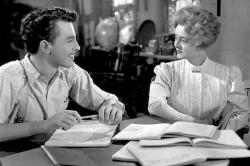 John Dall and Bette Davis in The Corn is Green.
At the height of her career Bette Davis often turned hit Broadway plays into successful movie vehicles; in the process stealing the lead role away from the actress that had originated it on the stage. She took Tallulah Bankhead's ruthless Regina Giddens from The Little Foxes and made it her own. A few years later she would do the same thing to Ethel Barrymore by playing Miss Moffat in The Corn is Green. By all existing accounts both Bankhead and Barrymore were absolutely riveting in these plays. Bette Davis, however, understood that stage acting was by nature ephemeral while The Movies would last forever.
The Corn is Green is set in a small Welsh mining village in the 1890s. It tells the true story of playwright Emlyn Williams and his schoolmistress. The story begins with the arrival of Miss Moffat. She has inherited a sizable income from her deceased father and a house in the village. On her first day in town she hears local boys singing on their way home from a day spent working in the mines. She is so inspired by the spirits of these dirty, uneducated youths that she decides to open a free public school for all who wish to attend.
She soon discovers a "diamond among the coal" in the form of a boy named Morgan Evans (John Dall making his movie debut) when she reads an essay he has written about the mines. One line goes, "...and when I walk in the dark I can touch with my hands where the corn is green." This student quickly becomes Miss Moffat's personal project. She treats him in a cold and impersonal manner, thus alienating him. There is a subplot involving the wild-child daughter (Joan Lorring) of Moffat's housekeeper. Will Morgan get accepted to Oxford and get out of the mining life or will he be trapped in the cycle of poverty and ignorance?
Lily Moffat was a feminist long before the term was coined. She does not suffer fools gladly. This is what she says about the pompous town Squire. "That man is so stupid, it sits on him like a halo." John Dall, with a Welsh accent, holds his own with Davis in their scenes together. Their relationship is the heart of the story and they play off of each other well.
On a trivia note, the role of Miss Lily Moffat is the only part played by both Bette Davis and her biggest rival for greatest female movie star of all time, Katharine Hepburn. Hepburn made a television version in 1979, which also marked the last time she worked with director George Cukor. The biggest difference in their two versions is the age of the actress. Davis was just 36 when she played Miss Moffat while Hepburn was 71.
The Corn is Green is a great old fashioned melodrama with the added emotional depth of being based on a true story. John Dall and Joan Lorring were both nominated for Supporting Oscars and Bette Davis gives one of her best and most restrained performances as the driven Lily Moffat. Her last understated line gets me every time. "Mustn't be clumsy this time Moffat old girl, mustn't be clumsy."

Photos © Copyright Warner Bros. Pictures (1945)