Movie Review
Coraline
Be careful what you wish for.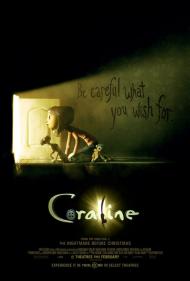 US Release Date: 02-06-2009
Directed by: Henry Selick
Starring
▸
▾
Dakota Fanning

,

as

Coraline Jones (voice)
Teri Hatcher

,

as

Mother / Other Mother (voice)
Jennifer Saunders

,

as

Miss Spink (voice)
Dawn French

,

as

Miss Forcible (voice)
Keith David

,

as

Cat (voice)
John Hodgman

,

as

Father / Other Father (voice)
Robert Bailey Jr.

,

as

Wybie Lovat (voice)
Ian McShane

as

Mr. Bobinsky (voice)
Reviewed on:
July 18th, 2009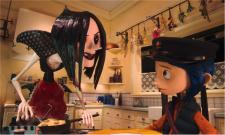 I would have preferred to have seen a live action adaptation rather than this stop-motion version.
Coraline is based upon a children's novel by one of my favorite authors, Neil Gaiman. Gaiman generally writes modern, adult fantasy novels, but here wrote a book aimed at children that still manages to be fairly dark and quite good, even for adult readers. This film adaptation is okay, but waters down the darker aspects of the original story and is overall a disappointment.
The movie is filmed with puppets using stop-motion photography and bears a striking resemblance to The Nightmare Before Christmas, mainly because it was directed by Henry Selick, who also directed Nightmare (not Tim Burton as is often thought). I can't say I'm a big fan of this technique one way or another, but I'm definitely not a big fan of the look of this movie, which is highly stylized and not realistic at all. It goes for caricature rather than character. It was also shot in 3-D, which obviously is unavailable when watching it at home on DVD. You can clearly see the scenes that were meant to be impressive in three dimensions, but which have little affect in two.
Coraline is an 11 year-old girl who has just moved into a rambling old house with her parents. The house is divided into apartments and Coraline has some odd neighbors. There's the Russian acrobat who lives upstairs. He runs a mouse circus. In the basement, live two elderly English actresses (voiced by an underused Dawn French and Jennifer Saunders). A neighbor boy, Wybie, is a new charcter added for the movie, whose main job is to interject some of the exposition provided by the written word in the book, but since one of the main points of the book is that Coraline is very lonely and ignored all the time, it kind of undercuts this when she has someone her own age running around.
Since Coraline is constantly ignored by her parents, she looks for something to do and ends up finding a passageway through an old door that leads to a world similar to her own, where she meets her Other-Mother and her Other-Father. Her Other-Parents are the opposite of her own parents. All these new parents want to do is spend time with her, but rather quickly Coraline learns that everything isn't as rosy as it seems, especially when her Other-Parents tell her that she must have buttons sewn in place of her eyes. Now in the book that moment is rather shocking and threatening, but in the movie it doesn't seem as bad and I think it's because these are puppets. The idea of removing a human's eyes and replacing them with buttons is pretty horrifying, but sewing buttons onto a puppet isn't really very troubling.
My favorite character from the book does make into the movie, although in a reduced role, and that is the black cat. The cat is an old enemy of the Other-Mother's and in her world he can talk. He advises Coraline several times and helps her out when in a tight spot. Although again, I don't care for the stylized shape of him and would have preferred a more realistic cat.
As such a fan of the book, I was really looking forward to the movie adaptation. I just wish they had done it live-action instead of stop-motion. After watching it I can only say, if you're curious about this story, read the book, and don't bother with this version.
Photos © Copyright Focus Features (2009)