Movie Review
Cookie's Fortune
Welcome to Holly Springs... home of murder, mayhem and catfish enchiladas.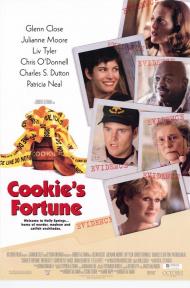 US Release Date: 04-02-1999
Directed by: Robert Altman
Starring
▸
▾
Glenn Close

,

as

Camille Dixon
Julianne Moore

,

as

Cora Duvall
Liv Tyler

,

as

Emma Duvall
Chris O'Donnell

,

as

Jason Brown
Charles S. Dutton

,

as

Willis Richland
Patricia Neal

,

as

Jewel Mae 'Cookie' Orcutt
Ned Beatty

,

as

Lester Boyle
Courtney B. Vance

,

as

Otis Tucker
Donald Moffat

,

as

Jack Palmer
Lyle Lovett

,

as

Manny Hood
Danny Darst

,

as

Billy Cox
Matt Malloy

,

as

Eddie 'The Expert' Pitts
Randle Mell

,

as

Patrick Freeman
Niecy Nash

,

as

Wanda Carter
Rufus Thomas

,

as

Theo Johnson
Ruby Wilson

,

as

Josie Martin
Preston Strobel

,

as

Ronnie Freeman
Ann Whitfield

as

Mrs. Henderson / Herodias
Reviewed on:
September 26th, 2013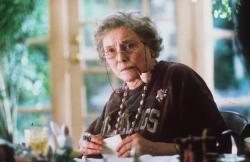 Patricia Neal in Cookie's Fortune.
Cookie's Fortune finds director Robert Altman in comedy mode. Although, dealing as it does with suicide and a murder frame-up, it's definitely a dark comedy, containing aspects of Greek tragedy. Patricia Neal plays the titular Cookie in what was her first role in a feature film in ten years. She's the matriarch of an oddball family in Holly Springs, Mississippi (where most of the film was shot), who -on the eve of Easter Sunday- decides to shoot herself with one of her dead husband's pistols.
Her body is discovered by her niece (Glenn Close in full-on scenery chewing mode) who, distraught at the idea of a suicide tarnishing the family name, attempts to make the suicide appear to be a murder. She removes the pistol from her aunt's hand and eats the suicide note. She then instructs her shy younger sister (a subdued Julianne Moore) to go along with her story.
What happens next is best discovered by watching it so I won't give anymore of it away. I'll just say that a suspect is jailed, an amateur production of Oscar Wilde's Salome is produced, and the ending is pitch perfect. There is also a bit of jail-house hanky-panky going on between Cookie's great niece (a grungy Liv Tyler) and an inept young police officer played by Chris O'Donnell.
The best relationship -and the real heart of the film- is the one between Cookie and Willis Richland (Charles S. Dutton in a terrific performance). Altman sets up their first scene together to look one way, only to surprise the audience. It turns out that Cookie and Willis are best friends. He looks after her and runs errands for her. Unfortunately for him, he cleaned Cookies' dead husband's guns the night before Cookie's body was discovered shot in the head.
As with all of his films, Altman deploys his ensemble cast with precision. Several characters turn out to be not at all who they at first seemed to be and there are a couple of surprises along the way. There isn't a bad performance in the bunch and, unlike some of Altman's movies, the ending satisfies completely. The humor comes organically from the characters and situations, not from jokes. Altman also plays with stereotypes. What at first seems like a cliched version of the American South quickly turns into a much more nuanced rendition of small town life in the bible belt.
Cookie's Fortune is one of Robert Altman's most purely enjoyable movies.
Photos © Copyright Elysian DreamsKudzuMoonstone Entertainment (1999)