Movie Review
Connie and Carla
Girls will be boys will be girls.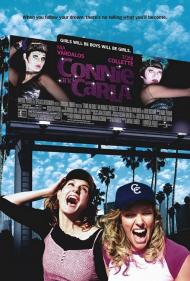 US Release Date: 04-16-2004
Directed by: Michael Lembeck
Starring
▸
▾
Nia Vardalos

,

as

Connie
Toni Collette

,

as

Carla
David Duchovny

,

as

Jeff
Stephen Spinella

,

as

Robert/Peaches
Alec Mapa

,

as

Lee/N'Cream
Chris Logan

,

as

Brian/Brianna
Robert Kaiser

,

as

Paul
Ian Gomez

,

as

Stanley
Debbie Reynolds

,

as

Herself
Robert John Burke

,

as

Rudy
Boris McGiver

,

as

Tibor
Nick Sandow

,

as

Al
Dash Mihok

,

as

Mikey
Greg Grunberg

,

as

Studio Tour Guide
Charles Payne

as

Hollywood Policeman

Reviewed on:
April 15th, 2004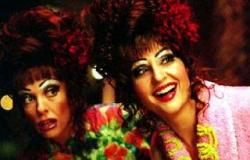 Toni Collette and Nia Vardalos in Connie and Carlos.
For her follow up to the smash My Big Fat Greek Wedding, writer/actress Nia Vardalos has created a movie for the drag queen in all of us. If you combined Some Like It Hot with Victor Victoria, you'd end up with something very close to Connie & Carla. And while it isn't destined to rival that Billy Wilder classic, it is the feel good, and quite funny, comedy of the year so far.
Connie (Vardalos) and Carla (Collette) are wannabe Broadway singers. They spend their nights singing at an airport lounge in Chicago. When they witness their boss being murdered by a couple of gangsters they go on the lam, heading for the last place they think anyone would ever look for them. Fancying themselves cultural elitist, they go to the place with the least amount of culture they can find; Los Angeles. Once there, after they're unable to find any other type of employment, they audition at a nightclub as singers. The catch being that the club is a Drag Club and so Connie and Carla become women pretending to be men dressed as women.
The confusion all this cross dressing causes is where most of the humor comes from, and yes some of it's obvious and a little predictable, but it's performed with such a spirit of fun that the jokes work nonetheless. And both Vardalos and Collette are so likable that you can't help but root for them. The supporting cast of drag queens add to the gaiety. Only David Duchovney, who plays Connie's love interest, is left out of the humor and forced to play it straight.
Where the movie weakens itself is in its political correctness. All the drag queens are perfectly nice and well-adjusted people (not that drag queens can't be nice and well-adjusted) who come across as very two-dimensional. The movie also takes a slightly preachy tone in getting its message across that we should all be accepted for who we are. Nia has forgotten the first rule of narrative; show don't tell.
The soundtrack features a whole host of classic show tunes. Some of the funniest moments come as Connie and Carla perform them on stage, switching costumes in a continuous medley. In another nod to musicals of old, the movie also features a cameo by Debbie Reynolds.
While it certainly doesn't carry the universal appeal of My Big Fat Greek Wedding (Everyone has a family and a lot of people get married, but how many of us have hidden from gangsters while pretending to be drag queens?), Connie & Carla does prove that Nia Vardalos isn't a one-hit wonder.
Reviewed on:
August 20th, 2014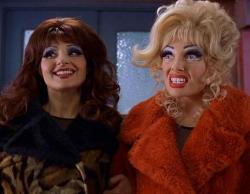 Nia Vardalos and Toni Collette in Connie and Carla.
As Scott wrote, this is an updated take on Some Like it Hot with a twist borrowed from Victor Victoria. Instead of two men disguising themselves as women in order to hideout from the mob, you have two women disguising themselves as drag queens in order to hideout from the mob. The most blatant copycat scene being the one where they witness the murder. It is very similar to the Billy Wilder classic. It takes place in a parking garage and ends with them being discovered and shot at as they run away.
Both Toni Collette, who never seems to give a bad performance, and Nia Vardalos are terrific as the titular duo. They have those exaggerated drag queen mannerisms down pat, with Collette being particularly believable. In her full drag regalia she looks quite a bit like Hugo Weaving's drag persona Mitzi Del Bra from The Adventures of Priscilla, Queen of the Desert (1994). David Duchovny, meanwhile, seems stiff and uncomfortable, and there is absolutely zero chemistry between him and Vardalos.
This movie is like a theater lover's wet dream (or worst nightmare, depending on personal taste). Connie and Carla perform songs from many of the most celebrated scores ever written for the stage, including Oklahoma!, Jesus Christ Superstar, Cats, Evita, South Pacific, Gypsy, Hair, The Music Man, Guys and Dolls, A Chorus Line, and Grease. Both Liza and Barbra are given their proper due. Several songs from Cabaret are performed and Connie and Carla do two signature Streisand numbers, "Papa, Can You Hear Me?" from Yentl and "Don't Rain on My Parade" from Funny Girl, which they belt out with fearless panache. They may not be the greatest singers in the world but they sound quite professional, especially once they become drag queens. And they bring such an exuberance to the musical numbers that you will most likely find yourself tapping your toes and singing along.
One of the funniest bits involves one of the henchman sent looking for these two on-the-lam witnesses. He searches every dinner theater in Middle-America and they always seem to be putting on a production of Mame. Gradually this hard-boiled gangster begins to enjoy the show, eventually singing along enthusiastically during the big title number. It's definitely worth a chuckle or two. It's a bit of an inside joke that the father of the actor playing this part had a role in Lucille Ball's movie version of Mame (1974).
The script already seems quite dated in its treatment of the drag queens. As Scott wrote they are very two dimensional. Only one is given a distinct personality and purpose in the story, and that's as a victim facing discrimination with courage and dignity. The others are merely decorative. It's fun seeing Debbie Reynolds as herself. She's one glamorous old broad who really seems to enjoy life. Connie and Carla is light frothy fun but it comes nowhere near the comic brilliance of the movie that inspired it.

Reviewed on:
September 28th, 2014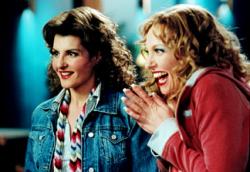 Nia Vardalos and Toni Collette in Connie and Carla
As Patrick mentioned, Connie and Carla is a cornucopia of songs from musicals. I would probably get my hetero card revoked if I admitted to how many of these songs I recognized and could sing along to. I also found Tibor, the Russian hit man who starts to enjoy musicals while searching for Connie and Carla in dinner theaters, worth a laugh. "Ok, I have good news." He tells his boss excitedly over the phone. "I got a ticket to the matinee of Hairspray!"
I have never been much of a David Duchovny fan but strangely enough found him better here than my brothers. He does nothing astonishing but in his defense, he is not given much to do. I found him mildly funny when he drinks and acts like a drag queen. "Stripes! Mary holy Martha Stewart's prison collection! I've got three words for you Miss Thing, no, no, no, and four words, yesterday!"
As noted by my brothers, this does not have a unique plot. Scott's description of Connie and Carl as a combination of Some like It Hot (1959) and Victor Victoria (1982) is an accurate one. I will add another movie to that list, Sister Act (1992), in which a two bit musical theater performer goes undercover after witnessing a murder and becomes a costumed sensation singing old pop hits in a unique venue.
One, somewhat, interesting aspect of the film is the message to just be yourself. This is demonstrated in the story line of the two brothers learning to get along. During one of their performances, Connie points to an audience member who has not smiled during the show due to Botox injections. Connie announces it is normal to have wrinkles, "Our lines show that we've lived." Drag queens are men who go to great lengths trying to look like beautiful women but so do many real women, getting plastic surgery and plastering their faces with makeup, trying to be someone they are naturally not.
Connie and Carla is not as refreshing as My Big Fat Greek Wedding (2002) but still makes for a congenially light hearted watch.
Photos © Copyright Universal Pictures (2004)
Related Review