Movie Review
The Conjuring 2
The next true story from the case files of Ed and Lorraine Warren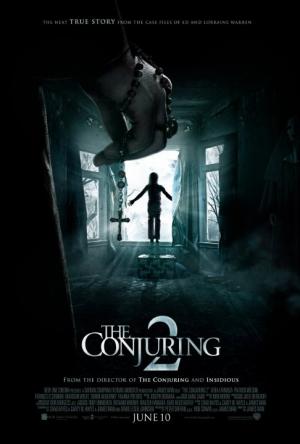 US Release Date: 06-10-2016
Directed by: James Wan
Starring
▸
▾
Patrick Wilson

,

as

Ed Warren
Vera Farmiga

,

as

Lorraine Warren
Madison Wolfe

,

as

Janet Hodgson
Frances O'Connor

,

as

Peggy Hodgson
Lauren Esposito

,

as

Margaret Hodgson
Benjamin Haigh

,

as

Billy Hodgson
Patrick McAuley

,

as

Johnny Hodgson
Simon McBurney

,

as

Maurice Grosse
Maria Doyle Kennedy

,

as

Peggy Nottingham
Simon Delaney

,

as

Vic Nottingham
Franka Potente

,

as

Anita Gregory
Bob Adrian

,

as

Bill Wilkins
Robin Atkin Downes

,

as

Demon Voice (voice)
Bonnie Aarons

,

as

Demon Nun
Steve Coulter

,

as

Father Gordon
Abhi Sinha

,

as

Harry Whitmark
Chris Royds

,

as

Graham Morris
Sterling Jerins

,

as

Judy Warren
Daniel Wolfe

,

as

Kent Allen
Annie Young

,

as

Constable Heeps
Elliot Joseph

as

Constable Peterson

Reviewed on:
June 29th, 2016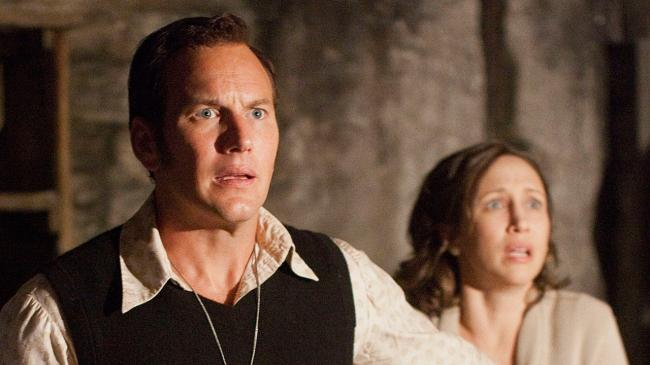 Patrick Wilson and Vera Farminga in The Conjuring 2
The Conjuring 2 begins with Ed and Lorraine Warren performing a seance at the famously haunted Amityville home on Long Island, where Lorraine tells Ed, "That is as close to hell as I ever want to get." During it, Lorraine gets a vision of Ed's death, prompting her to later ask him if they might give the evil spirit hunting a rest. He agrees, to some degree, and they go back to the home they share with their daughter and the artifacts from their earlier ghostly cases.
Meanwhile, in a suburb of London, a single mother and her four children start to experience the sounds of, what else, things that go bump in the night. It is always at night. Ed later gives a reason for that. Then they report furniture being moved and the story is even corroborated by a policewoman, who in real life wrote a statement that she witnessed a chair raise an inch off the ground and move four feet across a room. The family claimed the girls were levitated, and even one British tabloid published photos of it. You can see them online but she looks more like she was jumping off the bed than actually being raised into the air by some unseen force. Anyway, this haunting became very well documented with some people believing while others thought it an entire ruse. Either way, it was dubbed by some in the British tabloids as England's Amityville.

Although Lorraine is still being haunted by the visions of a demonic nun who seems to want Ed, she decides to go with him to England a few days before Christmas,to begin their investigation. As this haunting was already so well known in England, others had done much of the leg work prior to the Warrens arrival. One man informs them that one daughter seems to be possessed by an old man who once died in a chair that is still in the home. The man had looked up the homes history and she has, in fact, given the man's correct name when speaking with a demonic sounding voice.
The story produces all kinds of creepy moments and scary scenarios. Like the home in the first film, this one looks run down, with cracks in the walls and peeling paint. Apparently, the less remodeling a house gets, the greater the chance of lingering spirits. The scariest room is the basement, where they must go to do their laundry. Except for the spot where the washing machine is located, it is entirely flooded.
In my review for The Conjuring, I wrote that a film billed as a true story should be able to produce some facts to support that claim. During the end credits, photos of the real persons involved are shown while the actual recording Ed made of the possessed girl speaking in a growling voice is heard. It is not exactly proof that she was possessed but still eerie none-the-less.

A little while back, my Barbra Streisand worshiping brother, Patrick, told me of a new duet album she was making and the people she was recording it with. One of the biggest surprises for me was Patrick Wilson, as I never knew he could sing. Well now I do. In a one scene, he strums a guitar and croons competently enough, the Elvis Presley classic, "Can't Help Falling in Love." He does it to make the family happy but also as a love song for Lorraine.
Once again, the best thing about the movie is Ed and Lorraine. We get just a hint about their past. Both unknowingly tell the same story to the same person about why they fell in love with each other. I am not sure how close these two act to the real Warrens, but as depicted here, they are certainly an interesting couple, who seem made for each other. Patrick Wilson and Vera Farminga play the roles with complete conviction and share a warm on screen chemistry that alone rises this above its horror film cliches.

Photos © Copyright New Line Cinema (2016)