Movie Review
Coney Island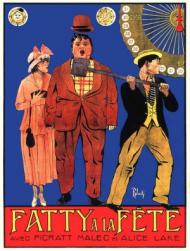 US Release Date: 10-29-1917
Directed by: Roscoe (Fatty) Arbuckle
Starring
▸
▾
Roscoe (Fatty) Arbuckle

,

as

Fatty
Buster Keaton

,

as

Rival/cop with moustache
Alice Mann

as

Pretty girl


Reviewed on:
March 10th, 2007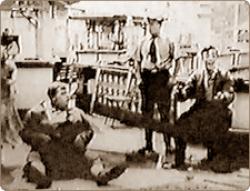 Buster Keaton and Fatty Arbuckle in Coney Island.
Coney Island and other amusement parks were a common setting in silent comedies. In this 1917 Arbuckle/Keaton comedy, the entire movie, except a scene or two in a jail house, takes place at Coney Island.
Arbuckle plays his stock horny husband with a wandering eye. Here he buries himself in sand at the beach to get away from his shrewish wife. He then proceeds to the amusement park. Meanwhile Keaton and his girl, Alice, go to Coney Island but Keaton does not have the money to get in. St. John shows up and buys tickets for himself and the fickle girl. Arbuckle soon lays eyes on Alice and he steals her away from St. John. Keaton sneaks in and ends up becoming a life guard. The guy was small but was in great shape.
Arbuckle goes drag. It was a very common gimmick in his movies. He wears a woman's bathing suit. It looks more like a dress. In one risque scene, Alice is shown wearing a tight undergarment. Apparently, it is what a woman wore under her bathing suit then. Arbuckle's wife, of course, shows up and mayhem ensues. From the surf to a jail sell, St. John, Arbuckle and Keaton fight and scrape.
Patrick wrote in his Speedy review that most of the rides at Coney Island today are not the same as were there 90 years ago. One ride in particular looked fascinating. It was called The Wave Witch. Keaton and Alice drive around on what looks kinda like a bumper car over a path that constantly waves up and down. I wonder if the wave motion is what propelled the car along? It looked more entertaining than this movie anyway.
Reviewed on:
August 31st, 2007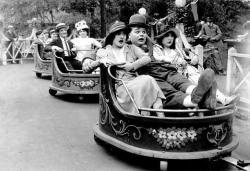 Fatty Arbuckle in Coney Island.
This movie is a slapstick mess. Sure it's frantically paced but the plot is jumbled and the action far-fetched, even by silent movie comedy standards. Arbuckle certainly looks funny but unlike the three giants of silent comedy, Keaton, Chaplin and Lloyd, he is not sympathetic or even likable. He looks and acts like an oversized adolescent. At the beginning I thought he was supposed to be the woman's son but he turns out to be her husband.
There are some sight gags that work such as Arbuckle swimming like a whale but again he is crude and lacks the heart of Keaton's later solo work. Buster steals the movie out from under him. His standing back flip when he's dressed as a life guard is pure Keaton. No one else moved like he did, the way he stutter-stepped leaning first in one direction and then another.
Coney Island was a fabulous place in 1917. Although the first shot of it is inexplicably at night with all the rides lit up, but the entire movie takes place in the day time. This one is not a classic but it is a fun curiosity and time capsule.
Reviewed on:
March 4th, 2009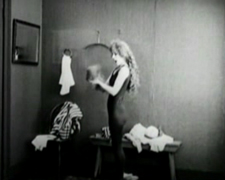 What a daring outfit!
The most interesting scenes in the whole short are the shots of Coney Island. It has certainly gone down hill in the past 90 years. What a fascinating place it would be to visit if one could travel through time, but movies like this are as close as we can get.
I'm not a big fan of silent slapstick, but this one is fun and fast paced enough that you won't get bored during it. Keaton's part is actually quite small, but he does stand out as Patrick mentioned.
Not only does Alice appear in a skin tight costume that must have been very risque for the time, but Fatty also sneaks into the girl's dressing room where we see bare feet and a stockinged leg. When you consider what passed for swimming costumes, that's fairly daring indeed.
As you both say, this one is more interesting than entertaining.
Photos © Copyright Paramount Pictures (1917)