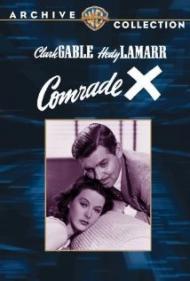 US Release Date: 12-13-1940
Directed by: King Vidor
Starring
▸
▾
Clark Gable

,

as

McKinley B. Thompson
Hedy Lamarr

,

as

Theodore
Oskar Homolka

,

as

Vasiliev
Felix Bressart

,

as

Vanya
Eve Arden

,

as

Jane Wilson
Sig Ruman

,

as

Emil Von Hofer
Natasha Lytess

,

as

Olga
Vladimir Sokoloff

,

as

Michael Bastakoff
Edgar Barrier

,

as

Rubick
Georges Renavent

,

as

Laszlo
Mikhail Rasumny

as

Russian Officer

Reviewed on:
July 11th, 2013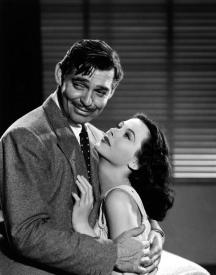 Clark Gable and Hedy Lamarr in Comrade X
Comrade X reteamed Clark Gable and Hedy Lamarr who had just worked together in Boom Town (1940), alongside Spencer Tracy and Claudette Colbert. In 1940 Gable and Lamarr were quite possibly the best looking couple in movies, or maybe even on the entire planet. Gable here is at his most debonair, schmoozing men and charming the ladies. Lamarr is comical with her Russian accent and looks absolutely gorgeous, especially when Gable provides her with a proper night gown.
Gable plays Mac Thompson, an American reporter in Moscow. At least he is a reporter on the surface. He is actually a bit of a spy secretly sending home uncensored stories that do not go along with party approved news reports. The Russians do not know who is leaking the stories and simply refer to him as "Comrade X." Vanya, Mac's Russian "friend" discovers that Mac is Comrade X and makes a deal that if he will get his daughter out of Russian, he will not tell the authorities who Mac actually is.
Mac is not thrilled about the arrangement until he sees that Vanya's daughter is the beautiful Theodore, played by Lamarr. Theodore is a dedicated loyal communist who does not think kindly of Americans. Then again she has never met Clark Gable, who proposes marriage as a means to get her out of the country as his wife. "You are the first American I have ever met with a soul. It has a strange effect on me." She says just before kissing him.
The dialogue is quick and crisp. At one point Gable says to a fellow correspondent, played by Eve Arden, "Hello, honeybun. Miss me?" Arden responds, "No, I can always go to the zoo when you're away." The unflappable Gable comes back with, "Oh, I've got rivals, huh?" Gable was such the lady's man that no woman stood a chance. An exasperated Lamarr asks him, "Why did you do this to me, Mac?" Gable clarifies, "Why does a man lie to a woman?... because he loves her."
Although a romantic comedy, Comrade X makes some political references and even some major foreshadowing. At the time of this film's release, the Soviet Union had a non-aggression pact with Nazi Germany. In this film, Mac pretends to hear news that Germany has invaded the USSR, breaking the pact. The following year, Germany would do just that.
Comrade X is a light romantic political comedy with some clever dialog. It also has some suspense with Mac using a cloth with holes cut in the proper places to decipher messages. The film also contains a big scene with some army tanks, of which Gable and Lamarr get a ride in one. All of this is made all the better by the presence of the very hot Hedy Lamarr and the King himself, Clark Gable.
Photos © Copyright Metro-Goldwyn-Mayer (MGM) (1940)