Movie Review
Command Decision
Heroes, cowards, fighters, braggarts, liars...and what goes on in their hearts!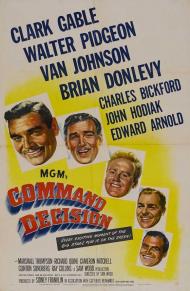 US Release Date: 12-23-1948
Directed by: Sam Wood
Starring
▸
▾
Clark Gable

,

as

Brig. Gen. K.C. 'Casey' Dennis
Walter Pidgeon

,

as

Maj. Gen. Roland Goodlaw Kane
Van Johnson

,

as

TSgt. Immanuel T. Evans
Brian Donlevy

,

as

Brig. Gen. Clifton I. Garnet
Charles Bickford

,

as

Elmer Brockhurst
John Hodiak

,

as

Col. Edward Rayton Martin
Edward Arnold

,

as

Congressman Arthur Malcolm
Warner Anderson

,

as

Col. Earnest Haley
Marshall Thompson

,

as

Capt. George Washington Bellpepper Lee
Cameron Mitchell

,

as

Lt. Ansel Goldberg
Richard Quine

,

as

Maj. George Rockton
Ray Collins

as

Maj. Desmond Lansing


Reviewed on:
November 2nd, 2003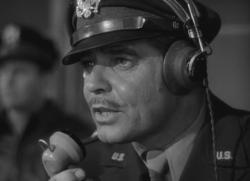 Clark Gable in Command Decision.
Command Decision is a movie that carries an important message, especially when our country is at war. For all those who say we should politically 'wait and see', I say don't wait, see this movie. It may help you understand the minds of people who lead men and women into battle.
Clark Gable plays the hated General Casey. He is stationed in England during World War II. He orders his pilots into very dangerous missions. Some die. He argues with politicians and his chain of command. He even is confronted by one of his own men who gets brave enough - when drunk - to tell the General what he thinks of these missions.
What is later revealed is that Casey needs to send these men on the dangerous mission to bomb a factory building a new Nazi jet. This jet, the Lance-Wulf 190, is faster than anything we have. If it gets produced, the tide of the war would change. General Casey makes the command decision to sacrifice some lives now to save a greater number of lives later.
In our current climate of world unrest, The United States of America has a president, George W Bush, who has made a command decision. As this movie demonstrates, these types of choices are anything but easy to make. Whether you agree with Bush's decision or not, you should watch this movie. You will at least learn to appreciate the enormous responsibility leaders who are willing to make a stand face.
Based on a play, Command Decision is a drama that takes place between men changing the course of history. Gable does a great job. His usual cocky attitude is barely visible. He was a skilled dramatic actor and this movie demonstrates it well.
Made more than half a century ago, Command Decision should be watched today. Politically it is more relevant than most contemporary movies. I do not hide my political opinions. I am grateful that, right or wrong, we finally have a president who has the balls to make a command decision.
Reviewed on:
November 22nd, 2013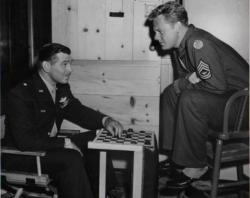 Clark Gable and Van Johnson on the set of Command Decision.
As Eric wrote, Command Decision was based on a play. It was written by William Wister Haines and was itself based on his novel of the same name. Clark Gable urged MGM to purchase the rights to the novel, rightfully seeing in General Casey a splendid part that perfectly suited him. Having actually flown five combat missions over Germany during the war (Adolph Hitler personally offered a reward to any pilot or gunman who shot down Gable's plane), Gable understood the subject matter intimately. Cameron Mitchell, who has a small role in the film as a bombardier, actually performed that function during the war. Clearly for these men this movie was personal.
Gable is great here. I agree with Eric that it is one of his most subtle performances. He has to appear outwardly callous and uncaring in order to have the fortitude to send so many young men to almost certain death. He doesn't mince words or try to make excuses. He very plainly states that he has killed many men by the command decisions he makes. In one memorable scene he sits alone in his strategy room with a huge map projected on the wall behind him. In this one moment he lets down his guard, showing just what a tremendous emotional toll this responsibility has had on him.
The supporting cast is filled with the usual MGM players. Among them are Walter Pidgeon, Van Johnson, Brian Donlevy, Charles Bickford, and John Hodiak. Of these Van Johnson shines the brightest. He brings a bit of cynical levity to what is a very somber movie. He's a wisecracking sergeant with an eye for the ladies. MGM signed actor James Whitmore to a contract based on his performance in the Broadway play but when it came time to make the movie they gave his part to Van Johnson. Whitmore was a fine actor but Johnson was a star and really makes the role his own.
My one complaint is the staginess of the film. It takes place almost entirely indoors and there is no action to speak of. This is war at the upper echelon. We see the war from these officers' perspectives. We anxiously await news of the success or failure of these missions right along with them, hoping fervently for good news. Generals like Casey, who know all too well the exorbitant price of victory, are forced to defend their decisions before congressmen who are responsible for keeping up morale and support for the war back at home. It's a side of war that rarely gets shown in the movies.
MGM beat 20th Century-Fox to the punch by a few months, forcing that studio to delay the release of their similarly themed Twelve O'Clock High. Command Decision wasn't a big moneymaker but it did make it onto the top ten films of the year lists for both Film Daily and the New York Times. I agree Eric, its message remains as powerful and relevant today as it was in 1948, for as long as there are wars there will always be men forced to make the tough command decisions.
Photos © Copyright Metro-Goldwyn-Mayer (1948)