Movie Review
The Comic
A funny new motion picture that tells Hollywood like it was!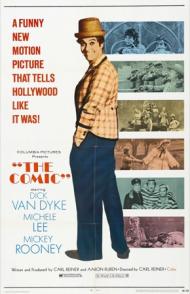 US Release Date: 11-19-1969
Directed by: Carl Reiner
Starring
▸
▾
Dick Van Dyke

,

as

Billy Bright
Michele Lee

,

as

Mary Gibson
Mickey Rooney

,

as

Cockeye
Cornel Wilde

,

as

Frank Powers
Nina Wayne

,

as

Sybil
Pert Kelton

,

as

Mama
Steve Allen

,

as

Himself
Barbara Heller

,

as

Ginger
Gavin MacLeod

,

as

1st Director
Jerome Cowan

,

as

Lawrence
Isabel Sanford

,

as

Woman
Carl Reiner

as

Al Schilling
Reviewed on:
January 4th, 2011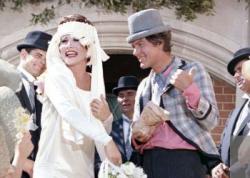 Michele Lee and Dick Van Dyke in The Comic.
The Comic is a tragicomedy from writer, producer, director, actor Carl Reiner. It is an unpretentious homage to the silent movie clown through the life of the fictional character of Billy Bright. Who was Billy Bright? Start with Dick Van Dyke, add a bit of Stan Laurel, throw in some Harry Langdon and finish with a twist of Buster Keaton. Mickey Rooney plays his movie sidekick Cockeye. He wears a contact lense in one eye that makes him appear cross-eyed ala Ben Turpin.
The movie opens in 1969 at Billy Bright's funeral. He is now a forgotten silent star that had a brief resurgence making television commercials a few years before but has died in relative obscurity. The turn-out for his send-off is embarrassingly paltry. The dead Billy Bright narrates his story like Joe Gillis in Sunset Boulevard, only with more bitterness and sarcasm. We then flashback and see how he began his career in the early days of cinema.
Some of the funniest parts of the movie are the footage of the silent pictures that Billy Bright starred in. Just about every silent movie gag is recycled here. Billy Bright's biggest hit, and his first feature length movie, was called Forget Me Not, a City Lights type of comedy with plenty of pathos. We see the final scene of this movie and then later we are shown the opening scene. Fans of silent movies will recognize many clichés.

Dick Van Dyke once again proves his talent at physical comedy and Mickey Rooney holds his own. They were both in their 40's at the time, playing their characters at both younger and older ages. Rooney had actually started his career in silent movies so this was probably particularly nostalgic for him. The two stars would reunite nearly 40 years later in Night at the Museum.
In his personal life Billy Bright is an asshole. This leads to a broken marriage and drink. In one scene he drives his expensive automobile through the front door of his mansion because he thinks his wife is in there sleeping with another man. The problem is that in his drunken stupor he picked his neighbor's house instead. In another tragicomic moment Billy, upset that his now ex-wife is planning to remarry, makes the spontaneous decision to take his son with him. He's been such an absent father, however, that he mistakes another kid for his son.
The first half of the movie focuses more on the laughs as we see the youthful Billy Bright's career take off. The second act deals with the aging forgotten star he became. One of the most poignant scenes shows the older Billy and Cockeye strolling along Hollywood's Walk of Fame while commenting on old time stars.
Beginning in the 1950's and escalating in the '60's young movie audiences were rediscovering silent comedies through television showings and movie house revivals. Buster Keaton had recently died when The Comic was made. His life probably inspired Billy Bright's more than anyone elses. This movie is an interesting tribute to those silent clowns that lived to make people laugh. The final scene moved me more than I expected it to.

Photos © Copyright Columbia Pictures (1969)