Movie Review
The Clock
Every second a heart-beat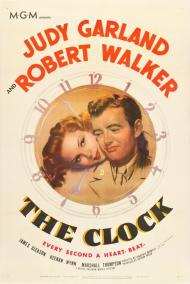 US Release Date: 05-25-1945
Directed by: Vincente Minnelli
Starring
▸
▾
Judy Garland

,

as

Alice Maybery
Robert Walker

,

as

Corporal Joe Allen
James Gleason

,

as

Al Henry
Keenan Wynn

,

as

The Drunk
Marshall Thompson

,

as

Bill
Lucile Gleason

,

as

Mrs. Al Henry
Ruth Brady

,

as

Helen
Eddie Acuff

as

First Subway Official


Reviewed on:
October 3rd, 2012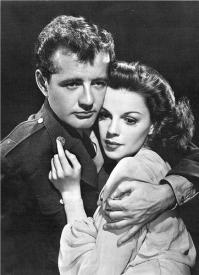 Robert Walker and Judy Garland in The Clock
60 years before Ethan Hawke and Julie Delpy spent the night together in Vienna, in Before Sunrise (1995), Judy Garland and Robert Walker fell in love in a single New York night, getting to know each other in The Clock.
Walker plays Joe, a soldier with a two-day pass in New York. He meets Alice, played by Garland, on a Penn station escalator, when she gets her heel stuck. He helps her out and she agrees to show him the sights. They spend the day and night together touring. After a long day they find themselves stranded without a ride in the wee small hours of the morning. A milkman eventually gives them a ride and they end up happily doing his delivery route for him after he gets hurt.
It makes for a light playful scene but shortly thereafter they get separated in the subway. It is the film's most tensely romantic moment. They frantically search for each other until they reunite under the clock where they had earlier met. "Joe, Joe, Joe, darling, Joe. I thought I'd lost you. I didn't know where to look." Garland cries to Walker.
This is only one of three non-singing roles Garland ever played. I never found her all that attractive but is as beautiful as she can be here. During filming, she was dating the film's director. Like Joe and Alice, Garland and Minnelli would soon be married.
Made in 1945, the story of a girl falling quickly in love with a man in uniform was quite appropriate. By the end of the film, Alice must say goodbye to her husband as he has to return to his military base. How many thousands of women could relate to that scene? The Clock is very much a chick flick for the wives and girlfriends on the home front waiting for their men to return from over seas.
Reviewed on:
June 11th, 2014
Robert Walker, James Gleason, and Judy Garland in The Clock.
Romance is the theme of The Clock. From their initial meet-cute moment in (old) Penn Station to the final fade out this movie is all about falling in love. It is sweet and even a bit gooey at times but it does a decent job of showing the quick evolution of one couple's love. They believably progress from strangers, to acquaintances, to friends, to dating, to head-over-heels in love, and finally to husband and wife in a mere 48 hours. Alice and Joe are both perhaps a bit too idealized but this was MGM in late 1944 when the world was still very much at war.
This is Joe's first time in the big city and he doesn't know a soul. It makes perfect sense that he latches onto the first friendly female he meets. After helping Alice get her shoe fixed he accompanies her on a bus. She points out Radio City Music Hall and St. Patrick's Cathedral to Joe as they pass by. They walk through Central Park together and visit the zoo, before winding up at the Metropolitan Museum of Art. By this time Alice is smitten, so she agrees to meet Joe later (by the clock) for a date, date.
I liked how other people move in and out of the story. Most of the other characters get only one scene, like Alice's overprotective roommate (played by Ruth Brady), or Keenan Wynn who appears in one brief scene doing his famous drunk routine. James Gleason is the exception to this rule. He plays the old milkman who befriends Alice and Joe. He gets several scenes including one with his wife, played by his real life spouse Lucile Gleason. They provide Joe and Alice with a great example of married life and give them a view to their own possible future in about 40 years.
Judy Garland's trembling vulnerability was put to great use by director Vincente Minnelli. This was their second picture together coming on the heels of the hugely successful Meet Me in St. Louis. Minnelli had been given the job at Judy's request. By this time they had fallen in love. Vincente replaced Fred Zinneman on the picture, who had himself been a replacement for Jack Conway. Minnelli knew how to capture Judy at her most radiant. She has rarely looked more lovely than she was photographed here. Eric mentioned this being one of Judy's very rare nonsinging movie roles. In her nearly 15 years and 30 pictures made at MGM this was the one and only time the studio allowed her to make a movie without having to sing for her supper. Her only other nonsinging dramatic parts both came near the end of Judy's film career, Judgment at Nuremberg in 1961 and A Child is Waiting two years later.
Robert Walker plays the quintessential small-town boy-next-door. He was going through a rough period in his personal life during filming and sought solace in alcohol. He had recently learned that his wife, Jennifer Jones, was having an affair with David O. Selznick. Garland helped him sober up before shooting, while her own prescription pill addictions were growing worse at this time. You would never know any of this from watching the movie. These two pros never allow their real life problems to show up on the screen.
The more old films you watch the more you begin to recognize familiar faces and voices that pop up over and over again in bit parts. Near the beginning of The Clock Joe asks a stranger how to get out of Penn Station. A friendly overweight man tells him to go up the stairs. In real life his name was Dick Elliot. The IMDB lists more than 350 movie and television appearances for him from 1933 to 1963. His most famous moment is in It's a Wonderful Life. He plays the fat man on the porch who complains about young people because George is talking to Mary instead of kissing her.
Even though it was shot entirely on MGM's Culver City lot, The Clock convincingly incorporates the city of New York into the story. The studio spent a reported $66,000 duplicating Penn Station on a soundstage. The Clock depicts a timeless romance and remains a great date movie seven decades after it was made.
Photos © Copyright Metro-Goldwyn-Mayer (MGM) (1945)