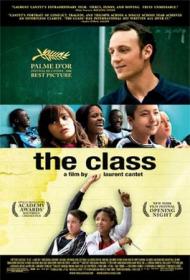 France Release Date: 09-24-2008
Directed by: Laurent Cantet
Starring
▸
▾
Francois Begaudeau

,

as

Francois Marin
Franck Keita

,

as

Souleymane
Wei Huang

,

as

Wei
Louise Grinberg

,

as

Louise
Esmeralda Ouertani

,

as

Esmeralda
Boubacar Toure

,

as

Boubacar
Carl Nanor

,

as

Carl
Jean-Michel Simonet

as

Le principal


Reviewed on:
July 18th, 2010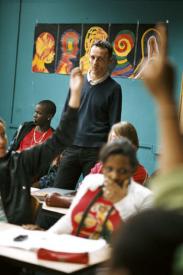 The lone teacher and a band of fourteen year olds.
The Class is based on François Begaudeau's novel Entre les murs. The author plays himself as a French teacher in an inner city, racially and ethnically diverse middle school. Although it takes place in Paris, the issues are very universal.
As the movie opens, François Marin and the other teachers are preparing for another school year. It is interesting to watch these teachers when they are alone with each other. They look at each other's class lists and remark on the good and the bad students. The teachers have a meeting about student discipline, but they end up spending more time talking about a coffee machine in the teachers' lounge.
These are not lousy teachers; they seem to want to inspire their students to succeed. However, the teachers are as unique as their students. They each want to do things their own way. One teacher gets so frustrated he wants to quit. He storms into the teachers' lounge making fun of his students.
Marin is a bit frustrated himself. From the very first day, we see his patience is limited, as he scolds his students for taking too long to settle down. We quickly see which kids are the obnoxious ones and which are the shy ones. Personalities emerge quite easily. The kids speak up often and out of turn. Surprisingly, so does Marin. He engages the students in conversation that sometimes turn personal or into arguments.
At one point a boy asks Marin if he is gay. Marin challenges him by asking why he needs to know, implying that maybe the boy is sexually interested. It goes no further. The movie hits a rock when Marin calls two girls in the class skanks. Granted, they are, but he does it in front of the entire class and he tries to defend himself by saying it was what he was comparing their actions too, and not actually saying they are skanks.
The Class shows the students in a raw manner. Some think Marin picks on them because he calls on them to read aloud. Another is jealous because Marin compliments another student's report. They take things very personal, even when it is not intended to be.
After reading Anne Frank, he assigns them to write about themselves. They argue that it is personal, but when they read their reports, all most of them say is what they want to be and what kind of music they like, as if that is so private. None of them realize that their actions in that class give away more of their secrets than anything they write on paper.
The Class won The Golden Palm at Cannes and was nominated for an Academy Award for Best Foreign Film. This is not a traditional film by any means and as such is more insightful than Half Nelson, more realistic than To Sir with Love and more engrossing than The Blackboard Jungle. It does not actually present any solutions, but it opens up the school system in an honest way never before put on film. You will not soon forget this movie.
Reviewed on:
December 24th, 2013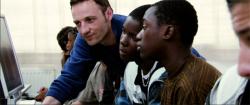 Francois Begaudeau, Franck Keita, and Boubacar Toure in The Class.
François Bégaudeau is a man of many talents. He's a writer, a journalist, a teacher and an actor. He even once played in a punk rock band. As Eric said, this movie is based on the book Bégaudeau wrote about his experiences teaching at an inner city public high school in Paris. This fact no doubt greatly adds to the film's veracity. At times, and helped to a great extent by the wonderfully natural performances by the students, it almost seems more like a documentary than a scripted film.
The students come from diverse cultural and ethnic backgrounds. Some have parents that are in France illegally. The threat of being sent back to their respective home countries hangs over their heads. One particularly disruptive student has a disciplinary hearing after an incident in class turns violent.
The relationships between the teachers and the students, between the teachers themselves, and between the different students are all shown in a very truthful manner. There isn't a false note struck by anyone in this cinematic symphony. The teachers care and try their best, the students act like real teenagers. And there isn't that forced moment when the pupils experience one of those epiphanies that only happens in the movies.
The French title of the movie, Entre les murs translates into English as "Between the Walls", meaning the classroom walls. The entire movie takes place inside the school or on the school playground. We don't see any of the teachers' or students' outside lives. The Class has a universal theme. Anyone who has ever gone to high school will be able to relate to the situations presented herein. I cannot recommend The Class too highly. It's an astoundingly honest motion picture that offers a truly exceptional film going experience. As Eric so accurately wrote, this is one Class you won't soon forget.
Photos © Copyright Haut et Court (2008)