Movie Review
City of Angels
She didn't believe in angels until she fell in love with one.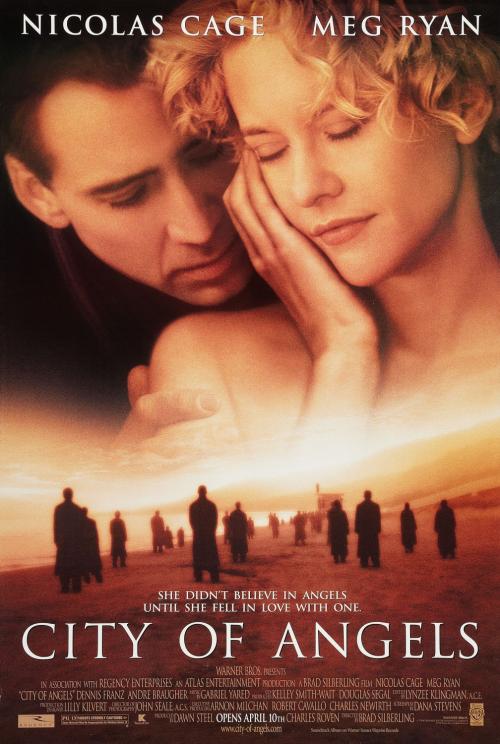 US Release Date: 04-10-1998
Directed by: Brad Silberling
Starring
▸
▾
Nicolas Cage

,

as

Seth
Meg Ryan

,

as

Dr. Maggie Rice
Andre Braugher

,

as

Cassiel
Dennis Franz

,

as

Nathaniel Messinger
Colm Feore

,

as

Jordan Ferris
Robin Bartlett

,

as

Anne
Joanna Merlin

,

as

Teresa Messinger
Sarah Dampf

,

as

Susan
Shishir Kurup

,

as

Jimmy
Brian Markinson

,

as

Tom
Dan Desmond

,

as

Mr. Balford
Deirdre O'Connell

,

as

Mrs. Balford
Kim Murphy

,

as

Balford's Daughter
Stan Davis

,

as

Construction Foreman
Peter Spellos

as

Mack Truck Driver
Reviewed on:
November 16th, 2015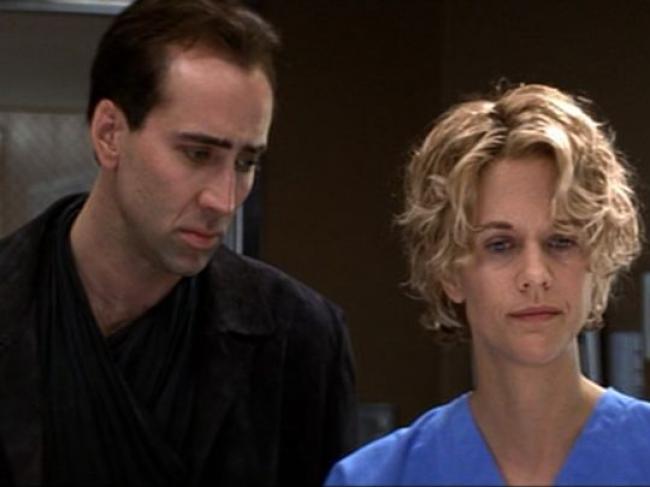 Nicolas Cage and Meg Ryan in City of Angels.
City of Angels is almost a daring movie. The nature of its plot raises all of kinds of theological questions, but then neglects to offer or even hazard a guess at answers to any of them. Instead, it is merely content to be a tragic love story. If you're in the right mood, that may be enough for you, but it feels as though it could have been more magical with a little more nerve from the filmmakers.
The film stars Meg Ryan, in one of her last big hits, and Nicolas Cage in one of the last films in which he could be taken seriously. She is Maggie, a heart surgeon in Los Angeles, while he is Seth, an angel, who in this movie act as protectors of mankind and as escorts to the deceased. They first encounter each other in her operating room when she loses a patient on the table and while Seth watches, he's certain she can see him. He becomes intrigued by her and even finds himself falling in love with her. Although he's convinced he'll never be able to do anything about it, he learns differently from another patient he meets in the hospital (Dennis Franz), who turns out to be an ex-angel. Seth learns that it's possible for him "to fall to earth" and become human. But will he give up his immortality for the chance at love? C'mon, this is a Hollywood movie, I think you know the answer to that question already.
Director Brad Silberling and cinematographer John Seale (The English Patient, Rain Man, Mad Max: Fury Road, among many others) insure that at the very least, the movie is beautiful to look at. It casts Los Angeles in a radiant light as well as the few scenes shot outside of the city. Cage and the other angels are iconic and rather sinister in their all dark clothing and long trench coats. They're as much like the personification of Death as they are angels. One downside of the lingering and languid camera setups is that they add to the running time, normally one of my biggest complaints. Somehow here I didn't mind so much, but if you're in an impatient mood, this won't be the movie to watch. The only visuals that let the film down are those that feature Nicolas Cage standing or sitting in high places looking out over the city. It's obvious when green screen was used and the technology hasn't stood the test of time.
Accompanying the beautiful imagery is one of the best soundtracks to come out of the 1990s. It features several haunting tracks, including "If God Will Send His Angels" from U2, "Angel" by Sarah McLachlan, "I Grieve" by Peter Gabriel, and two hit singles written for the film, "Uninvited" by Alanis Morrissette and "Iris" from the Goo Goo Dolls. The album itself went 5x Platinum, meaning that it sold more than 5.5 million copies. Trust me when I tell you that even if you don't recognize the names of the songs I listed, if you were alive in the late 1990s then you'll know them when you hear them. "Iris" by the Goo Goo Dolls in particular might not ring any bells, but was so ubiquitous in the summer of 1998 that you'll probably surprise yourself by still remembering the lyrics, or at least the chorus.
The film is a loose remake of a 1987 German film called Wings of Desire. While the angel falling in love with a mortal storyline remains the same, the details of the plot vary widely, especially the ending, which in the original version left itself open to a sequel, while this one ends pretty definitively.
In a way both Ryan and Cage are playing against type. Ryan made her living from playing the cute, girl next door, type, while here she's playing a depressed heart surgeon. As for Cage, this part, despite being a supernatural being, actually counts as one his more normal, lowkey roles. They both play it very sincerely and do good work. The only scene I found fault with, both in the performances and the script, is the decisive moment when Seth reveals his nature to Maggie. The reaction doesn't ring true.
I know I've described a slow paced, tragic love story, featuring angels no less, and that might not be everyone's cup of tea. Although it earned over $200 million at the box office, it was harshly criticized by the critics at the time. Personally, I found enough to enjoy to make it worth the watch. If only the script had delved a little deeper into the central concept, it might have been something truly special.
Photos © Copyright Warner Bros. (1998)