Movie Review
Cinderella
Midnight is just the beginning.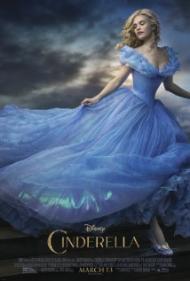 US Release Date: 03-13-2015
Directed by: Kenneth Branagh
Starring
▸
▾
Cate Blanchett

,

as

Stepmother
Lily James

,

as

Cinderella
Richard Madden

,

as

Prince
Helena Bonham Carter

,

as

Fairy Godmother
Nonso Anozie

,

as

Captain
Stellan Skarsgard

,

as

Grand Duke
Sophie McShera

,

as

Drisella
Holliday Grainger

,

as

Anastasia
Derek Jacobi

,

as

King
Ben Chaplin

,

as

Ella's Father
Hayley Atwell

,

as

Ella's Mother
Rob Brydon

as

Master Phineus

Reviewed on:
April 9th, 2015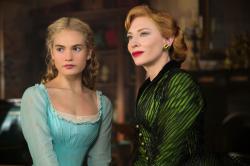 Lily James and Cate Blanchett in Cinderella
In the past few years, Walt Disney movies have been trying hard to create strong female characters that do not need or rely on a man. We have seen it in Brave (2012), Frozen (2013), which also has a cute short before this feature, and in Maleficent (2014), where a woman gives the magical kiss to the sleeping beauty instead of the prince. These new film heroines make a feminist statement and present new type of role model, if Disney princesses can even be considered such, but have they actually improved on the traditional fairy tales?
This live action version of Cinderella follows the story of the pure at heart put upon servant girl who goes to the ball and dances with a prince until the stroke of midnight sends her racing home. It eliminates the pace killing songs and adds some much needed details. It begins with Ella as a child in her beautiful country mansion shared with her loving parents and friendly servants. After her mother dies, her father remarries a woman with two daughters who turn Cinderella into their servant after her father dies and the other servants are fired.
While riding through the woods, Cinderella comes upon a hunting party and befriends one of the hunters named Kit, when in actuality is the Prince, who is likewise unhappy as his father is in bad health. The king informs his son that he needs to marry a foreign princess so as to strengthen their country. He throws a ball so his son may meet his future wife. The prince only agrees to the ball if the king includes all common young ladies of the kingdom on the guest list.
Here is where the magic of the story bursts free. In a fit of despair after having her dress tore by her step mother and sisters, "Mark my words: you shall not go to the ball!" Cinderella retreats to the back yard and meets her fairy godmother. With a wave of her wand and a, "Bippity Boppity Boo," she gives Cinderella a coach and gown that would make Edith Head proud. She gives her the warning, "At the last stroke of midnight, the spell will be broken." and sends her on the date that most girls will only dream about.
Kenneth Branagh keeps the movie moving along at a romantically urgent pace. The two lovers were appropriately cast. That is to say, Lily James is beautiful and Richard Madden is handsome. Helena Bonham Carter makes the most of her brief screen time but the cast standout is Cate Blanchet in the film's juiciest role. In the past I have compared her to Katharine Hepburn while here she is in Joan Crawford mode. She keeps it all subtle but she makes her points clear enough, "Oh, it seems too much to expect you to prepare breakfast, serve it and to sit with us. Wouldn't you prefer to eat when all the work is done, Ella?"
Although I am not this film's target audience, I recognize it as a vast improvement over the 1950 animated version. The characters are a bit more rounded and the magic is just as enchanting. Best of all, it breaks from the current Disney girl power trend in a refreshingly old fashioned way. Whereas some current films show girls who want to be independent of men, the popularity of this film demonstrates that some still dream of a prince to take them away.
Photos © Copyright Walt Disney Pictures (2015)