Movie Review
Chronicles of Narnia: Prince Caspian
A New Age Has Begun.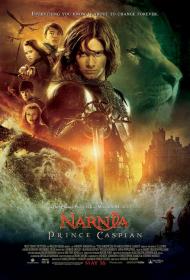 US Release Date: 05-16-2008
Directed by: Andrew Adamson
Starring
▸
▾
Ben Barnes

,

as

Prince Caspian
Georgie Henley

,

as

Lucy Pevensie
Skandar Keynes

,

as

Edmund Pevensie
William Moseley

,

as

Peter Pevensie
Anna Popplewell

,

as

Susan Pevensie
Sergio Castellitto

,

as

King Miraz
Peter Dinklage

,

as

Trumpkin
Warwick Davis

,

as

Nikabrik
Eddie Izzard

,

as

Reepicheep (voice)
David Walliams

as

Bulgy Bear (voice)

Reviewed on:
May 17th, 2008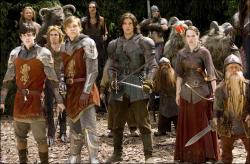 The Pevensie children are back in Chronicles of Narnia: Prince Caspian.
The Chronicles of Narnia continues with Prince Caspian and it is a definite improvement over The Lion, the Witch and the Wardrobe. The White Witch makes only a cameo this time around and Aslan's role has also been downsized. The children are older and have grown more interesting. The actors playing them have likewise matured with William Moseley once again stealing the movie as Peter, although this time around he has competition in the hunk department from Ben Barnes as the titular prince.
The movie opens with the children after school in London. After getting in a fight with some other kids on a train platform they suddenly find themselves magically whisked back to Narnia. They soon discover that in the one year since leaving Narnia (as adults) more than a thousand years have passed in the magical land. They are now the legendary kings and queens of old.
They soon cross paths with the young Prince Caspian, the rightful heir of a neighboring kingdom. He was forced to flee for his life by his evil uncle after the birth of his cousin. To make a long story short he eventually joins forces with the four kids and the magical creatures of Narnia in an all out war with the bad guys.
The most entertaining of the new characters is a sword wielding field mouse. He is very brave and gallant and provides comic relief to what is essentially a serious story. Lucy keeps insisting that Aslan is around somewhere near and sure enough he makes an appearance at the climax. The CGI effects have improved from the first movie and so has pretty much everything else. I was bored with Lion, Witch and Wardrobe, I was most definitely not bored with Prince Caspian. Bring on the next installment.

Reviewed on:
May 30th, 2008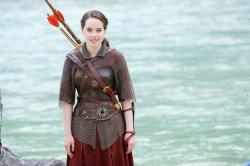 Anna Popplewell as Susan in Chronicles of Narnia: Prince Caspian.
The Pevensie children are definitely more interesting this time around. They are all still of school age, physically, but have the maturity of adults, as they grew up in Narnia and were rulers of the country for years. Upon their return to Narnia they go about joining forces with Caspian and assuming their places of leadership with ease.
Peter is definitely the leader, and gets the most screen time, but Susan comes into her own. In London, Susan is approached by a nervous schoolboy. Having the life experiences of an adult, she blows him off by giving him a fake name. However, she finds herself attracted to Prince Caspian.
I never read the books, so I am not sure how it was handled there, but in the first movie it never says if any of them had any romantic entanglements during their first extended time in Narnia. They were adults after all. It would have made sense if they had. Susan's and Caspian's attraction is treated quite innocently. This is as much due to the amount of action and pacing, as it is to the fact that this is a Disney film.
Lucy has little to do but speak often of Aslan and dish out her magic healing potion. Her best scene is when she walks onto a bridge to face an entire army, wielding only a knife. Lucy is the most spiritual of the children and is never in doubt of her faith. Edmund had a pivotal role in the first movie but here his part is reduced to flashlight carrier. He does have a good moment when the White Witch makes her cameo and he and Peter make up.
This second installment is far more action packed than the first, and is a bit darker. Caspian's Uncle tries to kill him in his sleep. There is a disturbing scene of the slaughter of creatures. The final battle has Peter showing his leadership skills as well as the most tense moments of the film. I definitely want to visit Narnia again. In the mean time, maybe I will pick up those books.
Reviewed on:
January 13th, 2009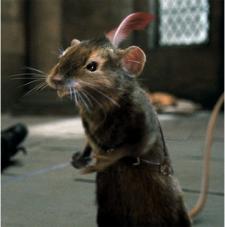 Reepicheep (voiced by Eddie Izzard) is the best new character.
I don't know if you ever picked up the books Eric, but if you did you probably discovered that this movie isn't exactly a 100% faithful adaptation. It is though, as both of you said, an improvement on The Lion the Witch and the Wardrobe.
The tone of the movie is darker this time around and the battle in the courtyard of the castle involves a lot more death than I expected. This greatly adds to the tension, whereas the first movie felt very much like a children's movie.
Eric's right, that Susan comes into her own. She gets some of the best fight scenes and I like how her quiver never runs out of arrows. I also like how both Caspian and Peter makes mistakes that they have redeem themselves for.
My only problem with the movie is that at 2 and half-hours it is a bit long. The two major battle scenes are very well done, but there is too much time in between them. The story also takes a while to get going.
And lastly, like Patrick, I loved Reepicheep the sword-wielding mouse voiced by British comedian, Eddie Izzard. I only wish he'd been in it more.
Photos © Copyright Walt Disney Pictures (2008)
Related Reviews