Movie Review
Christmas Vacation
Yule crack up!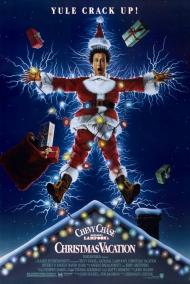 US Release Date: 12-01-1989
Directed by: Jeremiah S. Chechik
Starring
▸
▾
Chevy Chase

,

as

Clark Wilhelm Griswold, Jr.
Beverly D'Angelo

,

as

Ellen Griswold
Juliette Lewis

,

as

Audrey Griswold
Johnny Galecki

,

as

Russell 'Rusty' Griswold
John Randolph

,

as

Clark Wilhelm Griswold, Sr.
Diane Ladd

,

as

Nora Griswold
E.G. Marshall

,

as

Art Smith
Doris Roberts

,

as

Frances Smith
Randy Quaid

,

as

Cousin Eddie Johnson
Julia Louis-Dreyfus

,

as

Margo Chester
William Hickey

,

as

Uncle Lewis
Mae Questel

,

as

Aunt Bethany
Miriam Flynn

as

Cathrine


Reviewed on:
December 22nd, 2005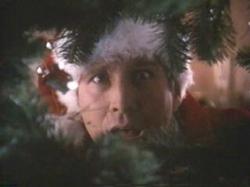 Chevy Chase in Christmas Vacation.
We usually think of Christmas as a joyful time of decorating and getting together with family. But lets face it. It can be a real pain in the ass. Christmas Vacation is a great look at the stress surrounding Christmas.
Clark Griswold's family is the most important thing in the world to him. He will stop at nothing to give them the best holiday get together as possible. Of course he over does everything and it all becomes a disaster.
Chevy Chase is a great comic. His expressions and mannerism are reminiscent of silent film comedians. Watch how he makes little things like sap on his hands work as a funny routine. As in all of the Vacation movies, Clark overdoes everything. He puts 250 strands of lights on his house. He has to have a Christmas tree that is far too big for his living room. It is through his zealousness that the movie finds its humor. He cries when he sees his house illuminated with lights.
This movie has some great dialogue. Near the end of the movie Clark yells, "...we're gonna have the hap, hap, happiest Christmas since Bing Crosby tap-danced with Danny fucking Kaye." D'Angelo has the most telling line, "I don't know what to say, except it's Christmas and we're all in misery."
However, Randy Quaid as cousin Eddie gets some of the best lines, "Every time Catherine would turn on the microwave, I'd piss my pants and forget who I was for about half an hour." He tells Clark when talking about the plate in his head. In one scene, Clark looks out the window where Eddie is standing in the front yard, "Oh, the silent majesty of a winter's morn... the clean, cool chill of the holiday air... an asshole in his bathrobe, emptying a chemical toilet into my sewer..." The neighbors also see Eddie who just smiles and says, "Merry Christmas. Shitter was full."
Christmas Vacation has some language that is not completely family friendly. But not every Holiday movie has to.
As a trivia note this movie has some relevant supporting players. Before making it big on Seinfeld, Julia Louis-Dreyfus played the Griswold's yuppy neighbor. Before she was Ray's mother on Everybody Loves Raymond Doris Roberts was Ellen Griswold's mom. Aunt Bethany is played Mae Questel who was the original voice of Betty Boop.
Reviewed on:
December 24th, 2012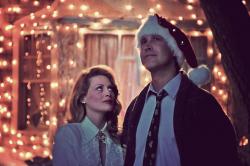 Beverly D'Angelo and Chevy Chase in Christmas Vacation.
Although this movie has become a modern Christmas classic I've never been a huge fan. Watching it again for the first time in many years, however, gave me a new perspective and deeper appreciation for it. Its vulgar brand of broad comedy is not only very funny, it's also tempered by an underlying bit of heartfelt Christmas cheer. And as Eric wrote, the cast, led by the very funny Chevy Chase, is wonderful.
I agree with Eric's comparison of Chase to a silent movie comic. He handled slapstick better than just about anyone else from his generation. He could take a pratfall like a pro and there's a scene where he's on a ladder that would have made both Harold Lloyd and Buster Keaton proud.
And although Chase is the center of attention throughout the film the supporting players get many of the funniest lines. Such as Clark's father revealing his secret to getting through the holidays, "I had a lot of help from Jack Daniels." Or Cousin Eddie's daughter discussing the family dog with Clark...
Ruby Sue: "Rocky bit my thumb. Him's nervous."
Clark: "Nervous or excited?"
Ruby Sue: "Shittin' bricks."
Clark: "You shouldn't use that word."
Ruby Sue: "Sorry. Shittin' rocks"
Mae Questel possessed an instantly recognizable voice. In addition to Betty Boop she also famously provided the voice of Olive Oyl in the Popeye cartoons, as well as many other animated characters, but I will always know her first and foremost as Mrs. Strakosh in Funny Girl. She was a truly hilarious woman and she provides several of this movie's biggest laughs. When asked to say grace at dinner in honor of her 80th Christmas she replies, "Grace? She passed away thirty years ago." When she finally understands the request she begins reciting the Pledge of Allegiance.
Eric mentioned several members of the supporting cast that would go on to successful careers in television but he left out Johnny Galecki, who played the young Griswold son, Rusty. He would go on to a big career on television, first on Roseanne and currently on The Big Bang Theory.
Christmas Vacation has several scenes that have become classic. The huge tree in the living room, the cat that bites the cord, and of course the thousands of lights on the house that momentarily cause all of Chicago to lose power.
Christmas Vacation is great for those who appreciate a slightly naughtier and more irreverent take on the holidays. And Clark Griswold's determination to give his family the perfect Christmas is quite touching even at its most absurd. And there's no denying the influence this movie has had on all subsequent suburban family Christmas comedies.
Reviewed on:
December 3rd, 2013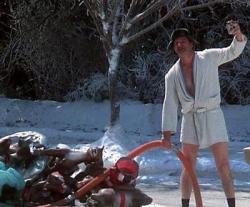 Randy Quaid explains that "The shitter's full" in Christmas Vacation.
Patrick, you're not alone in changing your opinion about this movie. It received very mixed reviews upon its release, but is now generally considered a Christmas classic. In fact, I remember quite clearly reading bad reviews of it when it was released. Those reviews, coupled with the sour memory of the previous installment in the series, European Vacation, kept me from seeing this movie in the theater. I resisted seeing it for years, despite hearing from many different people how enjoyable it was. 24 years later, I finally got around to watching it. It just goes to show what listening to critics will do for you, because now I realize I have been missing out on what truly is a Christmas classic.
The secret to the film's longevity is obvious and it's not just the humor. It's the heart. Chase as Clark epitomizes the hope we all hold toward the Christmas holiday. He wants the perfect day for his family that we all dream about having. The decorated house, filled with a loving family. Presents under the enormous, hand cut tree. The family dinner of turkey with all the trimmings. All of it cast in the warmest of glows, snuggled against the perfect snow. It's what most American families want at the holidays, but so rarely ever achieve. Clark tries as hard as he can, but everything that can go wrong, pretty much does go wrong. What makes him so appealing is that he never stops trying. We laugh at his failures, but we keep cheering him on anyway.
I agree that the supporting cast provides much of the humor. Randy Quaid is the most obvious example and his line, "Shitter's full." has now entered the American lexicon as seen on t-shirts and internet memes. I was familiar with that line even before I'd seen the movie. Along with Quaid though, there are several other scene-stealers, most notably the elderly relatives that Patrick mentioned and Mae Questel in particular. In a movie filled with silly scenes, I may have laughed hardest at her cat wrapped in the Christmas present. Although speaking of animals, the sound of the dog Snot under the dinner table and the squirrel in the Christmas tree were also quite funny.
It's true that this isn't a family friendly movie, but it does do a great job of showing the stress and the joy that family can bring at the holidays. I'm only sorry that it took me 24 years to realize it.
Photos © Copyright Warner Bros. (1989)
Related Review