Movie Review
Christmas in Connecticut
It's the fun show that's the one show to see!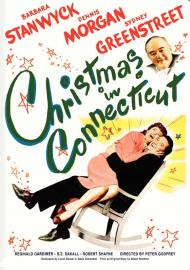 US Release Date: 07-20-1945
Directed by: Peter Godfrey
Starring
▸
▾
Barbara Stanwyck

,

as

Elizabeth Lane
Dennis Morgan

,

as

Jefferson Jones
Sydney Greenstreet

,

as

Alexander Yardley
Reginald Gardiner

,

as

John Sloan
S.Z. Sakall

,

as

Felix Bassenak
Robert Shayne

,

as

Dudley Beecham
Dick Elliott

,

as

Judge Crothers
Una O'Connor

as

Norah


Reviewed on:
December 22nd, 2006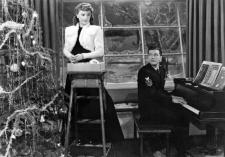 Barbara Stanwyck and Dennis Morgan get romantic under the Christmas tree.
The 1940's and early 50's had many Christmas movies such as Miracle on 34th Street, White Christmas, The Man Who Came to Dinner, The Lemon Drop Kid, Scrooge and It's A Wonderful Life. The reality of a World War seemed to inspire people to want to watch something quaint and wholesome. What better than a Christmas movie to help a world forget about the horrors of War and a holocaust for a couple of hours.
Another such film made at this time was Christmas in Connecticut. Stanwyck plays a columnist, Elizabeth, for a New York paper. She writes about her country home in Connecticut, her husband and baby. She also gives her recipes out in her column. A few days before Christmas, the paper's owner, Yardley, forces her to take a war hero, Jefferson, into her Connecticut home for Christmas. He owes someone a favor and it will be good publicity. The problem is that Elizabeth is really not married with a child and she lives in a New York apartment, not a farm house.
With the help of an infatuated suitor, John, who just happens to own a country home, Elizabeth attempts to pull the wool over Jefferson's and Yardley's eyes. With her uncle, who is a professional cook and supplies her with her recipes, in tow, she heads to the country to play house for the war hero and Yardley, who has invited himself along.
When Elizabeth and Jefferson first lay eyes on each other, at the threshold of "her" farm house, they are instantly attracted to each other. They begin innocently flirting with each other but Yardley soon starts to think that she is having an affair with him. There is also some fun with the stand-in babies, but the heart of the movie is Elizabeth and Jefferson falling in love.
Christmas in Connecticut is a romantic comedy along the lines of an episode of Three's Company. I mean that in a good way. You have fun watching a screwy situation, fully knowing that all will end up just fine.
Stanwyck stars but the supporting cast is full of recognizable B-actors. Greenstreet and Sakall both had small roles in Casablanca. O'Connor played Maid Marian's lady in waiting in The Adventures of Robin Hood.
Although it is not as well remembered as some 1940's holiday movies, Christmas in Connecticut is a good old fashioned seasonal watch.
Reviewed on:
December 20th, 2011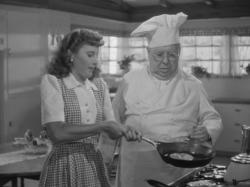 Barbara Stanwyck and S.Z. Sakall in Christmas in Connecticut.
I'm sure that I will be in the minority of the three of us, but I can't share in your praise for this movie Eric. Frankly, I was little bored by it. It has a few nice and funny moments, but given that I never cared whether Elizabeth or Jefferson ended up together, you can see that I wasn't very emotionally invested in the story.
The biggest problem is the pacing. The premise is ripe for screwball humor, but it's just not executed properly. Had this movie come out 10 years earlier maybe they would have gotten it right. I could see Katharine Hepburn and Cary Grant in these roles (as an interesting side note, the farmhouse set used here was also used in Grant/Hepburn's Bringing Up Baby). Perhaps more importantly, the story needed the expert direction of someone like Howard Hawks to ramp up the pace. Comedy and farce are all about timing and that's just not this movie's strong point.
The cast is perhaps the best thing the movie has going for it, especially Stanwyck, who gives it her all. Morgan is okay, but he's not in Stanwyck's league. Cary Grant could certainly have done more with the part than he does. S.Z. Sakall is a comic scene stealer. His facial expressions and mispronunciations provide some of the best humor.
I also had a hard time believing that Jefferson and Yardley couldn't see through Elizabeth's charade. It's obvious within five minutes of their arriving at the farm house that she doesn't have a clue what she's doing. She acts more like someone who's never seen a baby than she does a mother and the second that she sees Jefferson she starts acting like a woman dying of thirst who thinks that he's a tall glass of water, rather than the devoted wife her column depicts.
The 1940's and early 50's had many Christmas movies such as the ones Eric mentioned. Any one of which (with the possible exception of White Christmas) I would recommend over this one.
Reviewed on:
December 28th, 2011
My favorite scene!
I'm nitpicking but it isn't a newspaper that Elizabeth writes for, it's one of those Good Housekeeping type magazines. I love Barbara Stanwyck. She was a talented dramatic actress and she had fine comic timing, as she demonstrates here. She pulls off the rather silly central plot device quite nicely. She was always a bundle of energy in any part she played.
I'm not such a fan of Dennis Morgan. He certainly looked the part but his acting is a bit on the mechanical side. It's clear from the moment Elizabeth and Jefferson set eyes on each other that they are meant to be together. Reginald Gardiner was not the leading man type. He was perfect as the long suffering boyfriend/fiancé.
Eric, two actors in this movie appeared in two of the other Christmas movies you mentioned. Reginald Gardiner played Beverly Carlton, the Noel Coward inspired character, in The Man Who Came to Dinner and Dick Elliot (Judge Crothers) was the fat man on the porch that tells Jimmy Stewart to kiss Donna Reed in It's a Wonderful Life.
My favorite scene is the one where Elizabeth and Jefferson get into the sleigh and ride across the snowy, evening landscape. This scene is the most evocative of the holidays. The jokes are mostly on the gentle side. The one I laughed hardest at was when Elizabeth and Jefferson put the cow back in the barn. Stanwyck bends over and Morgan slaps the cow on its butt while saying appreciatively, "Nice firm rump." She thinks at first that he was talking about her.
Christmas in Connecticut is one of those holiday movies I have been meaning to watch for years. Other than being set at Christmas time it isn't really a holiday movie in spirit. I'm still glad I finally did see it though, as it is quite an enjoyable little romantic comedy.

Photos © Copyright Warner Bros. Pictures (1945)