Movie Review
A Christmas Carol
Now! The story that has brought joy to millions! A new screen triumph!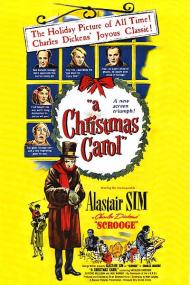 US Release Date: 12-02-1951
Directed by: Brian Desmond Hurst
Starring
▸
▾
Alastair Sim

,

as

Ebenezer Scrooge
Kathleen Harrison

,

as

Mrs. Dilber
Mervyn Johns

,

as

Bob Cratchit
Hermione Baddeley

,

as

Mrs. Cratchit
Michael Hordern

,

as

Jacob Marley/Marley's Ghost
George Cole

,

as

Young Ebenezer Scrooge
John Charlesworth

,

as

Peter Cratchit
Michael Dolan

,

as

The Ghost of Christmas Past
Francis de Wolff

,

as

The Ghost of Christmas Present
C. Konarski

,

as

Ghost of Christmas Yet to Come
Rona Anderson

,

as

Alice
Carol Marsh

,

as

Fan
Brian Worth

,

as

Fred
Ernest Thesiger

,

as

the Undertaker
Glyn Dearman

,

as

Tiny Tim
Roddy Hughes

,

as

Fezziwig
Peter Bull

,

as

First Businessman, Narrator
Jack Warner

as

Mr. Jorkin

Reviewed on:
December 11th, 2014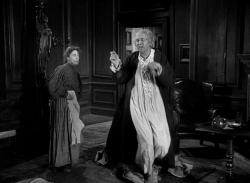 Kathleen Harrison and Alastair Sim in Scrooge.
There have been nearly two dozen film versions of Charles Dickens' classic novella A Christmas Carol, dating back more than a hundred years. There have been musical versions as well as animated ones. Both Mickey Mouse and the Muppets have done their take on the famous story. The most recent big screen adaptation was in 2009 starring Jim Carrey in a performance capture role. Of all these movies, 1951's Scrooge (known in America as A Christmas Carol) is the most celebrated, and Alastair Sim's turn as Ebenezer Scrooge is considered to be the gold standard by which all others are measured.
This wasn't always the case though. Like It's a Wonderful Life (the American equivalent of A Christmas Carol) Scrooge was not an instant classic. It wasn't a big hit in the United States upon its initial release and it received mixed reviews from critics. For years it was overshadowed by MGM's 1938 version starring Reginald Owen. However, like It's a Wonderful Life, its reputation began to improve with every subsequent television airing and by the 1980s it was pretty widely regarded as THE cinematic adaption of Dickens' story.
Most of the credit belongs to Sim. He hits every note perfectly. He does the miserly scenes with just the right amount of humbug. Scrooge is a man who has no use for other people. He isn't an evil person but his spirit has been defeated by life; otherwise his redemption at the end wouldn't work. He thinks himself the only honest man and that everyone else is being phony when they wish each other "Merry Christmas!"
Then the ghost of Jacob Marley -who has been dead these seven years- appears and the most terrifying night of Ebenezer's life begins. As those three pesky Christmas ghosts start whisking him about, Sims cringes with fear, and pleads for mercy. Eventually he begins to show remorse for his heartless behavior.
Then of course comes Christmas morning and the giddy Scrooge, bursting with bonhomie for his fellow man. Here is where Sims leaves every other actor in his wake. His pure overflowing joy at being alive, and being given a second chance, is magical. (It is this scene in particular that Frank Capra borrowed from Dickens for It's a Wonderful Life.)
Scrooge expands on Ebenezer's backstory. A few minor details have been altered but the single biggest change was the addition of the Mr. Jorkin character, who tempts Ebenezer down the dark path. He's nowhere to be found in Dickens' book. With these additions the script paints a fuller portrait of how Ebenezer Scrooge got to be the stingy old man he has become, and it still manages to run less than 90 minutes.
The supporting cast is terrific. From Bob Cratchit to Tiny Tim to Jacob Marley to old Fezziwig these are iconic characters and each actor is wonderfully suited to their role. After Sim the second most acclaimed performance is by Kathleen Harrison as the charwoman Mrs. Dilber. Her best scene is Christmas morning when she thinks Scrooge has lost his mind (see photo). But her reaction changes from fright to delight once she realizes what's happened. Her final goodbye to him is memorably hilarious.
Charles Dickens wrote about a fateful Christmas Eve in London set in the year 1843. In 1951 Alastair Sim brought Ebenezer Scrooge to life and made the role his for all time. In the 21st Century the story remains timeless. Surely this is among the handful of greatest Christmas movies ever made.

Reviewed on:
December 12th, 2014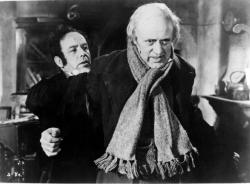 Mervyn Johns and Alastair Sim in A Christmas Carol.
I found this to be an imperfect movie. The acting is occasionally hammy. Check out Jacob Marley's ghostly, and somewhat funny, visit. The direction sometimes feels claustrophobic. At times the actors look cramped onto a set and the camera a bit too close. It almost seems like it was filmed for television.
Yeah, I found some flaws in this adaptation but I also enjoyed it very much. Like Patrick, I liked Scrooge's expanded backstory. As he noted, this version adds a few minor details but they are enough to make Scrooge a more understandable character. I can also not emphasize enough how amazing it is that, as Patrick also mentioned, it runs less than 90 minutes.
The 2009 animated version of A Christmas Carol added extended "action" scenes, not found in the novel. They were intended to liven things up but they actually slowed down the film. It also has some amazing animation and astonishing visual depictions of the ghosts. The special effects in this 1951 film are horribly simplistic and mostly dull, yet I would take this version over the Jim Carrey film, any day.
I liked Alastair Sim's performance as the old Ebenezer Scrooge and Goerge Cole as young Ebenezer Scrooge. He is handsome when young and ugly when old. Yeah it is some decent symbolism. You do not like this Scrooge, yet Sim and Cole make him a real person. He is bitter and selfish but it is not just out of being a jerk. This is the only version of Scrooge where I actually felt sorry for him.
As Patrick wrote, Sim's performance is perfect and this film is one of the best Christmas films to be found. It is certainly the best adaptation of Charles Dickens's classic Christmas story.
Reviewed on:
December 12th, 2014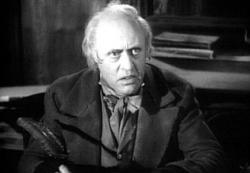 Alastair Sim as Scrooge in A Christmas Carol.
This film, and Alastair Sim's performance as Scrooge in particular, so perfectly captures Dickens's novella that all other versions feel redundant. I disagree with Eric that the performances feel hammy. They suit the old fashioned mood of the story. And perhaps the direction and camera work isn't the most inspired, but I also never found it obtrusive either. I was never distracted by it.
I agree with Patrick that it is Sim who really makes this the best version of the story. He is convincing throughout the film's length, playing grumpy and miserly as well as he plays joyous abandon at the film's climax. He makes Scrooge's redemption feel genuine and overflowing goodwill at the film's climax gives the story the happiest of endings. As Patrick said, his portrayal of Scrooge has now become the portrayal to which all others must be compared.
Eric mentioned the two different actors who played Scrooge, but what he didn't mention, and neither does anyone in the movie, is that somehow between adolescence and adulthood (when the actors change) Scrooge's accent becomes slightly Scottish, thanks to Sim's origin.
One thing that makes this story stand out from your average Christmas story are the darker elements. There are sad and sinister moments in the story, such as the children Ignorance and Want and the scene at the gravestone. Until Scrooge awakens on Christmas morning there's a very serious tone. The black and white cinematography in this version helps enhance those elements. The story's not without humor though, as there is a dark humor laced throughout.
Like Eric, I appreciated that the film runs less than 90 minutes, despite the addition of new material. If it gets remade again by modern Hollywood, it will probably be split into three 2+ hour movies and feature a climactic battle between two CGI armies of ghosts and will likely include a love triangle somewhere and one of the ghosts will undoubtedly turn out to be a vampire.
The story of A Christmas Carol, which took Dickens just six weeks to write, is so ingrained and familiar that I can't remember a time when I wasn't aware of it. References to it, imitations, and spoofs have appeared in all manner of media, from comic books to sitcoms to television specials to animation to the stage, there is no medium that hasn't rendered a version of Scrooge's tale of redemption. I would venture to say that it is now the third most popular story of Christmas behind only Christ's birth and the story of Santa Claus. Of all the adaptions made from it though, this remains the definitive one.
Photos © Copyright United Artists (1951)
Related Review