Movie Review
The Choice
Let your heart decide.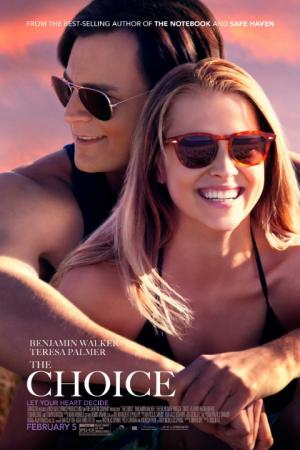 US Release Date: 02-05-2016
Directed by: Ross Katz
Starring
▸
▾
Benjamin Walker

,

as

Travis
Teresa Palmer

,

as

Gabby
Maggie Grace

,

as

Steph
Alexandra Daddario

,

as

Monica
Tom Wilkinson

,

as

Shep
Tom Welling

,

as

Ryan
Jesse C. Boyd

,

as

Matt
Brad James

,

as

Ben
Noree Victoria

,

as

Liz
Anna Enger

,

as

Megan
Lou Lou Safran

,

as

Katie
Vance Griswold

,

as

Jesse
Brett Rice

as

Dr. McCarthy

Reviewed on:
February 11th, 2016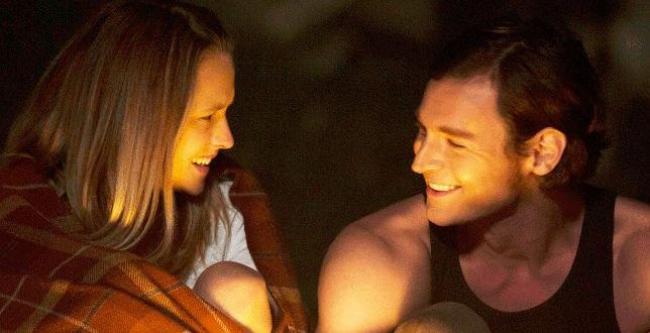 Teresa Palmer and Benjamin Walker in The Choice
Movies based on Nicholas Sparks' novels once attracted "A" list actors and actresses. As the stories have become routine and the quality of the movies as interesting as a Lifetime channel made for television film, big names have stayed away from them. Recently, the roles in a Sparks film have gone to actors that I would best describe as having a face that seems familiar.
Benjamin Walker (who played the President Lincoln that killed vampires) stars as Travis, an easy going southern boy who has a nice house and boat on the Carolina shore. He is a bachelor veterinarian working with his dad (Tom Wilkinson) caring for local pets. He has a group of friends and an active social life that includes attractive women he seemingly uses to pass the time. Gabby, an intern at a local hospital moves in next door. She is played by Teresa Palmer, that Australian girl that looks like Kristen Stewart.
They meet when she comes over angry that he plays his music loud and that his dog has knocked up hers. Of course it is love at first sight, even though she is already pretty much engaged to Ryan, a doctor played by Tom Welling. Fortunately for Travis, Ryan has to go away for a few weeks to help open a new hospital. This leaves time for Travis to romance Gabby, who pretends weakly, to not be attracted to him. After one get together with his friends and dinner at her place, they make love on the dinning room table. The movie hits a dramatically romantic moment when Travis is having dinner alone at a restaurant a few weeks later and in walks Ryan and Gabby. This leads to a confrontation between Travis and Gabby where he asks her to tell Ryan about them but after she hesitates, he asks her, through teary eyes, who she wants to be with. She cries and gives the worst possible answer, "I don't know." Women!
Anyway, there is lots more crying and eventually we get to the reason for the title of the film. Travis must make one of the hardest decisions any person will likely ever have to make. If you do not know what it is, I will not tell you. There is so little plot here that to give away the one and only real crutch of the story would be cruel.

If you are in a forgiving romantic mood, you may be taken in by such lines as Travis asking, "Why do you make it so hard for me to flirt with you?" with Gabby responding, "If I made it easy, you wouldn't flirt any more." A running line involves Travis telling Gabby that she, "bothers" him. Near the end of the film, the line reaches a new level of cheese when Travis cries to Gabby, "Come bother me." Again, you may be able to enjoy this film if you have ovaries. My wife said she liked it.

One of the unique things about this movie is that Benjamin Walker looks like Eric Bana, only with a thin nose and really distracting hair. I have not seen hair like this since Shemp Howard. As we left the theater, my wife also said how ugly Walker was and wondered aloud about what was up with his hair. I then found two different discussion groups online that were both perturbed by Travis being played by someone less than good looking.

Teresa Palmer is not ugly but she has dead eyes and any comparison to Kristen Stewart is definitely not a compliment. However, her attractiveness improved greatly during her bikini scene. I know, this is a shallow conversation but we want good looking people in our love stories. Who wants to watch a slow dramatic, possibly tragic movie about average looking people. We go to movies for the fantasy and all of our fantasies feature good looking people. The one exception to that rule is if the actors in question have an abundance of charm. Unfortunately, Walker is as dull as a dirt road and Palmer could have only kept my interest if she played the entire movie in a bathing suit.
Last but not least, and just in case you are wondering, yes, there is a scene in a row boat. Which has now gone from being a Nicholas Sparks tradition to a joke.
Photos © Copyright Nicholas Sparks Productions (2016)