Movie Review
Chitty Chitty Bang Bang
It Was Just An Old Neglected Car. Who Could Have Guessed...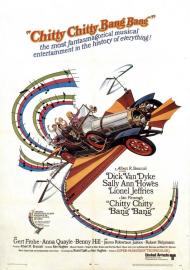 US Release Date: 12-18-1968
Directed by: Ken Hughes
Starring
▸
▾
Dick Van Dyke

,

as

Caractacus Potts
Sally Ann Howes

,

as

Truly Scrumptious
Lionel Jeffries

,

as

Grandpa Potts
Gert Frobe

,

as

Baron Bomburst
Anna Quayle

,

as

Baroness Bomburst
Benny Hill

,

as

Toymaker
James Robertson Justice

,

as

Lord Scrumptious
Robert Helpmann

,

as

Child Catcher
Heather Ripley

,

as

Jemima
Adrian Hall

,

as

Jeremy
Desmond Llewelyn

as

George Coggins

Reviewed on:
March 5th, 2005
Dick Van Dyke drives Chitty Chitty Bang Bang.
Chitty Chitty Bang Bang is a classic children's movie with a few minor flaws. It has some great sing-along songs especially the incredibly catchy, and Oscar nominated, title tune. It has the very talented and likable Dick Van Dyke in a story from the great Ian Fleming, and it has one of the most frightening characters ever in a children's movie - the long-nosed Child Catcher.
What it doesn't have is good pacing or great editing. Too much time is wasted setting up the story. Then when the fantasy section finally kicks in too much screen-time is devoted to the boring Baron Bomburst and his wife. Twenty to thirty minutes could easily be trimmed away. As for the female lead, Sally Ann Howes is quite good in a role that seems tailor made for Julie Andrews. Howes never achieved the level of fame that Andrews enjoyed but she is terrific in the role of Truly Scrumptious.
Van Dyke is eccentric inventor Caractacus Potts. He is a single dad raising two small children. After what seems like forever Caractacus rebuilds an old race car for his children and they head to the beach with the rich young Truly Scrumptious in tow. The plot finally kicks in and soon the four of them are off on the adventure of a lifetime to the fairytale land of Vulgaria where children are outlawed.
The real star of the movie is - of course - the car. It turns into a boat and also flies through the air.
Lionel Jeffries is hilarious as Caractacus' even more eccentric father. He's either crazy or just has a very vivid imagination. He dresses up in winter clothes and says he is off to Alaska when in fact he is only going to the outhouse. His song 'Posh, Posh, Traveling Life' is great fun.
With a few minor tweaks Chitty Chitty Bang Bang could have been a four star classic.

Reviewed on:
April 14th, 2010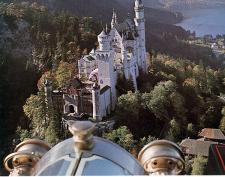 Neuschwanstein Castle
At 144 minutes, this is a chore to watch. Chitty Chitty Bang Bang is two films in one. The first half is about a single father who spends all of his time trying to invent things. He meets and falls in love with the daughter of a rich man. The second half is a fantasy/adventure. Either part is nice enough, but they have nothing to do with each other. The fantasy part should have at least been allegorical, or symbolic in some way, to the first half of th emovie.
There are a couple of decent songs here. Patrick mentioned the theme and "Traveling Life". I will add "Chu Chi Face", in which the Baron tries to kill his wife, as they sing the obnoxious love song. However, "Lovely Lonely Man" and "Hushabye Mountain" are as forgettable as they are sleep inducing.
The best part of the film is when they go to the beach and Chitty finally flies. That is however, an hour into the movie. The parts in Vulgaria are fun. There is some decent humor. The baron drops his two spies into the ocean, to lighten the load, so his balloon can stay aloft as it is carrying grandpa in the out house. Grandpa casually looks up and says, "You dropped someone."
I too remember the child catcher as being quite scary when I watched this movie as a child. "There are children here somewhere. I can smell them." Watching it now, I laughed the entire time he was on screen, which is sadly just a few minutes. He is thin, with pale skin, a narrow nose, long slick black hair. He loves to lure children to him. "Come along, kiddie-winkies!" Holy shit! The child catcher is Michael Jackson. When he started to dance and prance around, I laughed out loud. Helpmann was an accomplished Ballet dancer.
Filmed entirely in Europe, Chitty Chitty Bang Bang makes great use of the scenery, particularly Neuschwanstein Castle, in Bavaria, Germany. The Alps have not looked that inviting since The Sound of Music. The on location beach scenes are also done nicely, although it is all to clear when they are in a studio.
Written by Fleming, Chitty Chitty Bang Bang has several other James Bond connections. "Q" (Desmond Llewelyn) has a small role as the man from who Potts gets the car, 45 minutes into the film. Roald Dahl wrote this screenplay, as well as the previous years James Bond movie, You Only Live Twice (1967).
Reviewed on:
June 3rd, 2010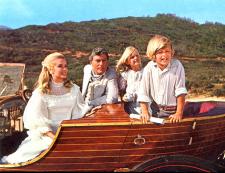 Sally Ann Howes, Dick Van Dyke and the children in Chitty Chitty Bang Bang.
Eric, there are more Bond connections than that. The Baron is played by Goldfinger himself, Gert Frobe. The production design is by Ken Adam who was famous in the 1960s for designing most of the Bond films. And of course the movie was produced by Albert Broccoli, one half of the producing team behind the Bond films. The other thing it has in common with the Bond films is that like them it bears very little resemblance to the original Ian Fleming book upon which it's based.
One of the biggest changes from the book and the most annoying is that here Chitty is just a car except in the story told by Potts. In the book Chitty is magical and really does fly, float and drive. Since all of the adventure is just a story told in the film, why should I care? They should have had the events really happen. I mean, why not? It's not like it's a documentary up until then.
You both are so right, this movie is in desperate need of an edit. It should have started with Potts buying the car. That would have trimmed the first 20 to 30 minutes at least. About 90% of the songs are awful and they should have been cut as well. That would have brought it down under 2 hours. Although if they could have got it down to about 90 minutes it would have been even better.
Another thing that annoyed me was Dick Van Dyke's American accent. At first I though Grandpa was his dead-wife's father, which would have made sense, since Grandpa is British, but clearly he's Potts' father. So he has a British father and two of the poshest British children ever put on film, but he's inexplicably American.
Reportedly Patrick, they wanted Julie Andrews for the lead, but she was unavailable. Or perhaps she read the script and decided to make herself unavailable. Either way, I don't know that even her presence could done much for this movie.
I do remember enjoying this movie as a child, but all I can say is that I must have been more forgiving in my youth, because I can't ever imagine wanting to watch it again.
Photos © Copyright United Artists (1968)