Movie Review
Children of God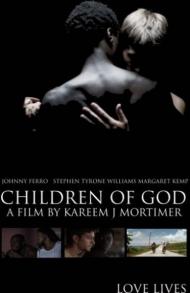 US Release Date: 05-20-2011
Directed by: Kareem Mortimer
Starring
▸
▾
Johnny Ferro

,

as

Johnny Roberts
Stephen Tyrone Williams

,

as

Romeo Fernander
Margaret Laurena Kemp

,

as

Lena Mackey
Mark Ford

,

as

Ralph Mackey
Van Brown

,

as

Reverend Clyde Ritchie
Sylvia Adams

,

as

Grammy Rose
Aijalon Coley

,

as

Omar Mackey
Jason Elwood Hanna

,

as

Purple
Juanita Kelly

,

as

Lonnette Adderley
Adela Osterloh

,

as

Romeo's Mother
Craig Pinder

,

as

Mike Roberts
Leslie Vanderpool

as

Rhoda Mackey
Reviewed on:
June 20th, 2011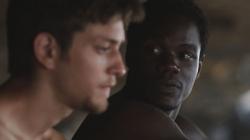 Johnny Ferro and Stephen Tyrone Williams in Children of God.
Children of God is a dramatic cinematic plea for tolerance from Bahamian writer/director Kareem Mortimer. Set in the Bahamas in 2004 (when Rosie O'Donnell's gay family cruise ship toured the Caribbean and was met in several places by protesters) it tells the story of the gay rights debate from several different points of view, including a closeted anti-gay rights activist and his conservative wife (whom he has infected with a venereal disease) a loving and progressively minded Reverend whose wife has recently left him after the death of their daughter, and two young gay men, one white and one black.
Johnny is a young white gay painter attending a local university in Nassau on a scholarship. The movie opens with him in bed with a local boy named Purple, who, in the very next scene, joins a few other neighborhood youths in taunting and beating Johnny. On the advice of his art teacher Johnny leaves the gritty inner-city and heads to an idyllic spot on the small neighboring island of Eleuthera.
Here he meets the charismatic and confident Romeo, a black Bahamian who immediately begins pursuing him in a fairly overt sexual manner. Johnny, understandably, has built up many walls of defense around his emotions but Romeo eventually breaks through them and they spend an incredibly romantic night together without actually having sex. Their idyll is ruined the next morning by the arrival of Romeo's mother, grandmother and "girlfriend". He betrays Johnny's newly found trust by brushing him off like he barely knows him in front of his girlfriend and family.
Meanwhile Lena Mackey has arrived on Eleuthera to spread her message of intolerance against gays. At a rally Johnny is the only person to stand up and question her motives. After she quotes the bible to him about homosexuality he asks simply, "What about, "Let he that is without sin cast the first stone?"" It is a touching moment watching his bravery and dignity in the face of such ugly hatred.
I won't give away how the story ends. Some viewers will undoubtedly find it to be beautifully wrought and for others it might just ruin the entire movie. The acting is quite good for such a low budget film and the cinematography is also well done. There is some sloppy editing and the dialogue tends towards speechifying but overall I found Children of God to be both a moving plea for tolerance and a romantic interracial gay love story.

Photos © Copyright Mercury Rising Films (2011)