Movie Review
Chico & Rita
Love is a song you never forget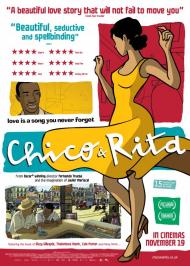 US Release Date: 02-10-2012
Directed by: Tono Errando, Javier Mariscal and Fernando Trueba
Starring
▸
▾
Limara Meneses

,

as

Rita (voice)
Eman Xor Ona

,

as

Chico (voice)
Mario Guerra

as

Ramon (voice)

Reviewed on:
January 28th, 2012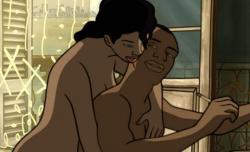 Limara Meneses and Eman Xor Ona voice Rita and Chico in this Oscar nominated animated film.
The nomination of two foreign language animated films at the 2011 Academy Awards has caused a small amount of buzz. This isn't without precedence of course. The Academy has shown a willingness to award foreign and arthouse animation with nominations in this category before. The Triplets of Belleville, The Secret of Kells and The Illusionist are some of the more obscure animation that have competed with the usual suspects from Pixar and Dreamworks. This year, thanks in part to Pixar not having one of their films nominated in this category for the first time since it was created, there are two such film; A Cat in Paris and this one, Chico & Rita.
More unusual than it being in a foreign language is that Chico & Rita is a movie for grown-ups. It's a love story that takes place in flashbacks from the late 1940s to the late 1950s. Not only is it a serious film, with a soundtrack filled with Latin flavored big band music, but it also features sex and nudity. That's what really sets it apart from the other nominees, which are all aimed at children, or at least the whole family.
The story starts with Chico as an old man in communist Cuba working a shoeshine stand. When he overhears one of his songs on an oldies radio station he begins to remember when he wrote it. In 1948 he was an up and coming piano player in Havana. He meets Rita, a singer and a fun girl who may not be a hooker, but she's not far removed from one. They have a passionate one night stand that ends badly in the morning. From that point on the two are in love but their pride, temper and happenstance contrives to keep them apart.
They both eventually end up in New York City where Rita becomes a famous singer and actress as well as the mistress of her agent. Chico becomes a composer and a piano player for Dizzy Gillespie. The two reunite at various occasions and you can see the spark between them reignited each time, but something always keeps them apart. But how will this love story end?
While the story is nicely told and I wanted to see how it would end, it does take an awful long time for the conclusion to be reached. The pacing could definitely have been quicker. There's a little too much of them going back and forth where one wants the other but the other is out of reach and then vice versa. Also, while I enjoyed the music, it is no friend to pacing of the story.
The animation is hand drawn and heavily outlined. It gives it a distinctive look. Some of the shots are stylish and interesting but too often the movie fails to take advantage of the fact that it's animated. There is one very brief dream sequence when Chico is on the boat to New York which is nicely done and only possible with animation, but the rest could just as easily have been filmed as live action. The dream sequence is also one of the few moments of comic relief in the entire story as Chico's dream includes references to On the Town and Casablanca. One of the few other light touches comes when Rita is caught in a convertible with a young Marlon Brando by the paparazzi who print the picture the next day with the caption, "The Wild Ones."
I enjoy seeing more sophisticated stories done in animation. It's a medium that is too often dismissed as being just for children. With the prevalent use of CGI these days almost every movie released is animated to a certain degree anyway. If only this one was a little faster paced.

Reviewed on:
February 6th, 2012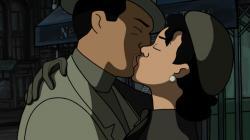 Chico and Rita
Chico and Rita is unique to U.S. audiences as it is a rated "R" cartoon. Rita is shown nude for several minutes. We see Chico humping on top of her, as well as her waking up the next morning completely naked, showing her breast and pubic hair. Normally, the only time we see this kind of stuff is when we find some on-line adult anime.
The mood of the film is passion. This is exemplified in the love story, sex and the rhythmic Latin songs. Thanks to Michael Buble, I was familiar with the first song Rita sings, "Besame Mucho." It also features a few english songs, such as Cole Porter's "Love For Sale."
Although it is not featured here, I kept thinking of the John Kander, Fred Ebb song, "Isn't This Better." "Passion is fine, but passion burns fast. Passions design seems never to last." Chico and Rita do not need to be lovers, they need to be friends, at least for awhile.
I had little emotional investment with Chico and Rita. Neither is an honorable person. He has affairs on women all the time, while she uses sex as a means to get ahead. It is clear they have feelings for each other but the excuses and issues that keep them apart are more bothersome than entertaining. My favorite moment in their relationship is when Chico says to Rita, "I'd kiss the ground you walk on if you lived in a cleaner neighborhood."
This film certainly owes quite a bit to The Mambo Kings, in which two Cuban musicians come to The United States in the early 1950s and make it big. Chico and Rita could have been made with a live cast. Although it would have cost a whole hell of a lot more to make, it may have been worth it. You cannot substitute real nudity with a drawing, and lets be honest, the nudity is the most memorable thing about this film.
Reviewed on:
February 8th, 2012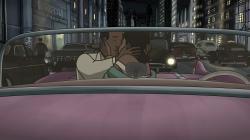 Another passionate embrace between Chico & Rita.
Scott, after reading your review I was expecting a long movie. Chico & Rita runs just 90 minutes. Eric, I completely disagree with your moral assessment of the titular couple. Flawed yes, dishonorable? I don't think so. I was rooting for them to get together the entire time and anguishing along with them whenever fate contrived to keep them apart, which seemed to happen at every turn. The plot is nostalgic without being corny. The script intelligently incorporates into the story the unequal treatment of non-Caucasians in our society at that time, without getting preachy or heavy-handed.
I fell under this movie's spell. This story of star crossed lovers spans decades and travels from Havana to New York with side trips to Hollywood and Las Vegas. It perfectly evokes the 1950s and the wonderful music completes the long-ago atmosphere of glamour contained in the era. Eric mentioned a few of the songs, others include "New York, New York" and "As Time Goes By" in the dream sequence Scott mentioned, as well as a brief version of the Gershwin classic "Fascinating Rhythm."
I also enjoyed the fact that it is drawn and photographed like a live action film. The camera work, with its tracking shots and zooming in for the occasional dramatic close-up, is very effective. I loved the scene where Chico is in the audience watching Rita up on the big screen. The numerous scenes in cars and motorcycles, with the characters speeding around nighttime city streets, are cleverly drawn.
The nudity to me was passé. It certainly wasn't the most memorable thing about the movie. I thought of it as just a nice realistic touch which added to this cartoon's sense of recreating a live action film. Other animated movies have made me laugh more, or moved me more, or impressed me more with their visuals. I have never been as emotionally invested in an animated romance, however, as I was with Chico & Rita. I hope the Academy honors their on-again, off-again, cinematic love affair with Oscar gold come February 26th.

Photos © Copyright CinemaNX (2012)