Movie Review
Chicken Run
There's Nothing More Determined Than Poultry With A Plan.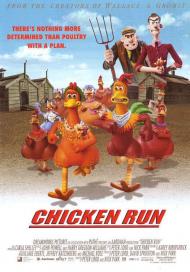 US Release Date: 06-21-2000
Directed by: Peter Lord, Nick Park
Starring
▸
▾
Mel Gibson

,

as

Rocky Rhodes
Julia Sawalha

,

as

Ginger
Miranda Richardson

,

as

Mrs. Tweedy
Jane Horrocks

,

as

Babs
Imelda Staunton

,

as

Bunty
Phil Daniels

,

as

Fetcher the Rat
Lynn Ferguson

,

as

Mac
Tony Haygarth

,

as

Mr. Tweedy
Timothy Spall

as

Nick the Rat

Reviewed on:
June 22nd, 2000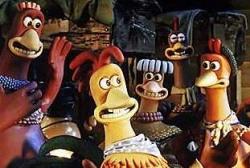 Aardman Animations presents Chicken Run.
Chicken Run is the crazy story of a bunch of chickens trying to escape from the chicken farm before they are all turned into chicken pies. Enter Rocky Roads, an acrobatic rooster voiced by Mel Gibson, who, under false pretenses, agrees to help them escape. What follows is a tribute to The Great Escape, Raiders of the Lost Ark, and even a quick glimpse of Star Trek.
In this high tech world of computer generated graphics, it seems strange that someone would take the time and effort to film 110,000 individual frames by hand. Carefully adjusting each clay figurine, each time. But after watching this movie you will be so very glad they did. And yet the animation never gets in the way of the story or the jokes. It simply enhances them. To quote from the movie, 'This is poultry in motion.'
The movie is rated G, but don't be fooled. The kids may enjoy this movie too, but it will be the grownups laughing the hardest, and at jokes that are way over the kids heads.

Reviewed on:
June 26th, 2000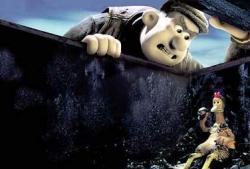 Aardman Animations presents Chicken Run.
Two minutes didn't go by without Scott laughing. Well I guess someone was tickling him every two minutes because this film wasn't that funny. Being an anglophile might have help, but probably not much. I chuckled several times and smiled often, but no laughing out loud.
What I did enjoy was noticing all the references to other movies. The Great Escape was most often copied as well as the other ones Scott mentioned. They even hold a meeting in coop #17, in reference to Stalag 17.
The animation is on the opposite side of the art realm from that used in Titan AE or Dinosaur. The claymation is very effective and you get lost into it so you really forget your just looking at photographed clay.
My 6 year said he liked the movie as we left. But he stirred restlessly during much of the many talking scenes. He did not laugh during the movie as the jokes were almost entirely over his head. Its billed as a children's film yet the jokes and the dialogue are for older folks. Kids will not pick up on the many references made here. And those are the best part of the movie.
Reviewed on:
June 28th, 2000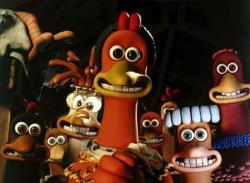 Aardman Animations presents Chicken Run.
Not being an Anglophile did not hurt my enjoyment of this whimsical little movie one bit. I must also mention that there were many small children laughing out loud in the theatre where I saw Chicken Run. That said I must point out that though this movie has it's share of funny lines it is the claymation, and vocal characterizations that make it great.
Julia Sawalha and Jane Horrocks are especially good as the indefatigable Ginger and dimwitted Babs, respectively. Mel Gibson doesn't disappoint as Rocky, the lone Yank, in this British barnyard fable. The rest of the characters are all memorable, with Fowler, the pompous old rooster and the two egg hungry rats deserving special mention.
Visually, the scene where Rocky and Ginger get caught in the pie making machine is remarkable as is the soaring finale. Kudos!
This is an incredibly original movie with a wonderful mix of humor and pathos. In box office terms I believe Chicken Run has legs!
Photos © Copyright DreamWorks L.L.C., Aardman Chicken Run Limited and (2000)