Movie Review
Chicago
With The Right Song And Dance, You Can Get Away With Murder.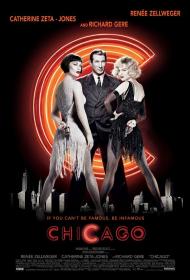 US Release Date: 12-27-2002
Directed by: Rob Marshall
Starring
▸
▾
Renee Zellweger

,

as

Roxie Hart
Catherine Zeta-Jones

,

as

Velma Kelly
Richard Gere

,

as

Billy Flynn
Queen Latifah

,

as

Mama Morton
John C. Reilly

,

as

Amos Hart
Christine Baranski

,

as

Mary Sunshine
Taye Diggs

,

as

The Bandleader
Dominic West

,

as

Fred Casely
Lucy Liu

,

as

Kitty Baxter
Roman Podhora

as

Sergeant Fogarty

Reviewed on:
December 29th, 2002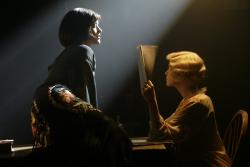 Catherine Zeta Jones and Renee Zellweger in Chicago.
From the opening number where Catherine Zeta-Jones belts out 'All That Jazz' to the final flashy duet between her and Renée Zellweger Chicago hits all the right notes. It is a rousing, rip-roaring, splashy, giddy, euphoric ride. Musically there is not a single misstep, from the two female leads to Richard Gere, Queen Latifah, and John C. Reilly. What a joy to see these contemporary movie stars doing song and dance turns like old vaudeville hoofers. My one small complaint is that Broadway veteran Taye Diggs is completely underused as the piano player/master of ceremonies.
Chicago tells the story of Roxie Hart (Zellweger), an ambitious mechanics wife who yearns for stardom and the glamour of the footlights in nineteen-twenties Chicago. Scorned by her lover, she shoots him dead and is soon behind bars alongside Velma Kelly (Zeta-Jones). Velma is serving time for the murder of her sister (with whom she performed a small-time sister-act) and her husband after catching them in bed together. One of the best numbers is the jailhouse song done by all the women on murderess row.
Through the help of warden 'Mama' Morton (Queen Latifah) Roxie enlists the services of famous attorney Billy Flynn (Gere). Though he is really just a glorified ambulance chaser Billy knows how to crank up the old publicity machine and soon Roxie's name is splashed across the front pages.
The details of the story take a back seat to the songs. Chicago is Hollywood razzle-dazzle at its finest, maintaining an incredible energy level from beginning to end. The songs are acted out in the characters imaginations yet they correlate to and advance the plot in an incredibly entertaining manner.
None of this would be enough to make Chicago a great movie without the awesome performances of the stars. And though Zeta-Jones displays a rich, powerful voice and Richard Gere has actually appeared on the stage in a musical and gets some of the funniest lines, it is Zellweger that steals the movie. She IS Roxie Hart - sexy, vulnerable, ditzy, ambitious Roxie Hart. The Best Actress race is now a two-way battle between her and Julianne Moore.
Will Chicago be a big enough hit to play a role in the resurgence of the movie musical? Who knows? In the end it doesn't really matter because either way Chicago is a classic entry in the sorely missed genre.
Reviewed on:
January 1st, 2003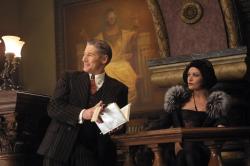 Richard Gere and Catherine Zeta Jones in Chicago.
I'm a huge fan of musicals. I should say, I'm a huge fan of good musicals, because obviously not all musicals are good. The way to tell a good musical from a bad musical is very simple. If you took the songs out and didn't add any scenes, would the movie fall apart or would it still make an intelligible story? If it stands alone, then it probably shouldn't have been a musical at all.
This is why I disagree with Patrick when he says, "The details of the story take a back seat to the songs." The songs are the details of this story, and they are presented better than songs have been presented in nearly any other musical. They present a stream of consciousness method of telling the story. This is best exemplified in the final courtroom scene when Billy Flynn sings 'Razzle Dazzle' in a surreal and wonderful moment. Without the songs, there is no story to this movie.
Which leads me to the only other thing I disagree with in Patrick's review. He says that there is not a single musical misstep, including John C. Reilly's performance of 'Cellophane Man'. Not only didn't I enjoy his singing, the song is the only unnecessary song in the movie. All the other songs either move the story along or introduce a character, but at this point in the movie you are very well aware that this guy is a milquetoast and don't need to be reminded. They could easily have cut this song and included the Roxie/Velma duet; 'I Am My Own Best Friend', one of my personal favorites from the Broadway version.
Those things aside, I agree wholeheartedly with Patrick's opinion of this movie. Both Catherine Zeta-Jones and Renée Zellweger have extremely good voices and play their parts to the hilt. I wouldn't object to either one of them winning an Oscar for their work here. As for Richard Gere, while his voice may not be the best, he manages to embody perfectly the character of shyster lawyer Billy Flynn. He lights up the screen during the 'Tap Dance' in the courtroom.
With Moulin Rouge last year and now Chicago this year, I think the movie musical is inevitably making its comeback. I wouldn't be surprised at all if other Broadway Musicals were suddenly transformed to the big screen. Film versions of both Rent and The Phantom of the Opera have been talked about for years. I think the time will soon be ripe for both of them.

Reviewed on:
January 3rd, 2003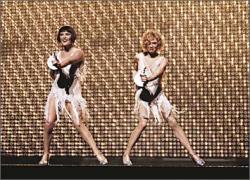 Catherine Zeta Jones and Renee Zellweger in Chicago.
Patrick had the key word when he wrote energy. This movie is so energetic your pulse rises just watching it. Scott's description of the importance of the songs to the plot are right on. I haven't, but, I bet you could listen to the sound track to this movie and understand the entire plot without ever having seen it.
Scott, you are wrong on the Mr. Cellophane song. It is extremely important to the movie in that it gives the audience the one and only sympathetic character. Sure he is a low class moron, but he is the soul victim in this movie. The repetitive lyrics of his songs stayed with me longer than any other, except All That Jazz, but that was because I had already heard it.
As I watched this movie I kept thinking of Marilyn Monroe. Renee Zellweger has the Monroe hair and does the Monroe breathy voice often in this movie. The final song with the brunette Zeta-Jones and the blonde Zellweger reminded me of Jane Russell and Monroe from Gentlemen Prefer Blondes, which also has a courtroom scene where the blonde is on trial.
The opening shot of Zeta-Jones legs and feet walking in high heels is a direct lift from Monroe's opening scene from Some Like It Hot where she is walking on the train platform. Also similar to Monroe's performance in Some Like It Hot is that Zeta-Jones hasn't lost all of her pregnancy girth. Her slender figure from Zorro just isn't here. Like Monroe in Some Like It Hot the camera angles rarely show off Jones's waistline, and both wear lots of thinning dark colors.
While I am on figures here, I need to discuss Zellweger. She obviously worked out a lot for this role. She has shoulders like a high school football player. In one song she mentions her bosom. My first thought was, "What bosom?" She must have exercised those babies away. However, Queen Latifah has and shows enough bosom in this movie for several women.
Okay, sometimes I can be a bit chauvinistic. Still, I liked this movie a lot. I enjoyed everyone's performances. Gere can play arrogance in his sleep. John C. Reilly won me over recently in The Good Girl and here he shows off a good singing voice. I had only heard Queen Latifah do angry bitch rap songs until now. Her one number in Chicago is sassy, smutty and sexy. She has many talents.
Still, as my brothers have already stated, Zellweger and Zeta-Jones are the stars here. They both should do more musicals. Just lay off the weight lifting Zellweger and caramel chocolates Zeta-Jones.
Photos © Copyright Miramax Films (2002)