Movie Review
Chernobyl Diaries
Experience the fallout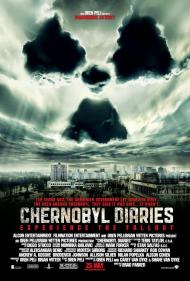 US Release Date: 05-25-2012
Directed by: Bradley Parker
Starring
▸
▾
Ingrid Bolso Berdal

,

as

Zoe
Dimitri Diatchenko

,

as

Uri
Olivia Dudley

,

as

Natalie
Devin Kelley

,

as

Amanda
Jesse McCartney

,

as

Chris
Nathan Phillips

,

as

Michael
Jonathan Sadowski

,

as

Paul
Milos Timotijevic

,

as

Russian Check Point Guard
Ivana Milutinovic

,

as

Little Girl
Alex Feldman

,

as

Medic Goldshmidt
Kristof Konrad

,

as

Medic Grotzky
Pasha D. Lychnikoff

as

Doctor
Reviewed on:
May 27th, 2012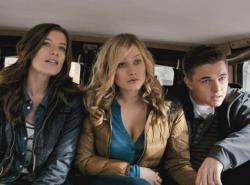 Devin Kelley, Olivia Dudley and Jesse McCartney in Chernobyl Diaries.
Today I decided to see a really bad movie. Fortunately I was in luck, because The Chernobyl Diaries just opened and it exactly fit the bill. In terms of bad movies, it couldn't get much worse.
A group of young, attractive twenty-somethings being stalked in a remote location is one of the most overused cliches in horror movies ever, but that didn't stop the makers of this movie from reusing it. Although to be fair, it is only the choice of remote location that is in anyway interesting.
One of the keys to those "kill the beautiful people in gruesome ways" movies is that you have to care about the people being killed. You need to want them, or at least one of them, to survive. Unfortunately the people in this movie behave in such a stupid and illogical way that instead of feeling sorry for them, I simply felt that they were getting exactly what they deserved.
The plot is pretty basic. A group of six generic, young tourists, with only enough personality and characterization for about three of them, if you mashed them all together, decide to visit the site of the Chernobyl nuclear meltdown in Russia as an act of extreme tourism.
Although visiting the site of one of the world's worst nuclear disasters for fun doesn't sound very sensible, they decide to do it anyway. The first in a series of really bad decisions.
When their tour guide tells them he'll be taking them on his own in a beat up old van, they say, "Oh, what the hell." Then when they arrive at the checkpoint to the town, which is guarded heavily by the military and are denied entry, they think, "Let's sneak in by some back road. That sounds like a good idea." When they begin to suspect that they're not alone in the town and that perhaps the radiation left something alive behind, they continue to show equally good judgment.
Their decisions from there don't get any better, but I'll spare you from a complete list in the interest of not giving away any spoilers should you show equally bad judgment and decide to go ahead and watch this movie anyway. Suffice to say, this isn't so much a horror movie as simply Darwinian law in operation.
Even worse than having no one to root for, is the fact that the movie just isn't scary. If you judge a horror movie by how many times it makes you jump, then this one is a complete failure because I didn't move once. Every supposed fright, and there aren't that many anyway, is so clearly telegraphed they might as well have included a flashing arrow pointing on the screen with a caption that read, "Something is going to jump out from this point." The only real surprise in the whole thing is provided by a bear.
The only positive thing I can think to say is that at least the whole mess only runs about 80 minutes. It's as if someone came up with an interesting premise but then didn't know what to do with it apart from recycling a bunch of hackneyed horror movie tropes.
Unless you really are looking for a bad movie to watch, avoid this one as if it were radioactive.
Photos © Copyright Warner Bros. (2012)