Movie Review
Cheaper by the Dozen
This Christmas The More... The Scarier!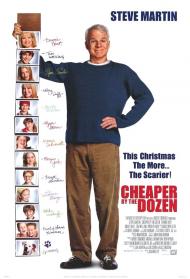 US Release Date: 12-25-2003
Directed by: Shawn Levy
Starring
▸
▾
Steve Martin

,

as

Tom Baker
Bonnie Hunt

,

as

Kate Baker
Piper Perabo

,

as

Nora Baker
Tom Welling

,

as

Charlie Baker
Hilary Duff

,

as

Lorraine Baker
Kevin Schmidt

,

as

Henry Baker
Alyson Stoner

,

as

Sarah Baker
Ashton Kutcher

,

as

Hank
Adam Taylor Gordon

,

as

Cooper
Jared Padalecki

,

as

Bully
Liliana Mumy

as

Jessica Baker

Reviewed on:
December 28th, 2003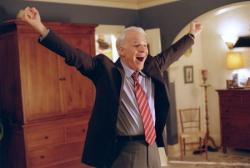 Steve Martin in Cheaper By the Dozen.
Cheaper by the Dozen is a winning celebration of the family. It applauds its strengths and weaknesses. Most importantly, it shows that sacrifice is often necessary in the success of any family.
Based on the novel by Frank and Ernestine Gilbreth, and the 1950 film version, Cheaper by the Dozen tells the story of Tom Baker (Steve Martin), his wife Kate (Bonnie Hunt), and their 12 children who range from preschool to 22 years of age. The couple just kept having kids until the vasectomy finally worked. Kate quit her career in journalism to stay home and Tom is a football coach.
All is active and happy in the Baker home until Tom accepts his dream job of coaching in Chicago. He uproots his family with the promise that the extra money he will make will make up for the move that none of the children are looking forward to. As soon as the family arrives in Chicago, Kate's book gets published and she is sent on a two-week book tour. Of course, chaos ensues at the Baker home. The snotty neighbors get their child's birthday party destroyed by the Baker children. The Baker kids have a hard time adjusting to their new schools and to make matters worse, both parents are engrossed in their careers.
It is not hard to figure out where the movie is going to end up. The fun is watching Martin deal with his brood of personalities and issues that each one carries. The funniest part of the movie is when the children stop at nothing from splitting up the oldest sister from her self-centered boyfriend, Ashton Kutcher.
The moral lesson here is that having a family means making some sacrifices. Modern liberal thinking is that children can be treated like dry cleaning. Drop 'em off on the way to work and pick them up when you get around to it. The single greatest gift a parent can give a child is attention. I am utterly amazed to find a Hollywood movie with such old fashioned family values.
Cheaper by the Dozen is not preachy. It just lays some simple logic on the table and then dresses it up in some light humor. Near the end of the movie, Martin has a line that is often accredited to Jackie Kennedy. It goes something like this "If I screw up in raising my kids then nothing else I do really matters." If you disagree with this philosophy you should probably stay away from this film. Those who do agree, will enjoy immensely this heart warming family comedy.
Photos © Copyright 20th Century Fox (2003)