Movie Review
Chasing Liberty
Every family has a rebel. Even the first family.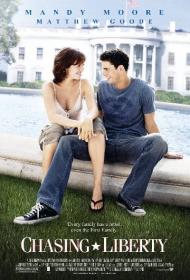 US Release Date: 01-09-2004
Directed by: Andy Cadiff
Starring
▸
▾
Mandy Moore

,

as

Anna Foster
Matthew Goode

,

as

Ben Calder
Mark Harmon

,

as

President James Foster
Jeremy Piven

,

as

Alan Weiss
Annabella Sciorra

,

as

Cynthia Morales
Miriam Margolyes

,

as

Maria
Sam Ellis

,

as

Phil
Caroline Goodall

,

as

Michelle Foster
Stark Sands

as

Grant Hillman

Reviewed on:
January 6th, 2004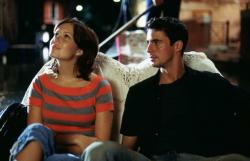 Mandy Moore and Matthew Goode in Chasing Liberty.
Call me a sap if you want to, but I enjoyed Chasing Liberty very much. Granted, there are weaknesses here. It's far from perfect, but the cute and charming cast cover up just enough of the unoriginal plot points and cheesy dialogue to keep it entertaining.
With a plot reminiscent of Roman Holiday, Chasing Liberty tells the story of Anna (Moore), the President of the United States' daughter, who, tired of being constantly under guard, decides to get away from it all while the first family is in Prague on a State visit. She runs away with the plan of traveling to Berlin to attend the Love Parade, a sort of German Mardi Gras. On the way she meets Ben (Goode), a young British photographer, who tags along for the trip. What Anna doesn't know is that Ben is actually a Secret Service agent assigned by her father to protect her and to give her the illusion of freedom. Inevitably, the two fall in love, although Ben must hide his feelings since it wouldn't do for a Secret Service agent to deflower the virginal First Daughter. How the movie ends, of course, is obvious.
While it's not original in anyway, Moore and Goode make a cute couple and generate enough rated PG chemistry to make it work. The naughtiest moment comes when Anna decides to go skinny-dipping, for which a body double stands in for Moore. Of all the recent crop of Pop stars attempting to cross over into film work, Moore definitely shows the most promise. She has the sweet, innocent, girl-next-door thing down perfectly and could, in a few years, grow into a real actress.
Jeremy Piven and Annabella Sciorra play the two Secret Service Agents assigned to shadow the young couple. Along the way, they too end up falling in love with each other. While I enjoyed their scenes together, structurally their parts could have been eliminated to reduce the nearly two hour running time of the movie, which is quite long for a romantic comedy.
One of the things that drags this fairy tale down is the weak dialogue. When the First Lady asks Anna, "How's your heart?" I cringed a little inside. Fortunately, these moments are kept to a minimum.
There are some scenic shots of Europe as Anna and Ben travel to the Love Parade, but this is a very Disneyfied version of Europe. All of the locals they meet speak English with colorful accents, and are friendly to a fault, even the thief who complicates their trip.
Light and sweet, Chasing Liberty is like a bottle of sparkling grape juice. It doesn't have the kick or the class of champagne, but it goes down smoothly and is suitable for children.

Reviewed on:
May 9th, 2004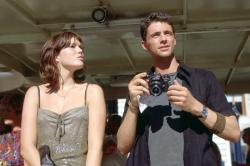 Mandy Moore and Matthew Goode in Chasing Liberty.
Some editing would definitely help this movie. The love story involving the two secret service agents works just fine. This film needed to trim the endless amounts of musical montage moments. They seem to come every ten minutes. They slow down the movie and none of the songs are remotely memorable.
Moore is a beautiful, charming actress. The camera is good to her. In some of the early scenes, with her hair lighter, she literally glows. Yeah, she's hot. Like Scott, I think she has a great future in film.
Goode is a bore. He has looks and an accent, but he can't act. Every time he was on screen I kept wondering why is this guy impersonating Rupert Everett?
Chasing Liberty is unoriginal in plot, poorly edited and has some lousy acting. Moore is the only thing of note in this film. She is beautiful, but that's not enough to make this film any good. This film should have had an ending that actually involved an attempted abduction of the President's daughter. This would have been an excuse for some tension and drama. Two things this film desperately needed.
Reviewed on:
September 24th, 2013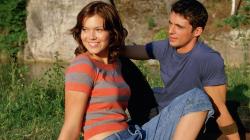 Mandy Moore and Matthew Goode in Chasing Liberty.
This is a sweet romantic comedy not an action thriller so I'm glad they didn't have the First Daughter get kidnapped. That would have made it a completely different movie. Like Scott I mildly enjoyed Chasing Liberty around Europe. The location shots play out almost like a travelogue.
The two leads are likable enough even though the storyline is far from fresh. It was apparently inspired by Chelsea Clinton but the topic of overprotective Secret Service agents guarding children of the President of the United States had already been covered -and in a much funnier way- in the 1980 comedy First Family with Bob Newhart as the president.
Mandy Moore is great as Anna Foster. She is a throwback to the old fashioned girl next door. She is charming and sweet and inhabits her character fully. She is like a modern day Donna Reed. Moore even went to the trouble of personally selecting her butt double for the skinny dipping scene. What dedication! I don't think Matthew Goode is a bad actor, although he is a bit on the bland side. He delivers what the role requires, which is to be the perfect man for the star to fall in love with. His posh British accent makes everything he says sound profound and classy.
I guess to keep the movie as unoriginal as possible from start to finish it ends with one of the most overused love songs of all time, "Nessum dorma" from Puccini's opera Turandot. This aria has been used in many films, usually at the climax as the lovers embrace as it is used here. Barbra Streisand and Jeff Bridges shared a similar moment at the end of The Mirror has Two Faces. It was also featured in The Killing Fields, New York Stories, The Sum of all Fears, and Bend It Like Beckham to name just a few. Chasing Liberty is a sweet romantic comedy but the enjoyment of it may depend on how many movies the viewer has seen due to its utter lack of originality.
Photos © Copyright Warner Bros. (2004)
Related Review