Movie Review
Charlies Angels: Full Throttle
This Summer the Angels are back!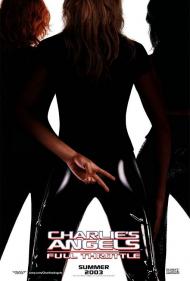 US Release Date: 06-27-2003
Directed by: McG
Starring
▸
▾
Cameron Diaz

,

as

Natalie Cook
Drew Barrymore

,

as

Dylan Sanders
Lucy Liu

,

as

Alex Munday
Bernie Mac

,

as

Jimmy Bosley
Crispin Glover

,

as

Thin Man
Robert Patrick

,

as

Ray Carter
Demi Moore

,

as

Madison Lee
Matt LeBlanc

,

as

Jason
Luke Wilson

,

as

Pete
John Cleese

,

as

Mr. Munday
Rodrigo Santoro

as

Randy Emmers

Reviewed on:
November 16th, 2003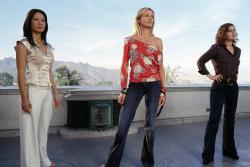 Lucy Liu, Cameron Diaz and Drew Barrymore in Charlies Angels: Full Throttle.
Charlie's Angels: Full Throttle is aptly named. The killer pace never lets up. However, the action scenes never hold the slightest amount of suspense so the action is very hollow.
Drew, Cameron and Lucy all look good as they search for the thief who took a list of people who are in the Witness Protection program. The big plot twist, (sarcasm) is that Drew's character is on it. Demi Moore plays a former angel who, gasp, is the bad guy. The angels get into one action scene after another. Some how it all leads to a show down at the Griffith Observatory (The one where James Dean filmed part of Rebel Without a Cause).
Each angel has a side plot to give them some personality. None work. Lucy's father, (John Cleese?) thinks his daughter is a prostitute thanks to her idiot boyfriend, (Matt Leblanc). Cameron is moving in with her boyfriend (Luke Wilson), and worried he might propose. Drew is depressed about her "witness protection" secret being out. Luckily for her, Kelly Garrett, (Jacklyn Smith looking great) angelically appears to give advice.
This, like the first movie, could have been great. The director, McG, does tons of action scenes. He just doesn't know how to make them work. The girls never get hurt or even mess up their hair. An action scene is only good if there is a serious suggestion of danger.
The dialogue is also bad. In one scene Lucy and Drew are watching Cameron in a motor cross dirt bike race. They know the bad guy is also in the race. For some reason they just sit on their bikes until Drew decides to dramatically state to Lucy, "Let's get in there."
The most memorable scene this movie has is the one on the beach where bikini clad Cameron Diaz and Demi Moore strut their stuff. My first thought was, okay, my second thought was; Justin Timberlake and Ashton Kutchner are two lucky guys.
Photos © Copyright Columbia Pictures (2003)