Movie Review
Chariots of Fire
This is the story of two men who run...not to run...but to prove something to the world. They will sacrifice anything to achieve their goals...Except their honor.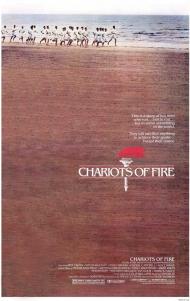 US Release Date: 10-09-1981
Directed by: Hugh Hudson
Starring
▸
▾
Ian Charleson

,

as

Eric Liddell
Ben Cross

,

as

Harold Abrahams
Nicholas Farrell

,

as

Aubrey Montague
Nigel Havers

,

as

Lord Andrew Lindsay
Daniel Gerroll

,

as

Henry Stallard
Ian Holm

,

as

Sam Mussabini
John Gielgud

,

as

Master of Trinity
Lindsay Anderson

,

as

Master of Caius
Nigel Davenport

,

as

Lord Birkenhead
Cheryl Campbell

,

as

Jennie Liddell
Alice Krige

,

as

Sybil Gordon
Dennis Christopher

,

as

Charles Paddock
Brad Davis

,

as

Jackson Scholz
Kenneth Branagh

,

as

Artist
Stephen Fry

as

Artist

Reviewed on:
January 15th, 2012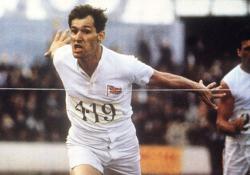 Ben Cross, as Harold Abrahams, crosses the finish line in Chariots of Fire.
Chariots of Fire is proof that the Academy doesn't always get it right. This true story of British athletes competing in the 1924 Paris Olympics won the Oscar for Best Picture of 1981 along with Oscars for Costume, Score and Original Screenplay. Today it seems over-long and - ironically for a movie about runners - incredibly slow paced.
It is best remembered for its instrumental theme by Vangelis (a surprise number 1 hit on the Billboard singles chart), which underscored the opening and closing scenes of men running along a beach in dramatic slow motion. These scenes, by the way, are the highlight of the entire movie.
This brings up one of the movies' biggest flaws, its over-use of slow motion. In nearly every scene where there is a foot race the action is shown in melodramatic slo-mo. After a while it is nearly unintentionally funny. And being a huge Gilbert and Sullivan fan will surely help with the enjoyment of this movie as their music is featured prominently throughout the story.
I don't have a problem with Chariots of Fire winning the Oscars for Costume and Score. In these two categories the movie holds up well. But how the hell it won for Original Screenplay is beyond me. What little there is of a story concerns the two main athletes. One is a devout Christian and one is Jewish. The Christian athlete's main dramatic storyline concerns his refusal to run on the Sabbath and the Jewish character feels victimized for his faith yet is never shown being openly discriminated against. Other than that not much really happens.
There are a few minor supporting players. John Gielgud and Lindsay Anderson play Masters at Cambridge in a few brief scenes, spent mostly looking down into the quad from above while discussing the students. Alice Krige plays the Jewish runner's love interest, proving (as she did in Ghost Story that same year) that she looked good wearing period clothes from the 1920s. Brad Davis has a very small role as a famous American runner.
The final race at the Olympics contains the usual cheer-along moment, ubiquitous in sports-themed movies; once again employing slow-motion. Unfortunately the story that precedes this final race is slower than molasses in January and dull as dishwater (pardon my mixed metaphors). Even the tag line is pretentious and needlessly long.
On a positive note, Chariots of Fire is beautifully shot and it painstakingly recreates the time period. The acting is also first rate. But believe me after sitting through this 2 hour movie you'll feel as if you've run a marathon – in slow motion. It easily ranks as one of the most disappointing movies ever to win the Academy's top honor. On a trivia note, see if you can spot Kenneth Branagh and Stephen Fry in their cameos as two artists. It will help pass the time.

Reviewed on:
December 16th, 2012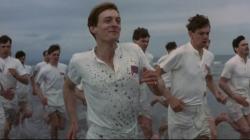 Nigel Havers in the classic running scene in Chariots of Fire.
The Olympics were big news in 1980. At the Winter Olympics at Lake Placid, the so called "Miracle on Ice" occurred when the United States Hockey team defeated the Soviet Team. Then, later that year at the Summer Olympics in Moscow (this was back when the Summer and Winter Olympics were held in the same year), 65 countries boycotted the games to protest the Soviet war in Afghanistan. I mention all of this because I think it played a factor in Chariots of Fire, an Olympic themed movie, winning the Best Picture Oscar.
As a runner and an admitted Anglophile, you'd think I was this movie's ideal target audience.While I did enjoy it more than Patrick, I do agree that it suffers from many of the problems he mentions. The two biggest problems are an overly somber tone and a pace so slow that it makes awarding it a medal almost ironic for a movie about running.
The story is bookended by the funeral of Harold Abrahams in 1978 and this funeral like pall seems to hang over the entire film. Everyone is incredibly serious and there's a distinct lack of fun, even when winning races. Granted, this is a British film and so you expect a restrained, understated reaction from the runners, but it's this decided lack of fun that makes the movie drag so much.
Although based on a true story, the script takes plenty of liberties for the sake of drama. There's an attempt to add tension to the tale by having the devoutly Christian Liddell discover at the last minute that one of the races is to be run on a Sunday, when in reality he knew many months in advance and so changed which races he would participate in. In real life, Abrahams had already run in the 1920 Olympics, something that is never mentioned in the movie.
The casting is also a bit odd in that nearly all of the runners seem too old for the parts. Ben Cross, who plays Abrahams was 34, making him appear to be a very old student and nearly 10 years older than the real Abrahams was in 1924. He's not alone in this regard. Ian Charleson was also 10 years older in real life than the character he was playing. Given that neither Cross or Charleson were big names, the reason for their casting eludes me.
As a runner, I will say that the opening running scene on the beach is inspiring. I immediately added the theme tune to my running playlist. It's the only scene in the entire movie that is in anyway a classic.
Somewhere over the years Hollywood became ashamed of its own product. At Oscar time it tries to pretend that it's not just in the profit making business of producing entertainment and instead is a community of artists with a higher calling. Certainly there's no other reason why this movie should have been named the Best Picture of the Year over Raiders of the Lost Ark, a universally beloved movie and one that people actually want to watch and do so over and over again.
Photos © Copyright Warner Bros. Pictures (1981)