Movie Review
Character Studies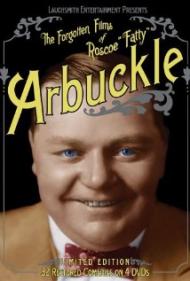 US Release Date: 11-20-1927
Directed by: Carter DeHaven
Starring
▸
▾
Carter DeHaven

,

as

Himself
Buster Keaton

,

as

Himself
Harold Lloyd

,

as

Himself
Roscoe (Fatty) Arbuckle

,

as

Himself
Rudolph Valentino

,

as

Himself
Douglas Fairbanks

,

as

Himself
Jackie Coogan

as

Himself


Reviewed on:
March 10th, 2011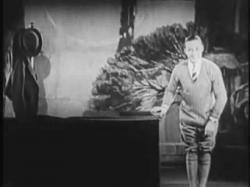 Rudolph Valentino, pretending to be Carter DeHaven, pretending to be Rudolph Valentino
WOW! As a film buff I just came across the most amazing piece of silent film. Look at the cast list above. None of these actors appear on screen together but they all make a brief showing in this six minute film. Who knew that Keaton and Lloyd ever made a movie together?
Vaudeville star Carter DeHaven walks on screen and announces he is going to do impressions of famous people. He then bends over to apply makeup, wardrobe and comb his hair. When he stands back up he is miraculously a famous movie star. See the above list.
There is no plot, just the gimmick, but who cares. Lloyd does the little dance step he did in The Freshman. Fairbanks bounds around in his Robin Hood costume. The most shocking celebrity is that of Arbuckle. At this point in his career he was a has been, due to an unfounded rape scandal.
The most obvious star missing is Charlie Chaplin, but DeHaven would go on to work with him as an assistant director for Modern Times (1936) and an assistant producer on The Great Dictator (1940). His daughter became well known actress, Gloria DeHaven.
The release date of 1927 is wrong, even though IMDB and Wikipedia say it is. How do I know? Valentino died in August of 1926. My best guess is sometime after the release of The Freshman September, 1925 and before Valentino's demise.
Reviewed on:
March 10th, 2011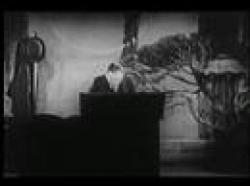 Carter DeHaven in Character Studies.
According to the IMDB this was originally made in 1925 for a private screening at a party thrown by Mary Pickford and Douglas Fairbanks at their famous Beverly Hills mansion Pickfair. Arbuckle was still anathema to the general public so it wasn't released until 1927 when the furor over his trial had been mostly forgotten.
The editing is quite seamless. DeHaven does a good job of beginning to transform himself before the actual star takes his place. Arbuckle and Jackie Coogan were my two favorites as they are the most physically different from DeHaven.
Character Studies is indeed an amazing bit of Hollywood history. This 6 minute short is a celluloid treasure that should be required viewing by any silent movie buff.

Reviewed on:
January 15th, 2012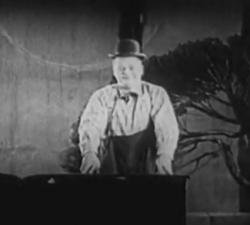 Roscoe Arbuckle in Character Studies.
My first thought while watching this short was that it was pretty cool. My second thought was that it was such a waste! Here you have so many big names from the silent era and not once do they appear onscreen together. It's an interesting little short as it is, but if you're going to include such stars together in the same short it just seems incredible to me that you wouldn't think to put them in front of the camera together.
For obvious reasons, it was the Arbuckle appearance that is the most affecting. Years past the scandal that unjustly ended his career, Arbuckle appears to have lost some weight, but not his physical touch as he demonstrates when he flips an egg several times in front and behind his back, much as he did in several of his shorts.
I agree Eric that Chaplin is the most obviously missing male actor, but I was a little surprised that DeHaven didn't "make himself up" into any of the noted actresses of the day. It's not as if actors hadn't appeared in drag on film before then. According to TCM, the reason Chaplin was missing is because the short was actually made for him to be shown at a party celebrating his completion of The Gold Rush.
Like you Patrick, I was impressed by the seamless editing. It's obvious how the trick is done, but it's still a good trick.
Despite being just a tantalizing glimpse of what could have been if all these stars had actually appeared together, Character Studies is still an interesting curiousity.
Photos © Copyright Educational Film Exchanges (1927)