Movie Review
Chaplin
He made the whole world laugh and cry. He will again.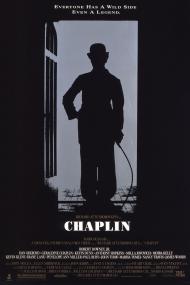 US Release Date: 12-25-1992
Directed by: Richard Attenborough
Starring
▸
▾
Robert Downey Jr.

,

as

Charles Chaplin
Geraldine Chaplin

,

as

Hannah Chaplin
Paul Rhys

,

as

Sydney Chaplin
John Thaw

,

as

Fred Karno
Moira Kelly

,

as

Hetty Kelly/Oona O'Neill Chaplin
Anthony Hopkins

,

as

George Hayden
Dan Aykroyd

,

as

Mack Sennett
Marisa Tomei

,

as

Mabel Normand
Penelope Ann Miller

,

as

Edna Purviance
Kevin Kline

,

as

Douglas Fairbanks
Maria Pitillo

,

as

Mary Pickford
David Duchovny

,

as

Rollie Totheroh
Milla Jovovich

,

as

Mildred Harris
Kevin Dunn

,

as

J. Edgar Hoover
Deborah Moore

,

as

Lita Grey
Diane Lane

,

as

Paulette Goddard
Nancy Travis

,

as

Joan Barry
James Woods

as

Joseph Scott

Reviewed on:
September 25th, 2012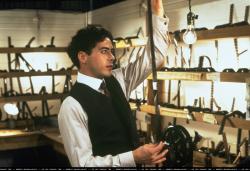 Robert Downey Jr. in Chaplin.
Chaplin is a competently made film with a very strong central performance that helps elevate the material. It's a reverential look at one of Hollywood's founding artistic geniuses that hits the highlights of Chaplin's life like a checklist (even if it does get some of its facts wrong and some dates muddled), but fails to capture the magic of his talent. Perhaps worst of all, for a movie about one of the great comedy masters of cinema, the story is told in a very somber tone, as if Chaplin's life was an epic tragedy.
The story covers nearly all of Chaplin's life, beginning in 1894, when Chaplin was five, and ending in 1972, five years before his death. That's a lot of ground to cover and even at 144 minutes, there's not enough time to show enough detail. Characters are introduced and dismissed at a rapid speed, particularly Chaplin's many wives, who are never given much of a chance to develop as characters. The most entertaining segments are Chaplin's Hollywood years and the story and the audience would have been better served if the focus had been kept within that time frame. Perhaps starting with his arrival in California and ending with the release of The Great Dictator in 1940.
Despite the stories' many weaknesses, I cannot say enough about Robert Downey Jr. as Chaplin. His Oscar (and many other awards) nominated performance is one of the greatest dramatic accomplishments of his career. Just 27 years old when the movie was released, he believably plays Charlie at all stages of his life, with the help of some great aging makeup. His accent and mannerisms are perfect, even when playing the iconic Little Tramp. He's so good that when clips of the real Chaplin are shown in several places during the movie, you never question that they're the same person.
Although this is Downey Jr.'s movie and his Chaplin is the only truly well rounded character, there are a few performances that manage to get noticed. Kevin Kline infuses some life into the story as Douglas Fairbanks. Chaplin's interactions with him and Mary Pickford, along with some early scenes with Dan Aykroyd as Mack Sennett, are some of the most entertaining and those are the kinds of scenes I wanted more of. We never see or hear of anything else going on in Hollywood outside of Chaplin, which would have been more interesting to me than the story's determination to paint Chaplin as a persecuted and tortured artist. He may have been that, but he must have had some moments of happiness, but you'd be hard pressed to find those moments here.
Visually the movie is well done. The different time periods are faithfully reproduced. Hollywood is mostly orange groves when Chaplin arrives and we catch glimpses of its expansion. In one memorable scene we get to see Kline's Fairbanks climbing the Hollywood sign when it still spelled out Hollywoodland.
Chaplin was a master at generating laughs and tugging at the heartstrings. He knew how to make audiences laugh and cry, often at the same time. This movie manages to convey the facts of his life, but without ever generating anything close to the emotion Chaplin did in his greatest work. It's a movie that might be of interest to fans of the great comic, but as entertainment it ultimately fails.

Reviewed on:
September 26th, 2012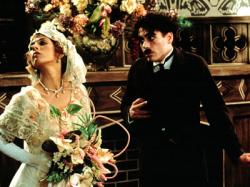 Marisa Tomei and Robert Downey Jr. as Mabel Normand and Charles Chaplin.
I too enjoyed seeing the silent film stars portrayed on screen. My favorite moment being when Chaplin tells Mary Pickford to not give him a lecture on morality as she and Douglas Fairbanks are carrying on an affair, even though they are both married to other people. The one actor I missed seeing was Roscoe 'Fatty' Arbuckle. He was a star at Mack Sennett Studios as a Keystone Cop when Chaplin first arrived to work for Sennett.
Arbuckle has been given credit for mentoring Chaplin early on. They appeared in several films together. Arbuckle is believed by some to have been an influence on Chaplin's creation of, "the Tramp" character. Arbuckle is reported as to have said of Chaplin, "I have always regretted not having been his partner in a longer film than these one-reelers we made so rapidly. He is a complete comic genius, undoubtedly the only one of our time and he will be the only one who will be still talked about a century from now."
At two and a half hours, Chaplin tries hard to encompass many of Charlie's life stories but never makes a compelling tale out of any of them. We mostly just see Chaplin as a depressed businessman with a fondness for under age girls. We see him investigated by J. Edgar Hoover and taken advantage of by his several wives. For a man who made the world laugh, he rarely seems to even break a smile here.
According to this film, Chaplin lead a life of misery. He was a self made internationally recognized millionaire, but walks around in this film like some depressed, suffering artist. Perhaps that is who he was, but why? We meet his insane mother. We see how committed he was to his work, but why someone with some many opportunities was so miserable is never really explained.
Robert Downey Jr. is currently one of the biggest stars in the world. Prior to Chaplin, Robert Downey Jr. had played many supporting roles in many mediocre films. With Chaplin, he proved to be a very capable actor. Besides the Oscar nom, he won a best actor BAFTA (British Academy Award). However, it did not give him the career boost you would have imagined. This had as much to do with his life long drug use and addictions as it did with his film choices. For many years there after, his drug arrests and convictions made more headlines than his films.
With the roles of Iron Man and Sherlock Holmes, Downey Jr. finally began playing leading roles in films that entertain and amuse audiences much as Charlie Chaplin's film started doing 100 years ago. Something this film fails to do.
Reviewed on:
October 20th, 2012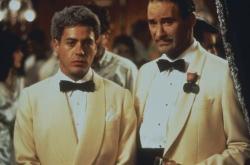 Robert Downey Jr. and Kevin Kline in Chaplin.
For sure the Hollywood scenes are the most entertaining. The early days of the movie business are vividly recreated. Chaplin's relationship with Douglas Fairbanks is likewise one of the film's highlights. What I wouldn't give to have been able to spend an evening in their company out on the town in Hollywood (see photo). They, along with Mary Pickford, really created the image of the Movie Star and became Hollywood royalty known around the globe. In 1920 they were arguably the three most recognizable people on the planet.
Unlike my brothers, I didn't mind the epic fashion in which Chaplin's life is told. I think Attenborough did a decent job of explaining why the man was such a tortured genius, even if he did take dramatic license with a detail or two. Clearly he was a man obsessed with his work at the expense of his private life, and he seemed to be constantly running away from the demons of his poverty stricken childhood in London. Having a crazy parent (which was a fairly common theme among great movie stars of the golden age) would most certainly color your life with tragic shadings.
Geraldine Chaplin, Charlie's real life daughter, played her own paternal grandmother. It must have been an interesting psychological experience bringing this mentally disturbed woman to life on the screen. She brings a quivering vulnerability to the part and her family resemblance to the real man adds a dash of authenticity.
Richard Attenborough has been criticized for making what many people see as an overly fawning portrait of Charlie Chaplin. I disagree. He is shown to be a flawed human being who also happened to be a theatrical genius. He was a neglectful husband, an absent father and a man that, for all his claims of loving America, never even bothered to apply for citizenship after decades of living here in the absolute lap of luxury.
One of Downey's best moments comes when he returns to his old neighborhood in London as a world famous film star. Everywhere he goes people point and whisper, "That's Charlie Chaplin." Yet he sadly realizes it is no longer his home. The look of hurt and sadness on Downey's face in the scene on the train, when he is told his former sweetheart has died, is amazing. When he steps off the train, doffs his hat, and flashes that million dollar smile you are witnessing truly great acting.
Downey shines most in those moments outside of the Little Tramp drag. And Attenborough wisely chose to limit those scenes as no actor is capable of doing more than a mediocre imitation of that iconic character. The scenes of the elderly Chaplin likewise give Downey a chance to shine without it seeming like an impersonation. His emotional return to Hollywood at the Oscars is a great and fitting way for the movie to end.
As Chaplin himself said, "If you want to understand me, watch my movies." All of his pain and tragedy are right there on the screen, but like any great clown he soothes the hurt with humor. Charlie Chaplin will echo down the centuries as the greatest artist of the twentieth century. Languages come and go but the art of silent comedy is timeless. As long as humans inhabit this planet people will be watching The Kid, The Gold Rush, City Lights and Modern Times. Chaplin is a flawed but fascinating look at the man behind the hat, cane, mustache and baggy pants. It features an astounding performance by its star Robert Downey Jr.
Photos © Copyright TriStar Pictures (1992)
Related Reviews