Movie Review
The Champ
The knockout picture of the year!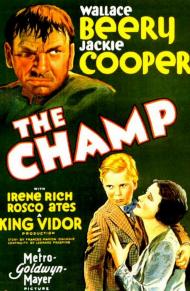 US Release Date: 11-21-1931
Directed by: King Vidor
Starring
▸
▾
Wallace Beery

,

as

Champ
Jackie Cooper

,

as

Dink
Irene Rich

,

as

Linda
Roscoe Ates

,

as

Sponge
Edward Brophy

,

as

Tim
Hale Hamilton

,

as

Tony
Jesse Scott

,

as

Jonah
Marcia Mae Jones

as

Mary Lou


Reviewed on:
March 26th, 2013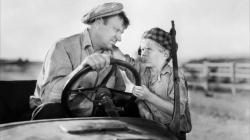 Wallace Beery and Jackie Cooper in The Champ.
Just as Charlie Chaplin and Jackie Coogan broke our hearts in The Kid (1921), Wallace Beery and Jackie Cooper do the same in The Champ. Both films deal with the dynamics of a down in the dumps father/figure and a boy who worships him nonetheless. Both films define parental love by dedication and loyalty.
Andy Purcell is a has been boxer living in Tijuana with his son Dink, who affectionately calls his father "Champ." Andy has dreams of making a comeback, but his drinking and gambling habits keep derailing his plans. Dink adores his father and acts as his number one fan. He helps to put his father to bed when he stumbles home drunk. He tries to cover for him when his manager visits.
After a big gambling win, Andy buys his son a race horse that he has always wanted. Dink names the horse, "Little Champ" and they enter him in a race. While at the track, Dink meets a woman, Linda, whom he does not realize is his biological mother. She soon discovers that Dink is her son. Having married a wealthy man, Linda believes that she can provide a better life for Dink than Andy.
Andy is by no means a great father, but his heart is always in the right place and his love for his son undeniable. Linda's husband pays Andy $200 to allow Dink to visit Linda. After getting arrested for a drunken brawl, Andy decides that it would be best for Dink to live with his mother. It is a heart breaking scene when Andy has to pretend to no longer love his son so as to send him away.
The love Andy and his son share cannot be denied and they are reunited for Andy's comeback boxing match. The film ends with a scene that will not leave anyone with a dry eye. It is truly the most heart breaking moment in any drama from the 1930s.
The Champ is a great time capsule. Although noted for its dramatic scenes, there are several light moments. My favorite is when Dink visits his mother, "The Champ and I ain't fixed up swell as this, but our joint's more lively." After his mother asks Dink what Andy has told him about her, Dink replies,  "You're some dame with a lot of jack."
Although Jackie Cooper steals many scenes playing a boy emotionally tossed around, it is Wallace Beery who won the Academy Award, and he deserved it. His look of shame when Dink sees him being arrested is palpable. Beery's best moment is when he pretends to no longer love his son. He is not fooling anyone, but it is still heart wrenching to see him do it.  The Champ is one of the all time great tear jerkers.
Reviewed on:
August 21st, 2013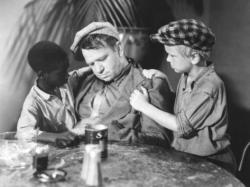 Jesse Scott, Wallace Beery, and Jackie Cooper in The Champ.
For a season or two, I suppose, all boys hero worship their fathers. This is the precise age Dink is at. Although the world sees his father for the drunken slob he has become to Dink he is -and will always remain- "The Champ." I agree that both Cooper and Beery give great performances here. Together they create a palpable father/son chemistry. Yes the story is emotionally manipulative but it works because of the veracity these two bring to their roles.
I also appreciated King Vidor's direction. Notice the way the camera follows Dink and his friend Jonah as they enter a saloon looking for the Champ. The camera stays at the same eye level as these two boys as they search through the crowded smoke-filled bar. Eventually they spot the Champ nearly passed out sitting all alone at a table. They run to him with relief (see photo).
Another scene that always stands out is the one where Dink visits his mother and while he's waiting to see her he climbs out on the roof of their house. He then waves to his father and Jonah who are waiting in the car for him. It is an unusual but strangely touching little detail.
Eric mentioned the two most famous scenes. The jail scene where Andy makes the gut wrenching decision to send Dink away to live with his mother is one of the most emotionally raw moments from any movie. More than 80 years after it was filmed it has lost none of its power to affect an audience. The way Beery punches the wall to punish himself for hurting his son is the stuff of high drama.
The final scene is the most iconic. Cooper is heartbreaking as he cries for his dead father. Everyone else in the room tries, one by one, to comfort the inconsolable child but no one can take the place of his father. Then his mother enters the room. Finally Dink can find comfort and peace in her arms. After all, though they may hero worship their fathers, sometimes a boy just needs his mother. Eric's right, The Champ is one of the all time great tearjerkers.
Reviewed on:
March 8th, 2016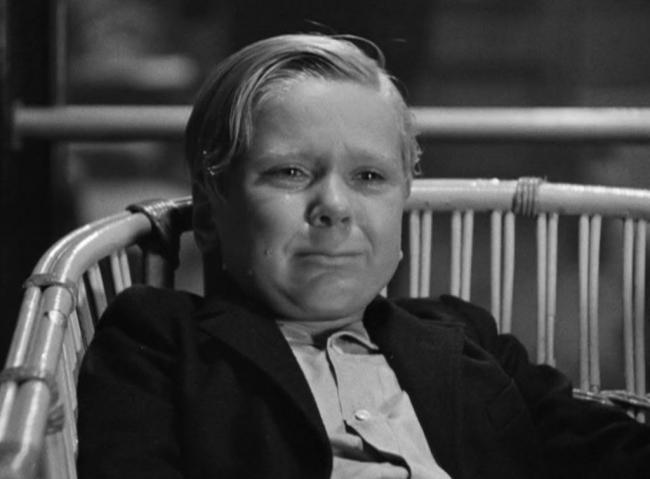 Jackie Cooper in The Champ.
While I freely admit I got misty eyed during the film's famous last scene, I was less enamored overall than either of my two brothers. The whole thing is just a little too schmaltzy for my taste. As Patrick said, it's one of the most emotionally manipulative films ever made. I mean making your audience cry isn't that hard when you have a hero-worshiping little boy crying over the dead body of his beloved father. In their review at the time, Time magazine accused director King Vidor of laying on the pathos with a steam-shovel, and I can't argue with that assessment.

Although Beery and Cooper make a great on screen father and son, apparently they didn't get along in real life. Following the release, Beery swore he'd never work with Cooper again, even though he later did. Cooper on the other hand, said that Beery was a big disappointment and said Beery treated him like an unkempt dog. Sometimes though, you just can't deny chemistry and these two have it in abundance. It's their pairing that overcomes the film's rising sap levels.

Like Eric, I enjoyed the film's lighter moments. As a comedy, it's also easier to accept the Champ's shortcomings as a father. Patrick pointed out that Dink is at that age where he worships his father. If the Champ had lived, Dink's attitude would no doubt have changed. Here you have an alcoholic, compulsive gambler, who constantly lies to his son, promising to give up drink and gambling, but never following through on either promise. Not exactly father of the year material and if treated solely as a drama, it's harder to excuse his behavior. And if made just a few years later when the Production Code went into strong effect, such a character would probably not have been allowed as the protagonist of a film.

Beery won the Oscar (actually he lost to Frederic March, but only by one vote and an obscure Academy rule of the time counted a loss by one vote to be a tie), and although he's good, to me this movie is all about Cooper's performance. He was a natural child actor, moving easily between the comedy and the drama. Patrick and Eric both mentioned the scene where Cooper is reunited, unknowingly, with his mother, and it's a great scene, from his wandering around on the roof, to meeting his half-sister, and then cracking wise with his mother. And that final scene, which is what this movie will always be remembered for, is made magical by his performance.
Despite the blatant manipulation, this movie is enjoyable, just be sure to wear your rubber boots when watching, because you'll be knee deep in sap by the time you're done with it.

Photos © Copyright MGM (1931)
Related Reviews