Movie Review
Central Intelligence
Saving the world takes a little Hart and a big Johnson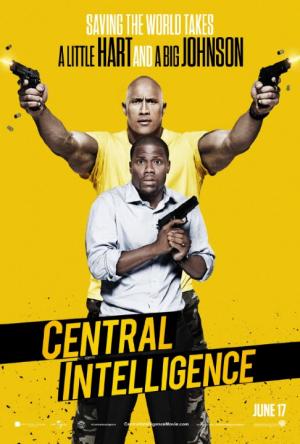 US Release Date: 06-17-2016
Directed by: Rawson Marshall Thurber
Starring
▸
▾
Dwayne Johnson

,

as

Bob Stone
Kevin Hart

,

as

Calvin Joyner
Amy Ryan

,

as

Agent Pamela Harris
Danielle Nicolet

,

as

Maggie
Jason Bateman

,

as

Trevor
Aaron Paul

,

as

Phil
Ryan Hansen

,

as

Steve
Tim Griffin

,

as

Agent Stan Mitchell
Timothy John Smith

,

as

Agent Nick Cooper
Sione Kelepi

,

as

Young Robbie
Dylan Boyack

,

as

Trevor - 17 Years Old
Thomas Kretschmann

,

as

The Buyer
Megan Park

,

as

Flirtatious Waitress
Melissa McCarthy

as

Darla

Reviewed on:
June 23rd, 2016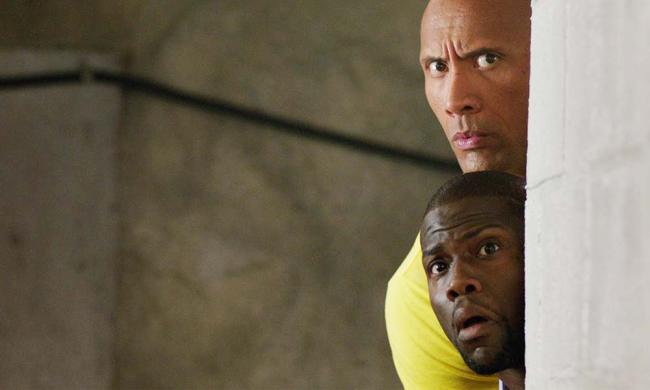 Dwayne Johnson and Kevin Hart in Central Intelligence
Buddy comedies go as far back as silent films with comic teams like Laurel and Hardy, and Fatty Arbuckle and Buster Keaton. Needless to say, it is hard for a new movie to come up with an original idea in this very old genre. The most obvious comparison here is Twins (1988), with Arnold Schwarzenegger and Danny Devito. Central Intelligence almost makes an effort to stand out but stops short of breaking any new ground.
CIA agent Bob Stone and accountant Calvin Joyner reunite after graduating high school twenty years prior. Calvin was the most popular kid in school, voted most likely to succeed while Bob was a friendless, over weight kid picked on and embarrassed when thrown naked onto the gym floor in the middle of a school assembly. The incident scarred Bob for life, inspiring him to work out six hours a day for the rest of his life. The only saving grace from that moment in the gym was that Calvin offered Bob his coat to cover him up.

Calvin is now married to his high school sweetheart but feels depressed, thinking he did not live up to his potential and that he peaked in high school. He has no interest in going to their high school reunion but does accept an invitation from Bob, who he does not even remember, for a drink to feel out how people from his class will now react to him. Here is where the movie starts to feel fresh.
Bob shows up in a girly unicorn t-shirt. He completely ignores the beautiful waitress, who is pretty much begging him to take her to bed, or any horizontal surface, including the floor under her feet. Calvin asks Bob about that but Bob simply stares back at Calvin and says something about wanting a relationship that is deeper than just physical affection. Add this to the image of Bob dancing in the shower to En Vogue's "Never Gonna Get It" and we are clearly intended to believe that Bob is gay and has a crush on Calvin.
The hints hardly stop there. Bob is very physically affectionate with Calvin and talks several times about his favorite film, Sixteen Candles (1984) and his favorite scene where Jake Ryan picks up Molly Ringwald at the end while the Thompson Twins song "If You Were Here" plays. Not only are we to question Bob's sexuality but also his mental state. After coercing Calvin into helping him on a secret mission, CIA agents show up and inform Calvin that Bob has not only gone rogue but killed his former partner and is now a wanted man.

Kevin Hart spends the entire movie doing his usual funny shtick of the average guy in over his head. Much as he did in the Ride Along movies. The guy has charm to spare but his range is not being stretched in the least. Dwayne Johnson has dipped his toes into comedies before and I think it is a genre he should focus on. There are tons of muscle bound action stars but not so many muscle bound comedians. This film has its share of action scenes but it is the comedy that stands out.
Spoiler Alert: The one thing that could have really made this movie unique would have been to have Bob actually be out and proud and express a legitimate romantic attraction to Calvin. Up until the last scene the audience is still guessing whether or not he is gay or just socially awkward. When he returns Calvin's twenty year old jacket to him, Bob confesses that he usually sleeps in it. It is explained that Bob thought of Calvin as his only friend but I have never obsessed, or known someone else to, over a "friend" in the way this guy does. The story should have outed him. This movie was released during pride month. Think of the ground breaking publicity it would have received. Most importantly, it would have created a new and unique spin on the buddy comedy.

Photos © Copyright New Line Cinema (2016)