Movie Review
Cellular
If the signal dies so does she.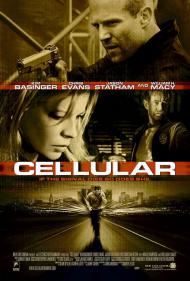 US Release Date: 09-10-2004
Directed by: David R. Ellis
Starring
▸
▾
Kim Basinger

,

as

Jessica Martin
Chris Evans

,

as

Ryan
Jason Statham

,

as

Greer
Eric Christian Olsen

,

as

Chad
Jessica Biel

,

as

Chloe
Richard Burgi

,

as

Craig Martin
Eddie Driscoll

,

as

Ronnie
Eric Etebari

,

as

Dimitri
Adam Taylor Gordon

,

as

Ricky Martin
William H. Macy

as

Mooney

Reviewed on:
September 16th, 2004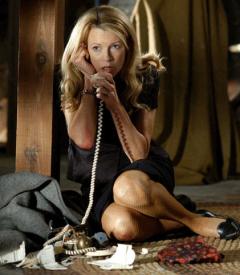 Kim Basinger in Cellular.
Cellular is one very long, yet fast paced, cell phone commercial. Sure it stars Bassinger, Statham, Macy and Evans, but the cell phone is the real hero. A couple of telephones get hurt but by the end of the movie Alexander Graham Bell's invention saves the day.
Bassinger plays a married mother named Jessica. One day, out of the blue, she gets abducted and thrown into an attic. She is not told why she is there. She manages to fix a recently sledge hammered phone. Jessica is a science teacher after all. Her one call goes through to Ryan. Ryan is the typical Hollywood California young man. He is buff, good looking and seems to have plenty of free time on his hands.
After a few questions and an unsuccessful trip to the police station, Ryan takes up Jessica's cause. He attempts to save her son. He steals a lawyer's car. He uses a gun to skip ahead in line at a store. He drives down the wrong way of a very busy one-way street. In other words, he endangers many people's lives, including his own, in order to save a woman's life that he has never met.
Bassinger screams a lot. Evan's hair stays in place. Macy has one running joke that is not funny. The only performance worth noting is Jason Statham's. He doesn't do any great acting. The movie never calls for it, but he at least plays the one and only convincing character. He is the bad guy. His motives are understood.
The pacing is great. Cars go speeding in all direction and someone always seems to be chasing someone else. However, the set up is to pat to believe and thus the tension of the movie just dissolves away.
One of the last scenes, in Cellular, has Ryan holding up a cell phone and pointing out some of it amazing features. I kept waiting for a brand name to flash across the screen telling me what cell phone I should run out and buy.
Photos © Copyright New Line Cinema (2004)