Movie Review
Cavalcade
Picture of the Generation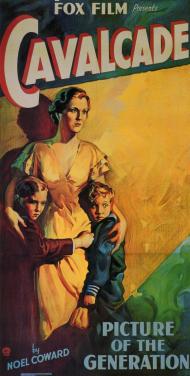 US Release Date: 04-15-1933
Directed by: Frank Lloyd
Starring
▸
▾
Diana Wynyard

,

as

Jane Marryot
Clive Brook

,

as

Robert Marryot
Una O'Connor

,

as

Ellen Bridges
Herbert Mundin

,

as

Alfred Bridges
Beryl Mercer

,

as

Cook
Irene Browne

,

as

Margaret Harris
Tempe Pigott

,

as

Mrs. Snapper
Merle Tottenham

,

as

Annie
Frank Lawton

,

as

Joe Marryot
Ursula Jeans

,

as

Fanny Bridges
Margaret Lindsay

,

as

Edith Harris
John Warburton

,

as

Edward Marryot
Dickie Henderson

,

as

Master Edward
Douglas Scott

,

as

Master Joey
Sheila MacGill

,

as

Young Edith
Bonita Granville

as

Young Fanny

Reviewed on:
March 15th, 2011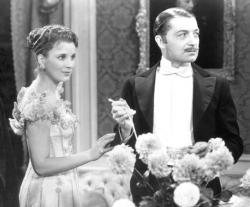 Diana Wynyard and Clive Brook as Jane and Robert Marryot in Cavalcade.
At the sixth annual Academy Awards ceremony on March 16th, 1934 Cavalcade won Best Picture of 1932-33. Director Frank Lloyd also took home the gold. Based on the celebrated Noel Coward play, which ran for 405 performances in London's West End, it tells the story of a wealthy British family and their servants from New Year's Eve 1899 to midnight on January 1st, 1933.
This passing cavalcade of the first third of the 20th Century begins with the father and his man-servant going off to fight in the Boer War in South Africa. He leaves behind his adoring wife and two young sons. The servant has a wife and an infant daughter as well. This war ends quickly enough and the two men return in time for the funeral of the venerable Queen Victoria.
We quickly pass through the years, skipping ahead to 1908 and 1909 where the story focuses on the servants as they buy a pub and leave their life of servitude behind. This is followed by a quick stop in 1912 as the older son, now grown-up, heads off on his honeymoon. Next we visit 1914 and see the start of the First World War.
The acting is quite good. Una O'Connor, Irene Brown and Merle Tottenham recreated their roles from the stage, but Diana Wynyard steals the movie as the faithful wife and mother. She was Oscar nominated but lost to a newcomer named Katharine Hepburn in Morning Glory.
There is plenty of drama and nostalgia as we see the changing times parade by. Music, fashion and technology advance and the societal restrictions between the ruling and serving classes begin to blur. This epic story of one families' saga manages to be both sweeping in scope and intimate in perspective.
The sentimental final scene will resonate for anyone getting older and feeling a bit out of step with the changing world. Cavalcade is one of the least remembered Best Picture Oscar winners in Hollywood history, which is a shame since it is a damn good movie.

Reviewed on:
September 20th, 2014
Clive Brook and Diana Wynyard in Cavalcade.
Every few years at the Academy Awards there's talk of a British invasion when one or more British films or actors are nominated. Cavalcade shows this isn't a new phenomenon. You'd be hard pressed to find a more British film than this one. It's filled with stiff upper lipped characters expressing good traditional English manners in a repressed and refined way and with its class lines quite distinctly drawn. Its influence can be seen in later British productions such as Upstairs/Downstairs and Downton Abbey.
The tone and dialogue are very old fashioned and easy to mock. Lines like, "I'm so terribly in love with you." spoken in the most refined upper class accent will either make you swoon or twitter. And the ending is indeed, as Patrick hinted, aimed at those of a certain age who feel the future is going to hell and that we were all better back in the good old days. There's a song sung at the climax called, "Twentieth Century Blues" which is about exactly that when it laments that civilized humanity has made the world into a hurly-burly of insanity. A montage of scenes show religion being mocked, decadent parties bordering on orgies, including gay men and lesbians, and just the supposedly general state of deplorable affairs in modern life.
Despite the old fashioned, mawkish tone, I found the story to have a cumulative effect on me. Once you get used to its style, it's much easier to accept and I found myself emotionally affected in several places. You definitely need to be in the proper mood however, as you could easily poke fun of this sort of oh-so serious melodrama. The performances are uniformly good, as is the makeup and wigs used to age the characters. And the production is top notch, easily carrying you through the advancing time periods.
It's easy to understand why the play the film is based on has rarely been revived. It features a cast of hundreds in 22 different scenes across several different time periods. It required several hydraulic lifts and a complex automated lighting system to move the different settings on and off the stage. The final scene, entitled "Chaos", consisted of several different vignettes played onstage at the same time with the spotlights moving rapidly between them to create the montage effect that was probably much easier to replicate for the film, with its ability to edit these scenes together. At the play's opening, Coward said, "I hope that this play has made you feel that, in spite of the troublous times we are living in, it is still pretty exciting to be English." but he would look back at it in his autobiography more cynically, dismissing it by saying that with it he was, "cashing in on all the tinpot glory." Critics of the period were divided, but audiences ate it up, as they did the movie version, making it the second most successful film of 1932.
This is probably the least remembered Best Picture winner. As of this date it has just 2,359 user ratings on IMDb. To give you something to compare it to, the previous year's winner, Grand Hotel has 10.769 and the following year's, It Happened One Night, has 49,673. Even 1931's winner, the almost as obscure, Cimarron, has it beat with 2,808 ratings. Part of this film's obscurity is probably due to its limited availability. It wasn't until 2013 that it was released as a standalone DVD, only available as part of a collection prior to that.
While this movie can be enjoyed, and even adored by those with certain tastes, I doubt its status as an obscure Best Picture winner will ever really change. Its message may resonate with older viewers, but its hopelessly out dated delivery will make it difficult for it to find a modern audience.

Reviewed on:
February 25th, 2015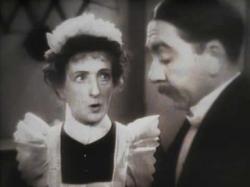 Una O'Connor and Herbert Mundin in Cavalcade
Cavalcade is a social commentary on our self destructive civilization. The first act is about war. Something every generation has to deal with at some point and on some level. When the maid asks why there has to be war, the cook responds, "We have to have wars now and then just to prove we're top dog." It demonstrates the difference by which the sexes view military conflict. As the men proudly ship out, the grandmother says pensively, "I wonder how many will come back alive."
When the men return, they celebrate and are asked questions. One son asks his father if he killed any of the enemy, his father responds, "We won't go into all that." Although this is a very dated period piece, the opinions and attitudes on war could reflect nearly any at any time and place.
Time marches on. The children grow up and the old people die. The young fall in love while the elderly mourn the passage of time. Historical events of the age get a mention, such as the death of Queen Victoria and the sinking of the H.M.S. Titanic. Then World War I comes in time for the next generation to fight. We are again treated to more patriotic songs. "It's a long way to tipperary, it's a long way to go…" and a long war montage.
As Scott mentioned, the tone and dialogue is very British. I thought for sure the younger of the two brothers was gay by the way he acted but then he is British, and it is so terribly hard to tell the two apart sometimes. He falls in love with a female childhood friend and goes off to war. England has had a long tradition of class distinction but love, worry and death cross all class barriers. Unless of course it is gay love, in that case you could have been sent to prison.
Cavalcade travels too far and long for me to have enjoyed it thoroughly. It switches its focus from one character to the next at will and whim. It never allowed me enough time to truly care about anyone to any great length. Granted, it held my interest to see it through but it becomes so very ultimately depressing. The celebration in Trafalgar square is bittersweet.
What are we intended to take away from this movie? It is not a happy film. It takes a very dim view of our world. It marks the passage of time through tragedy and expectation. It ends with a toast to a peaceful future for England. Unknown to all involved with this film, before the end of the decade, England and all of Europe would be thrust into another world war, so much for wishful thinking.
Patrick wrote how forgotten this film is and I have to say that it is for a good reason. It starts out promising enough but gets more and more saturnine as it goes. Watching Cavalcade brought me down from my cheery mood.
Photos © Copyright Fox Film Corporation (1933)