Movie Review
The Catered Affair
The story of a girl who wanted to lead her own life.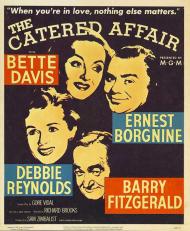 US Release Date: 06-14-1956
Directed by: Richard Brooks
Starring
▸
▾
Bette Davis

,

as

Agnes Hurley
Ernest Borgnine

,

as

Tom Hurley
Debbie Reynolds

,

as

Jane Hurley
Barry Fitzgerald

,

as

Uncle Jack Conlon
Rod Taylor

,

as

Ralph Halloran
Robert F. Simon

,

as

Joe Halloran
Madge Kennedy

,

as

Mary Halloran
Joan Camden

,

as

Alice
Paul Denton

,

as

Bill
Ray Stricklyn

as

Eddie Hurley
Reviewed on:
January 14th, 2004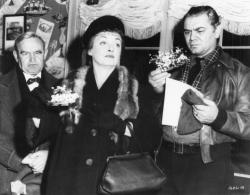 Barry Fitzgerald, Bette Davis and Ernest Borgnine in The Catered Affair.
The Catered Affair was adapted for the big-screen by Gore Vidal from the teleplay by Paddy Chayefsky. It tells the story of a working class family from The Bronx. Bette Davis and Ernest Borgnine (fresh from his Oscar win for Marty) play Agnes and Tom Hurley. When their daughter Jane (Debbie Reynolds) unexpectedly announces over breakfast that she is getting married the following Tuesday a battle of wills soon erupts between her parents. Agnes wants to give her daughter a big fancy wedding, or as she puts it, 'A real catered affair'. Cab driver Tom can't see wasting thousands of dollars that he has worked all his life to save just to serve 'a fancy meal to a bunch of strangers'. Ironically, the betrothed couple doesn't want the big wedding any more than Tom does, but for completely different reasons. Agnes, however, soon makes it her mission to see that her only daughter has something she never had.
The straightforward plot deals with the planning of the wedding and the troubles that arise. Picture a dramatic urban version of Father of the Bride. Both Bette Davis and Debbie Reynolds attempt Bronx accents. Bette Davis pulls it off, Debbie Reynolds does not. Try as she might, she never seems believable as a cabbie's daughter from the mean New York streets. Rod Taylor as Ralph, the groom-to-be and Barry Fitzgerald as Agnes' lush of a brother, Uncle Jack, round out the small cast. Barry Fitzgerald steals many scenes with his classic happy-go-lucky yet incredibly sensitive Irish sprite.
Granted the characters and attitudes in Catered Affair seem dated now, even though they are, for the most part, well-written and acted. And their circumstances are still very relatable. After all, movies don't really age. That's the beauty of them. They capture a moment in time exactly as it happened and that is why I look at old movies as fantastic time capsules. People should be able to step back, so to speak, from their own time and look at movies from a 'big picture' point of view. Otherwise, our 'modern' ideas about these old movies will seem just as dated in the future.
But back to the movie at hand. The competent cast make the most of the realistic dialogue and it is never sentimental. Filmed in black and white, The Catered Affair provides a rare chance at watching the larger-than-life Bette Davis absorb herself completely into a character in this intimate little movie.
Photos © Copyright Metro-Goldwyn-Mayer (1956)
Related Review