Movie Review
A Cat in Paris
By Day Child's Pet, By Night Dangerous Thief.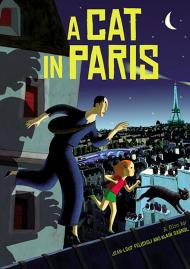 US Release Date: 04-24-2011
Directed by: Jean-Loup Felicioli and Alain Gagnol
Starring
▸
▾
Dominique Blanc

,

as

Jeanne (voice)
Bruno Salomone

,

as

Nico (voice)
Jean Benguigui

,

as

Victor Costa (voice)
Bernadette Lafont

,

as

Claudine (voice)
Oriane Zani

,

as

Zoe (voice)
Bernard Bouillon

,

as

Lucas (voice)
Patrick Ridremont

,

as

A gangster (voice)
Jacques Ramade

,

as

A gangster (voice)
Jean-Pierre Yvars

,

as

A gangster (voice)
Patrick Descamps

as

A gangster (voice)

Reviewed on:
January 25th, 2012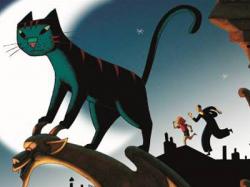 Dino is The Cat in Paris.
Web Behrens of Time Out Chicago Kids described this film as a "cartoon noir that distills Hitchcock into 64 brisk minutes for middle-schoolers and up" and that is certainly an apt description. It's fast paced and edge of your seat fun of the kind that Hitchcock would certainly have made if he'd delved in animation.
The cat in the title is named Dino. By day he belongs to Zoe, a young French girl whose father was recently killed by Victor Costa, a French mobster. Her mother is a police superintendent who has vowed to hunt down her husband's killer. Zoe hasn't spoken since her father's death. At night, Dino slips off and becomes the companion of Nico, a cat burglar who prowls the Parisian rooftops as easily as Dino does. When one night Zoe slips out and follows Dino, she falls into Nico's more dangerous world where adventure awaits.
Because of the Walt Disney cartoons, I feel compelled to point out that Dino is not only a cat, but he also behaves like one. He's not a cute animal sidekick who makes jokes. His name is in the title, but the real focus is on the human characters.
At just over an hour, this movie zips by. There's plenty of action and adventure, with even a slight sense of danger and suspense. Not a serious level, but enough to keep the grown-ups interested without frightening the little ones. The climax of the film is a chase over the rooftops that climaxes atop the Cathedral of Notre Dame.
Much of the comedy relief comes from the bumbling of the gangsters. Mob Boss Victor is a storybook version of Joe Pesci in Goodfellas. Dino's canine nemesis Rufus, also ends up the butt of a few jokes.
The animation is hand drawn and stylish. It reminded me a bit of illustrations in a children's book and are Expressionistic in nature. Nico, glides and weaves his way across the rooftops, his arms often seeming to stretch and wave as they move with exaggerated gracefulness. This just adds to the movie's warmth and charm. One cleverly drawn scene takes place when the lights go out and the characters become white outlines to signify the darkness. It's simple in execution, but a great way show the situation.
Every year I try to see all of the Oscar nominated films and I have to confess that oftentimes it's a struggle to get through some of the more obscure films. Even when they're well done they're often dark or depressing to sit through. This one however, which I probably never would have heard of if it hadn't been nominated for Best Animated feature, is the exact opposite of that. It's so wonderfully fun that I'm now hoping it wins the award come Oscar night.
Reviewed on:
February 3rd, 2012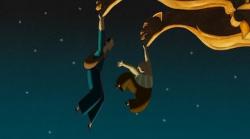 Nico and Victor Costa during the climax of A Cat in Paris.
This is a charmingly drawn cartoon mystery/thriller with (as Scott mentioned) a real sense of danger to it. It is swiftly paced and packs in plenty of interesting characters and intriguing plot. It begins with two seemingly separate storylines, a daylight family drama and a nocturnal adventure tale. The day story is about a traumatized young girl with a workaholic mother and the nighttime story about the elusive cat burglar Nico and his feline sidekick. Dino the cat provides the link between them.
As written above, the story takes off when a curious Zoe follows Dino out one night. She quickly finds herself in the midst of a fantastical twilight adventure where gangsters, goons and gorillas all play a role.
A Cat in Paris certainly pays homage to Alfred Hitchcock, specifically To Catch a Thief with Nico making like an animated Cary Grant across the Parisian rooftops. It also features a scene in a car where the gangsters argue over food that could have been penned by a G-rated Quentin Tarantino, and of course the finale recalls The Hunchback of Notre Dame.
Although most of the story goes for a fairly realistic feel (or at least as realistic as one can expect from a cartoon) it does have a few elements of the goofy broad humor you normally associate with animation. The annoying neighbor's dog that yaps incessantly at Dino is the most obvious example. Briefly the slapstick antics cross the line into Roadrunner and Wile E. Coyote territory.
A few surreal moments add to the fun. Zoe's mother Jeanne imagining she is fighting an octopus version of Victor Costa is effective as is the finale where the evil mob boss hallucinates. Many animated features purport to be aimed at both children and adults but few truly are. A Cat in Paris is that rare exception.


Reviewed on:
February 4th, 2012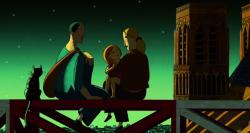 Une vie de chat
I found an interview on-line with Alain Gagnol, the writer and one of the directors of A Cat in Paris (Une vie de chat). It was done in the fall of 2011 as he presented his film at a festival in Scotland. He expressed the difficulty in getting the financial backing for a film. He has another movie in the works and is hoping to get backing for that as well. After receiving an academy award nomination for best animation, he will probably no longer have that problem.
In a mere one hour running time, A Cat in Paris carries more emotion than most films twice it's length. I was caught up in Zoe's frustration when she desperately needs to tell her mother that she is in danger, but cannot speak. The hanging by the gargoyles scenes is also quite tense for a cartoon. A Cat in Paris exceeded my expectation for an animated film and proves that computer animation is moot if the story is well written.
Patrick compared Nico to Cary Grant in To Catch a Thief. The romanticizing of a cat burglar does seem a bit familiar. From Thomas Crown to Selina Kyle, there is something attractive about someone who sneaks about, getting away with valuables and answering to no one. I was reminded of the Disney film That Darn Cat, in which a kidnapped woman uses a wandering cat to help the FBI find her.
Although a few elements of A Cat in Paris have been employed before, it remains a unique piece of art. Like Scott, I am rooting for it to take home the Oscar. I am also looking forward to Alain Gagnol's next film. Viva la Une vie de chat.
Photos © Copyright Folimage (2011)
Related Review