Movie Review
Cassandra's Dream
How far will you go to make your dreams come true?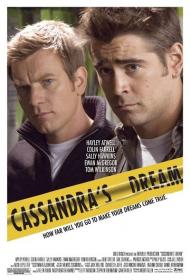 US Release Date: 10-26-2007
Directed by: Woody Allen
Starring
▸
▾
Ewan McGregor

,

as

Ian
Colin Farrell

,

as

Terry
Tom Wilkinson

,

as

Howard
Sally Hawkins

,

as

Kate
Hayley Atwell

,

as

Angela Stark
Philip Davis

,

as

Martin Burns
John Benfield

,

as

Father
Clare Higgins

,

as

Mother
Ashley Madekwe

as

Lucy


Reviewed on:
June 9th, 2008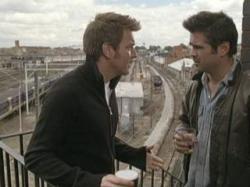 Ewan McGregor and ColinFarrell in Cassandra's Dream
Woody Allen's love affair with England continues with Cassandra's Dream. This time around he utilizes three of Great Britain's most prolific, as well as talented, actors. The three thespians deliver, while Allen drops the ball.
The movie opens with brothers Terry and Ian buying a boat they name Cassandra's Dream. Ian works in his father's restaurant with prospects of getting into a real estate deal in California. He has recently fallen in love with a slutty actress. Terry is a married mechanic with a gambling problem. Both are under financial stress and see a rich uncle as their salvation. When the uncle comes for a visit he makes them an offer that changes everything. He will give the boys the money they need, if they will murder a man who is going to testify against the uncle. The deal however, does not settle the boys problems. It creates bigger ones.
I am not sure why Allen has recently been making films about personal murders and dark emotions. With Match Point, he drew the audience into a web that became more and more tangled. With Cassandra's Dream the intrigue is just not there. The characters head in the very direction you see coming long before they do.
The movie often has a snails pace. The only humor is when the boy's mother berates her husband and brags about her brother's success. As in all Allen movies, dialogue is key, but their really is not any memorable lines to speak of. With a slow moving, predictable plot, the only thing that could save this film would be the two lead characters. Sadly, neither is worth caring about. Terry is a hopeless gambler who cannot control his impulses. Ian is in love with a gold digger who will obviously leave him when she realizes he is not rich. He is too blind to see it, even when he catches her having an affair.
The only thing worth watching in this film is McGregor and Farrell. These two teaming up in a film will one day be viewed like Jimmy Stewart and John Wayne co-starring in The Man Who Shot Liberty Valance. McGregor puts his all into everything he acts in, even when he is miscast. Down With Love anyone? Farrell seems to only get press for being a stud, but the guy can really act. He has the difficult role here and carries it off well.
No director has ever received as much praise and scorn as Allen. He has created some amazing films like Annie Hall, Radio Days and Match Point, but for every great film there are four or five mediocre to horrible ones. Here's hoping for good things for his next film, Vicky Cristina Barcelona.
Reviewed on:
February 22nd, 2012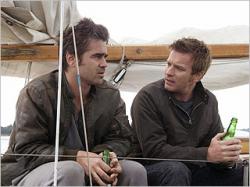 Colin Farrell and Ewan McGregor have a beer while sailing on Cassandra's Dream.
I enjoyed this movie more than Eric although I concur that it is far from the prolific filmmaker's best work. Woody Allen, even in his less satisfying movies like this one, manages to tell fairly compelling stories with realistically flawed characters speaking somewhat interesting dialogue.
This is at least the third time Allen has tackled the subject of murder. He is clearly fascinated by the idea of what it takes for ordinary men to perform despicable acts in the name of self-preservation. Cassandra's Dream is not in the same league with his two previous forays into the topic, Crimes and Misdemeanors and Match Point, both of which really drew you in while creating naturally escalating situations. Here the character's motivations seem a bit contrived and, as Eric said, the ending is fairly predictable.
What kept my attention though was the acting by the entire cast (there's not an American in the bunch) in particular the two stars. McGregor and Farrell are natural as brothers and Allen wisely has them playing against type, with Farrell's Terry being the more sympathetic of the two and the usually heroic McGregor in the more selfish part of Ian. The always reliable Tom Wilkinson has a few brief but pivotal scenes as the uncle that provides the catalyst for the murder.
I had a less negative view towards Ian's girlfriend. She's a free-spirited actress with an active sex life but labeling her "slutty" seems unnecessarily harsh. It's not as if she hid her personality from Ian. I also felt more empathy for Terry than Eric did. Sure he has a gambling problem but he's a simple bloke doing the best he can. He caves in to the pressure from his brother and uncle and commits a crime he would never have thought of doing otherwise. And one he is not mentally strong enough to deal with after the fact.
A scene early on succinctly establishes their relationship. Terry and Ian go for a sail on their new boat. While sipping beer one of them quotes a line from Bonnie and Clyde about how life is grand (see photo). In that movie it was spoken by one of the Barrow brothers to the other. It's a nice little piece of foreshadowing by Mr. Allen.
One unusual thing about this movie is the fact that Woody hired composer Philip Glass to write an original score. The music has an ominous and mysterious feel to it and stands in sharp contrast to his trademark use of jazz standards to underscore scenes.
As in nearly all his films there is at least one big coincidence that occurs. In this case it is the chance meeting between Terry and their intended victim at a party. It is an important detail however as Terry mentions several times before then that he can commit the murder only if he doesn't look the man in the eye. Cassandra's Dream kept my attention but it was never as riveting as Allen's earlier takes on the subject of murder and its effect on the human conscience.
Reviewed on:
February 23rd, 2012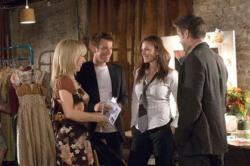 Sally Hawkins, Ewan McGregor, Haley Atwell and Colin Farrell in Cassandra's Dream.
This morality play, with its overtones of Greek tragedy feels like Woody Allen was trying very hard to make a serious movie. It doesn't seem like a Woody Allen film at all. I admire his attempt to break away from his normal formula, which he's only done on a few occasions, but his biggest crime here is that he fails to entertain. Without giving us much to enjoy and an ending that is foreshadowed in advance this movie is a bit of a slog to get through.
My first thought when I sat down to watch this was how are Scottish McGregor and Irish Farrell going to play brothers? Would they both be Irish or would they both be Scottish? Turns out neither one uses their real accent and they both try a South London accent that never quite works. Farrell's is a bit better, but McGregor's slips from time to time and he ends up sounding as if he's doing a bad Del Boy impersonation. I always find a bad accent or impression to be more distracting than the wrong one. Sean Connery as a Russian submarine captain with a Scottish accent is less distracting, for example, than Sean Connery as an Irish cop in Chicago whose accent keeps slipping.
I agree with both of you that the acting is first rate. Farrell has done some big budget action films and so his acting reputation has been somewhat tarnished, but despite that and his bad boy offscreen persona, he is still a good actor, as he proves here. McGregor is also good, but his is the much less showy part. Wilkinson is likewise excellent. He seems like an avuncular figure at first, just willing to help out his family, but from the minute he invites his nephews beneath that tree, he changes before our eyes, snapping and harassing the boys, proving that he's capable of anything.
Both of the women playing the brother's ladies would go on to bigger things. Farrell's onscreen wife is played by Sally Hawkins, who would be Oscar nominated the following year for her role in Happy Go Lucky. Haley Atwell, who plays the actress girlfriend of McGregor's character, played the girlfriend of the title superhero in last year's Captain America.
This movie proves why it's so hard to make a movie from the bad guy's point of view. I wasn't rooting for the brother's to get away with their murder. At the same time though, I wasn't rooting for them to get caught either. Of the two, Farrell's character is slightly more sympathetic because he is goaded into committing the crime because his life is actually in danger, while McGregor is only in it for the money. In some ways Wilkinson is the most interesting character because you sense he is actually evil and is probably guilty of whatever Martin Burns is accusing him of doing. Without strongly wanting the brother's to either succeed or fail the story lacks tension and suspense.
As in nearly all of Woody's films, there are some interesting bits and he's certainly made worse movies than this one, but Cassandra's Dream is not one of his strongest works, despite what a stellar cast brings to the table.
Photos © Copyright Weinstein Company, The (2007)