Movie Review
Casablanca
They had a date with fate in Casablanca!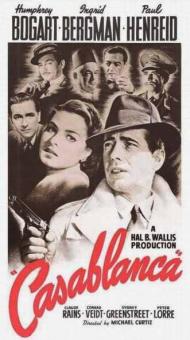 US Release Date: 11-26-1942
Directed by: Michael Curtiz
Starring
▸
▾
Humphrey Bogart

,

as

Rick Blaine
Ingrid Bergman

,

as

Ilsa Lund Laszlo
Paul Henreid

,

as

Victor Laszlo
Claude Rains

,

as

Capt. Louis Renault
Sydney Greenstreet

,

as

Signor Ferrari
Peter Lorre

,

as

Guillermo Ugarte
Conrad Veidt

,

as

Major Strasser
Dooley Wilson

,

as

Sam
S.Z. Sakall

,

as

Carl
Madeleine Lebeau

,

as

Yvonne
Joy Page

,

as

Annina Brandel
John Qualen

,

as

Berger
Leonid Kinskey

,

as

Sascha
Curt Bois

,

as

Pickpocket
Monte Blue

,

as

American
Herbert Evans

as

Englishman Questioning Casino's Honesty


Reviewed on:
November 26th, 2001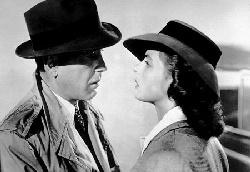 Humphrey Bogart and Ingrid Bergman in Casablanca.
Two lovers separated by war are reunited in Morocco. Will they get back together? Well, if you don't know I am not about to tell you. And if you don't know, then why the hell not? This is one of the greatest films ever made. Go rent it!
Humphrey Bogart is Rick and Ingrid Bergman is Ilsa. Together they shared a brief affair in Paris. Due to unforeseen circumstances they are forced apart. The scene when they first see each other again in the cafe is truly one of the most romantic ever filmed. They both desperately want to rush into each others arms but, do to the fact that Ilsa's husband is with her, they cannot.
The film is crammed full of memorable lines: 'Here's looking at you.' 'Of all the gin joints in all the world she has to walk into mine.' 'Round up the usual suspects.' and so many more. 'As Time Goes By' is equally memorable as well as one of the most famous themes of all time. It is being played at the moment Rick and Ilsa are first reunited. Could a scene be more perfect?
Bogart spends most of the film acting like a cold, hard ass. Watch his lack of compassion for Peter Lorre. Ilsa and her husband need to leave the country and only Bogart can save them. Will Ilsa melt his heart in time? I already told you. Go rent the movie.
Reviewed on:
November 26th, 2002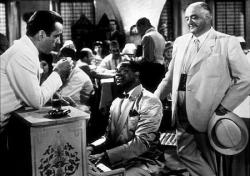 Humphrey Bogart, Dooley Wilson and Sydney Greenstreet in Casablanca.
This movie is like Hamlet. In that, even if you haven't seen either one of them, you are probably familiar with much of the dialogue.
Although not based on his writing, this is as close as Hollywood ever came to making a true Ernest Hemingway movie, unlike their actual pathetic attempts when they tried to adapt his work. Humphry Bogart, as Rick, embodies the macho character of which Hemingway wrote so often. The tough guy with a heart of gold.
Eric pointed out many of the great things about this movie, but one of things I couldn't let go by without mentioning, is the great supporting cast. The French Captain, the proprietor of the Blue Parrot, and Rick's staff at the bar, all contribute strongly to the atmosphere that surrounds this film.
To anyone who doesn't care for older films or black and white movies, I join with Eric in saying, 'Watch this movie!' It is truly great.
Reviewed on:
November 26th, 2003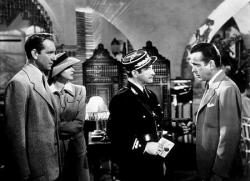 Paul Henreid, Ingrid Bergman, Claude Rains and Humphrey Bogard in Casablanca.
My brothers are both right, the movie Casablanca is, quite simply, the perfect cinematic blending of romance and intrigue, starring the single greatest movie star (Bogart) in history, opposite one of the most photogenic faces (Ingrid Bergman) ever, with the most memorable dialogue ('We'll always have Paris'), supported by two of the best character actors (Peter Lorre and Claude Raines), all building to the most famous ending in films. Any questions?
Photos © Copyright Warner Brothers (1942)