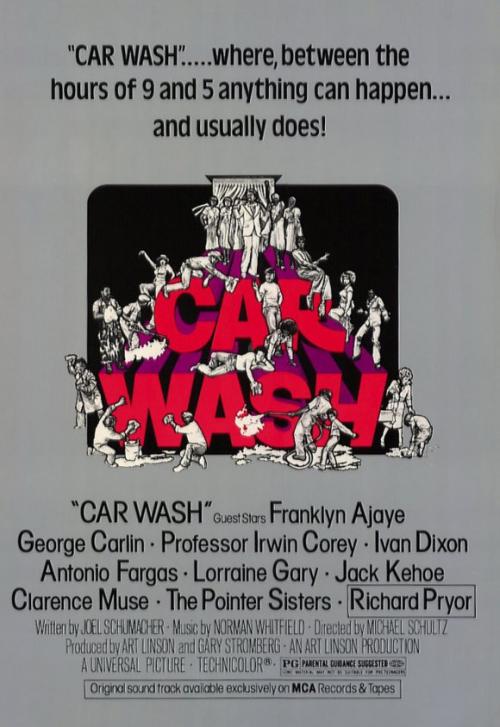 US Release Date: 10-22-1976
Directed by: Michael Schultz
Starring
▸
▾
Franklyn Ajaye

,

as

T.C.
Sully Boyar

,

as

Leon 'Mr B.' Barrow
Richard Brestoff

,

as

Irwin Barrow
George Carlin

,

as

the Taxi Driver
Irwin Corey

,

as

The Mad Bomber
Ivan Dixon

,

as

Lonnie
Bill Duke

,

as

Duane - Abdullah
Antonio Fargas

,

as

Lindy
Lauren Jones

,

as

Marleen
Michael Fennell

,

as

Calvin
Arthur French

,

as

Charlie
Lorraine Gary

,

as

the Hysterical Lady
Darrow Igus

,

as

Floyd
Leonard Jackson

,

as

Earl
DeWayne Jessie

,

as

Lloyd
Melanie Mayron

,

as

Marsha
Garrett Morris

,

as

Slide
Clarence Muse

,

as

Snapper
The Pointer Sisters

,

as

The Wilson Sisters
Richard Pryor

,

as

Daddy Rich
Pepe Serna

,

as

Chuco
James Spinks

,

as

Hippo
Ray Vitte

,

as

Geronimo
Renn Woods

as

Loretta
Reviewed on:
August 5th, 2015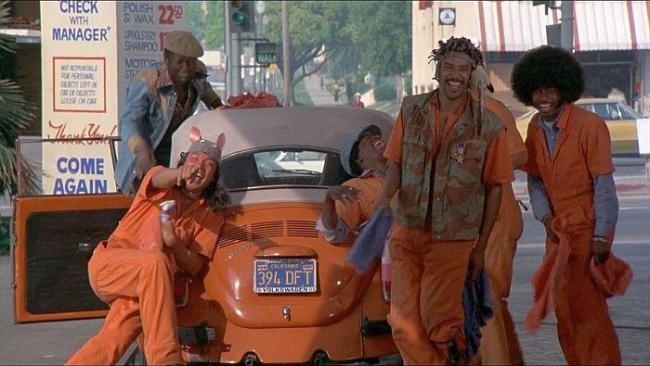 The gang laughing in Car Wash.
Car Wash is a 1976 comedy about a day in the life of a group of oddballs working at the titular Los Angeles car wash. The main characters in this large ensemble cast are played by mostly unknowns (or were at the time) but there are several big stars in small roles (George Carlin) or who appear in a single scene (Richard Pryor). The director, Michael Schultz, was one of the first successful black directors in Hollywood. His long list of credits includes Cooley High (1975), Which Way Is Up? (1977), Sgt. Pepper's Lonely Hearts Club Band (1978), Carbon Copy (1981) and The Last Dragon and Krush Groove (both 1985).
The plot to Car Wash is simply a series of situations in which the employees interact with each other and with a string of eccentric customers over the course of one work day.
Although not quite a musical, music plays a huge role in Car Wash. The title song went to number one and became one of the biggest hits of the disco era. It is heard at least three times during the movie and you will find yourself singing along to its infectious groove, "Workin' at the car wash, wo-u wo-u wo-u (work and work)". The soundtrack by R&B group Rose Royce went gold and spawned two additional hits, "I Wanna Get Next to You" and "I'm Going Down". The latter song would become a hit for Mary J. Blige when she recorded a version in 1994.
Car Wash initially left critics unimpressed (except for Roger Ebert who correctly called it a "wash-and-wax M*A*S*H") but over the decades both the film and the soundtrack have left their mark on pop culture. With its Afros, bell-bottoms, cars as big as boats, and disco soundtrack, Car Wash is a perfect time-capsule of America's bicentennial year.
George Carlin plays a cabbie that gets stiffed by a young prostitute. He spends the movie looking for a "big, tall, black, blonde chick". Richard Pryor plays Daddy Rich, a smarmy fake evangelist who travels around in a huge all-white Lincoln Continental with a female entourage (The Pointer Sisters) and preaches the Gospel according to Cash. His ego is such that he displays a photo of himself alongside photos of JFK and Martin Luther King.
There are too many employees to list them all but I'll mention just three of the more memorable ones. There's the bosses wannabe communist son who wears a T-shirt with a picture of Mao Tse-tung on it and carries around a copy of "Quotations from Chairman Mao". He gets high in the bathroom and fervently speaks about "The Revolution" to his father's employees.
Bill Duke plays a militant black man who insists his name is no longer Duane, it is now Abdullah Mohamed Akbar. He alone publicly calls out Daddy Rich by telling him he sounds just like a pimp. He shares the movie's most dramatic moment with Ivan Dixon who plays Lonnie, the wise older guy at the car wash.
The third -and most groundbreaking for the time- employee is a flamboyant gay man named Lindy, hilariously played by Antonio Fargas. He delivers the movie's most famous line after being called a "sorry looking faggot" by Abdullah. Lindy gives one of the best comebacks of all time when he snaps his finger while saying, "Honey, I'm more man than you'll ever be and more woman than you'll ever get."
Of all the eccentric customers who visit the car wash that day, the funniest is played by Professor Irwin Corey (who, as of this writing, is still living at the age of 101). The guys have been hearing reports all day on the radio (the radio plays a major role in the movie) about the so-called "pop bottle bomber". Later that day a man fitting the description shows up. He is seen coming out of the bathroom carrying a pop bottle with what looks like aluminum foil on it. Just like the police report said the pop bottle bomber used. They chase the poor guy all around the car wash only to discover it was merely a urine sample he was taking to the doctors.
There is more depth to this movie than meets the eye, at first. Car Wash is definitely a comedy but it ends on a bit of a melancholy note that makes a subtle social statement for anyone who wants to see it. It leaves the viewer with the sense that the next day will be much the same as this one had been and that the dreams and aspirations of these men will remain unfulfilled yet again.
Photos © Copyright Universal Pictures (1976)