Movie Review
Captains Courageous
The Most Exciting Picture Since "Mutiny On The Bounty".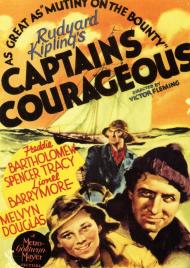 US Release Date: 06-25-1937
Directed by: Victor Fleming
Starring
▸
▾
Freddie Bartholomew

,

as

Harvey Cheyne
Spencer Tracy

,

as

Manuel Fidello
Lionel Barrymore

,

as

Disko
Melvyn Douglas

,

as

Frank Burton Cheyne
Charley Grapewin

,

as

Uncle Salters
Mickey Rooney

,

as

Dan Troop
John Carradine

,

as

Long Jack
Oscar O'Shea

,

as

Captain Walt Cushman
Jack La Rue

,

as

Priest
Walter Kingsford

,

as

Dr. Finley
Sam McDaniel

,

as

"Doc"
Leo G. Carroll

,

as

Burns
Billy Gilbert

as

Soda Steward

Reviewed on:
October 15th, 2014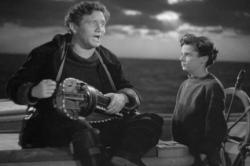 Spencer Tracy and Freddie Bartholomew in Captains Courageous.
Based on the Rudyard Kipling novel, Captains Courageous is a gloriously old-fashioned black and white adventure film from MGM in 1937. Excitingly directed by Victor Fleming, it boasts an all-star cast led by Freddie Bartholomew and Spencer Tracy in his first Oscar winning role. They are supported by such stalwart talents as Lionel Barrymore, Melvyn Douglas, Mickey Rooney, Charley Grapewin, and John Carradine. A box office hit, Captains Courageous was also nominated for Best Picture. In 1955 it became the very first MGM movie to be shown on television.
Bartholomew plays Harvey Cheyne, a spoiled rich kid whose mother is dead and whose father is neglectful. Melvyn Douglas opens and closes the movie as the wealthy father who realizes he needs to take a more active role in his son's life after his son gets expelled from the private boarding school he attends. He decides to take his son with him on a transatlantic business trip. Fate intervenes however when Harvey falls overboard somewhere off the coast of Newfoundland and is rescued by a Portuguese-American fisherman named Manuel (Tracy with curly hair and an accent).
In a classic coming of age story, Harvey spends the summer aboard a New England fishing schooner captained by Lionel Barrymore. He learns the value of hard work and over the course of a few months at sea changes from an obnoxious brat into a mature, upstanding kid. Harvey bonds with Manuel who teases the boy while teaching him the fisherman's life. Manuel becomes the attentive father Harvey has never known.
Family adventure films don't get much more wholesome that Captains Courageous. It wears its heart on its sleeve for all the world to see. The cast is terrific and the pace is swift. A pre-stardom Mickey Rooney plays Dan, the captain's son. He eventually bonds with Harvey and, after a rough start, they become friends. It's funny how no-one on the boat believes that Harvey's father is a wealthy tycoon. They have no radio and cannot take the time to return Harvey to shore, so he must stay aboard the boat and earn his keep.
Freddie Bartholomew proves what a solid little actor he was. He does a good job of demonstrating the changes in Harvey's personality over the course of the movie. He is especially effective during the bittersweet ending (which I won't give away). Spencer Tracy at first glance looks and sounds silly as Manuel. Somehow, though, he makes the part his own and soon you stop thinking of the actor and just see the character. He even sings a couple of songs. It is certainly a performance worthy of the Oscar. This was Lionel Barrymore's final role in which he walked unaided. In his very next picture, You Can't Take It With You, he uses crutches, and in all his subsequent movies he is wheelchair bound.
Captains Courageous is perfect family viewing. Gather the entire clan together and check out this timeless heart-tugging classic. You won't be disappointed.

Reviewed on:
October 28th, 2014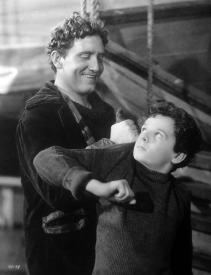 Spencer Tracy and Freddie Bartholomew in Captains Courageous.
You got it Patrick! Captains Courageous is a solid film. The story of a horrible brat learning to understand that life is not a handout is brilliantly portrayed. This is the eternal story that we all must grow up but I would not exactly call it an adventure film.
Harvey falls off a ship and is saved at sea by a fisherman. He spends the next three months working on a schooner, learning to fish and what honor and respect are all about. Granted that is plenty to take in but the adventure only comes in the form of a sail boat race that ends tragically. This story is more personal and emotional than exciting.
One interesting aspect to me was when Harvey's father has a conversation with Harvey's teacher and principal. They are quite blunt with him about what a horrible son he has. Even more interesting is that they squarely blame him and his lack of parenting for the reason Harvey is so rotten. I cannot imagine a parent today taking it as well as he does. Not only does he patiently listen to them but he agrees completely with their assessment of his parenting skills.
Another thing that dates this film is that the captain of the fishing boat slaps Harvey. Granted, the kid more than deserves it but such actions are not often depicted in modern films as spankings are now so very frowned upon. Look at the recent news stories of the athletes whose jobs have been on the line because of such actions.
As was usual to movies in the 1930s, the wealthy are depicted as pathetic parents. It was common to slam the rich at the time for such things. Look no further than My Man Godfrey (1936) for another example. What average parent watching this was not thinking, "Duh!" when Harvey's father states to his butler, "…it seems that smart little boys from so-called wealthy, well-bred parents don't grow up very successfully by themselves." No boy does, wealthy or not.
Manuel becomes Harvey's surrogate father. Manuel teaches him to behead a fish and to "Spit first." You actually see Harvey grow. He assumes quite haughtily at first that these fishermen will take him to Europe to be reunited with his father. Over the course of this summer he learns to think of others and that a victory only means something if it is genuinely earned.
When Spencer Tracy first appears on screen and we hear his inconsistent accent, I was prepared to argue with Patrick's and the Academy's opinion on his performance. However, as Patrick noted, it grows on you and Tracy disappears from the screen, leaving behind a man who has nothing but a fishing job, some old family songs and a few random women in port, he spends his money on. In fact, what we come to understand is that Manuel benefitted from his relationship with Harvey as it is the most sincere one he has. My favorite line in the film is when Manuel tells Harvey, "I got maybe five, six girls in Gloucester. I tell each one I like her best. You gotta tell big lies to girls to make them happy."
Captains Courageous is a film all boys should watch and although I would not call it an exciting adventure tale, especially compared to today's manically paced movies, there is still enough going on to hopefully keep their interest and the moral lesson is still as relevant, or even more so, as it was three quarters of a century ago. This is a brilliant example that boys need a father (figure) to become a man.
Photos © Copyright Metro-Goldwyn-Mayer (MGM) (1937)