Movie Review
Captain Pantoja and the Special Services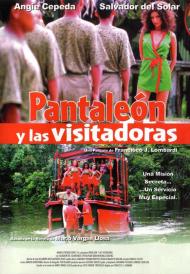 Spain Release Date: 06-30-2000
Directed by: Francisco J. Lombardi
Starring
▸
▾
Salvador del Solar

,

as

Pantaleon Pantoja
Angie Cepeda

,

as

Colombiana
Monica Sanchez

,

as

Pochita
Pilar Bardem

,

as

Chuchupe
Gianfranco Brero

,

as

General Collazos
Gustavo Bueno

,

as

Coronel Lopez
Carlos Kaniowsky

,

as

Padre Beltran
Sergio Galliani

as

Teniente Bacacorzo

Reviewed on:
February 15th, 2011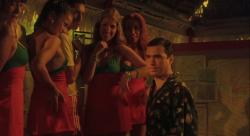 Salvador del Solar in Captain Pantoja and the Special Services
How do you make a comedy in which the plot is motivated by mass rapes? Captain Pantoja and the Special Services (Pantaleon y las visitadoras) makes a grand attempt at it and sometimes succeeds. By the end of the film it is more of a drama, but the funny bits are by far the films best moments.
A rash of rapes by soldiers stationed in remote areas of Peru is cause for concern for the upper brass. So prevalent are the rapes that one early scene has an officer ask four woman impregnated by rape to select any of his soldiers to marry. With nothing curbing the lonely soldiers libidos, the military tries a new approach. They decide to create an unofficial military brothel, servicing the men at outposts.
They select saintly Captain Pantaleon Pantoja. He graduated college strong in grades and athleticism. He is not a womanizer, and does not drink or smoke. He has excellent organizational skills. He is so stringent that he only has sex with his wife on Saturdays. Peruvian Salvador Del Solar is perfectly cast as Pantoja. He graduated college with a law degree and was on a water polo team for 7 years.
The funniest part is Pantoja creating and running his business. He calls whores "visitors" and a screw is called a "rendering." At the first trial run he takes a boat of 5 "visitors" to a remote military base. Each "visitor" stands in front of a door while the soldiers line up in front of the one they want to "render". Pantoja announces the rules, that break down to nothing but vaginal intercourse is allowed. He also times the men. He allowed for twenty minutes each but is surprised that they only take 5. To create better efficiency he later starts to hand out porn to the men waiting in line, thus making the "renderings" even shorter as the men will already have erections going in.
He does not tell his wife anything about his job, explaining it is in the intelligence service. Upon arriving in the hot jungle, Pantoja surprises his wife by not waiting until Saturday. Apparently the heat of the jungle gets the blood heading south. Pantoja seems to be successful at this new venture until he hires the bodacious Olga, nicknamed "La Columbiana."
Played by Angie Cepeda, Olga is so hot she makes the jungle seem like the arctic. The scene where she drops her dress during her interview practically stopped my heart. Her body alone proves the existence of God, for only he could produce such a sexual gift to mankind.
Pantoja soon begins an affair with Olga. Meanwhile, the local men get pissed that they cannot get a "rendering" from a "visitor." With a local radio talk show host discussing the "visitors," Pantoja's operation starts to spin out of control.
Foreign films treat mans need for sex in ways that Hollywood movies never do. The rest of the world is not embarrassed to show that being horny and needing a "rendering" is all part of human nature. It is not some perverted thing, except when taken to the level of rape.
The movie is way to long and it lost me once Pantoja has the affair. I liked his straight laced, efficient approach to the worlds oldest profession. He creates his own terms like "virile plenitude" and has charts and statistics to help him run the business. Once he starts the affair he just seems like another horny slub. Granted you cannot blame him as Olga could drive any man to sexual distraction, but he lost his charm as soon as he lost his honor.
Pantalen y las visitadoras was a huge hit in Spain, but I do not get it. Perhaps I lost something in the translation. Either way though, a naked Angie Cepeda makes it worth a watch.
Photos © Copyright America Producciones (2000)